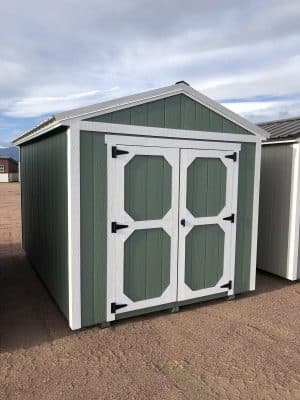 In Colorado Springs, or should I say, "the Springs", there aren't a lot of couch potatoes. In this city, fitness is as established in the community as the Infamous Manitou Incline, a near-vertical mile-long path. It is no accident that this fitness-friendly city is home to the U.S Olympic Training Center. Locals enjoy bicycling, running, hiking, skiing, rock climbing, fishing, snowboarding, and much more. In fact, Colorado Springs was voted as #1 best place to live in the U.S. by Money Magazine. So, if you live in Colorado Springs, it is no surprise why you should invest in the best colorado spring sheds available in Colorado. At Colorado Sheds, we offer 5 unique, customizable storage sheds in top of the line condition. In other words, your experience with these storage sheds will remind you of one of those "Powder Days" on the ski slopes. . . perfect condition. And just like the perfect snow allows for a seamless descendent, Colorado Sheds offers the customer service and direction needed to effortlessly navigate your storage shed questions.
Call us at 719-372-7433 with any and all questions.
At Colorado Sheds we offer not only storage solutions, but creative space capable of meeting each individual personal need.
Reasons to Add a Storage Shed to Your Colorado Springs Backyard
You might be looking at your bedroom closet or the corner of your garage packed full of your ever-growing winter sports equipment and wishing for a better space. You desire a safer and more specific spot to house your expensive skies, snowboards, or ice fishing gear. Maybe your living west of 1-25 and the bears have once again gotten into the trash can and made a mess of the yard. You value not only a clean, garbage-free yard, but also the preservation of wildlife. It's possible you enjoy the outdoors, but nothing compares to reading or enjoying a cup of your favorite joe in a warm spot during the long winter months. If you have a large, bicycling-loving family, maybe its time to invest in a designated and well-protected space to keep your bikes from weathering elements or accidentally being backed over by the family's SUV. Whatever your personal need may be, Colorado Sheds is available and equipped to empower you to make the best storage shed decision.
Tack Shed
A classic Tact Shed offers you a perfect spot to house your winter sports equipment or provide a bear-resistant place to store your garbage cans.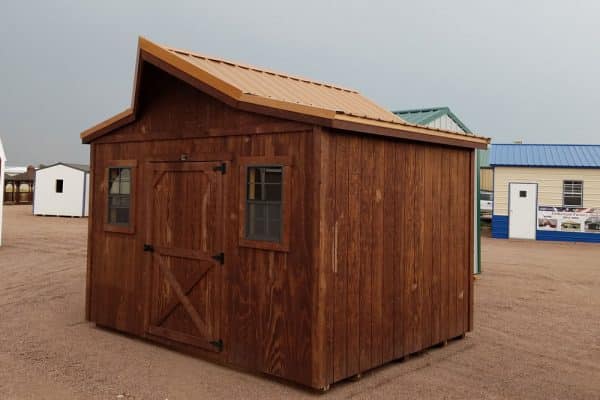 The Western Shed
The Western Storage Shed is a perfect fit for you to create your mancave, winter hideout!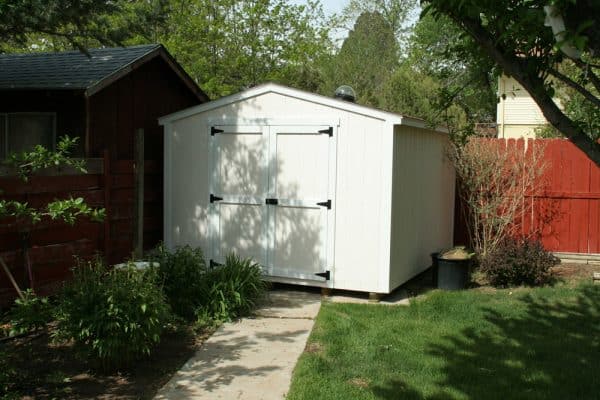 The Gable Shed
A Gable Shed can comfortably house your family's bicycles while efficiently protecting and preserving them against rust and bad weather.
Studio Gable Shed
The Studio Gable Shed is the perfect shed you need for your backyard office workspace. With its extra windows and aesthetic appearance, your work space will be the talk of the town!
Whatever you might be dreaming or needing in a storage shed, Colorado Sheds is equipped to make your inspirations a reality. Check out what other satisfied customers are saying about our work at Colorado Sheds.
Special Customization Options Awaits Your Storage Shed
At Colorado Sheds, we proudly offer the opportunity for you to customize your storage shed to your exact wishes. Whatever your style or need personalized customization is available. Take a moment to read this happy customer share how his impossible dream came true!
"I Wish Every Company Took Care of Their Customers Like These Guys"
Short version: I asked ISI Sheds [Colorado Sheds] to do what I truly believed was impossible at the time I asked them. Not only did they do it, but their work and craftsmanship were outstanding, and their customer service is excellent. Truly one of the best consumer experiences I've had in years. We talked to the other companies, including the big one everyone knows about. None of them would do what we wanted within the time frame we needed it. All of them were significantly more expensive for what would have been an inferior product. Way to go ISI Sheds!Details (For those who are interested:
I asked them to build a fully customized, 12′ x 20′, barn style shed… (insulated residential doors and windows, a transom, half-loft, w/extra height at the peak, insulated floors, vapor barrier/house wrap under the siding, etc.).
I began discussions with Nelson on June 23rd but did not finalize my order until June 26th. Then I asked them if they could build that custom shed and deliver it to my lot in the mountains by or before July 4th. It was delivered on July 3rd, exactly one week after I signed the contract.
Did I mention my property is located in the woods, 2.5 miles off the paved road, on an unmaintained road that is pretty much a steep uphill climb the whole way, with switchbacks, low hanging power and phone lines, and occasionally narrows as it passes between unmovable objects like house-sized rocks and trees?
Did I mention that once they got there, they had to use a special trailer, and a "mule" to get the shed situated exactly where I wanted it (I mean literally within 1/4″ tolerance on all 4 corners!
And they did all of that for far less than any of their competitors. Seriously, these guys are the best and I give them my strongest possible endorsement!
Larry Brake
July 27, 2018
Stop by for Yourself
Maybe "seeing is believing for you." If so, you are welcomed to come by our shop and take a closer look at all five of our storage shed options. We would be happy to give you a tour and to personally answer any questions or concerns you are processing with your purchasing decision. Colorado Sheds cares about helping you make the most out of your space, time, and money. Our address is 155 Shoop Dr. Penrose, CO 81240. Just hop on CO-115 for a leisure ride to our nearest location located in Penrose only about 45 min away!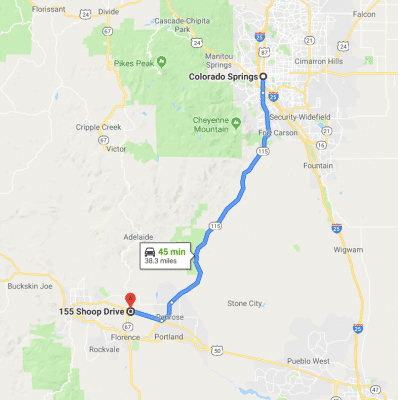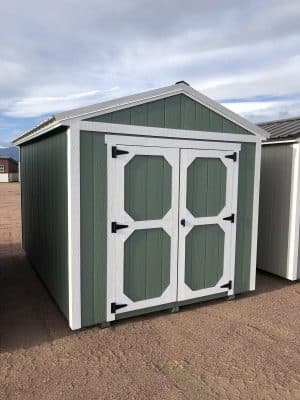 When Colorado Spring Sheds Deliver, They Deliver!
We are honored to serve all of Colorado Springs and beyond, to Cimarron Hills, Manitou Springs, Fountain, and the Cheyenne Mountain region. We will deliver your shed anywhere you might be located, and we will drive the first 50 miles to your house on our wallet! We also offer on-site prep. services. We will come to your house and do a site check and give you an estimate. If your location is inaccessible for a delivery truck, we can build your shed onsite. Watch your quality, storage shed rise into formation right before your eyes!
Your welcome to call us at 719-372-7433 or get a free quote today!  Make your Colorado Spring's home complete with one of the finest storage sheds in all of Colorado.