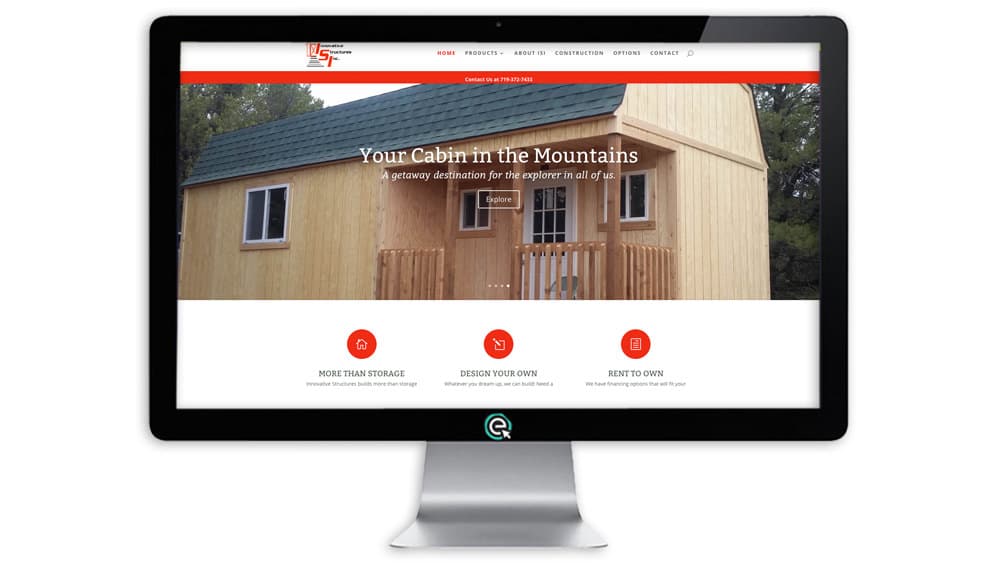 Colorado Shed Company has been serving the Eastern Slope of the Rockies as a Colorado Shed Builder providing backyard sheds, prefab garages, and other outdoor structures since 2004. But one thing they were lacking was a robust online marketing program. The simple website in place failed to reflect the narrowing of their focus to backyard sheds, garages, and other structures and lacked key features necessary for a good online marketing strategy.
Colorado Shed Company was founded by Devon Eicher in 2004. But in 2014 when the founder needed to leave town to care for his aging family, Nelson Hoover took the helm and has been reorganizing the company since then. Nelson came to Colorado Shed Company with 20 years of construction experience giving him the tools and expertise needed to continue growing the portable shed company in Colorado.
Nelson explains the vision of this Colorado Shed Builder saying "we are a faith-based shed and garage company that believes our workmanship and ethics should reflect the God we serve."
Early on, Nelson realized the need for a shed and garage marketing plan that could grow their brand presence without having to open new display lots in every major city. So he returned to his hometown and contracted with E-Impact Marketing to develop the Colorado Shed Company online presence.
The marketing company applied their years of experience in Shed and Garage Marketing by implementing four key features from the start.
The new backyard shed website was built with an educational journey for the customer. It starts with landing pages showing the styles available from Colorado Shed Company. After a choice is made, the customer sees key features that make that particular structure stand out from the competition. From there, floorplans help visualize the size shed or garage needed and then siding types and options are displayed for the shopper.
Customer Relations Management and email automation tools were implemented to assist the buyers in their journey of finding the perfect shed, garage or other structure and to help this Colorado shed company keep tabs on possible customers.
To broaden the reach of people who will find Colorado Shed Company online organically, Search Engine Optimization was a key feature built into the new backyard shed website.
Simple shed photos were touched up in Photoshop to give them a uniquely Colorado look. See the before and after of an A-frame shed from Colorado Shed Company.
The website also features two car garages, carport garages, animal shelters, lean-to sheds, portable cabins, Gazebos, Pergolas and Poly Furniture for folks in Colorado.
So far, the investment seems to be working well. Within the first few days, leads skyrocketed in comparison to the pre-launch of the new site. But there is much more to come for this new venture of your Colorado Shed Builder. Over the next year, the marketing company will continue to grow the reach of Colorado Shed Company through SEO, Social Media, Ads and much more.