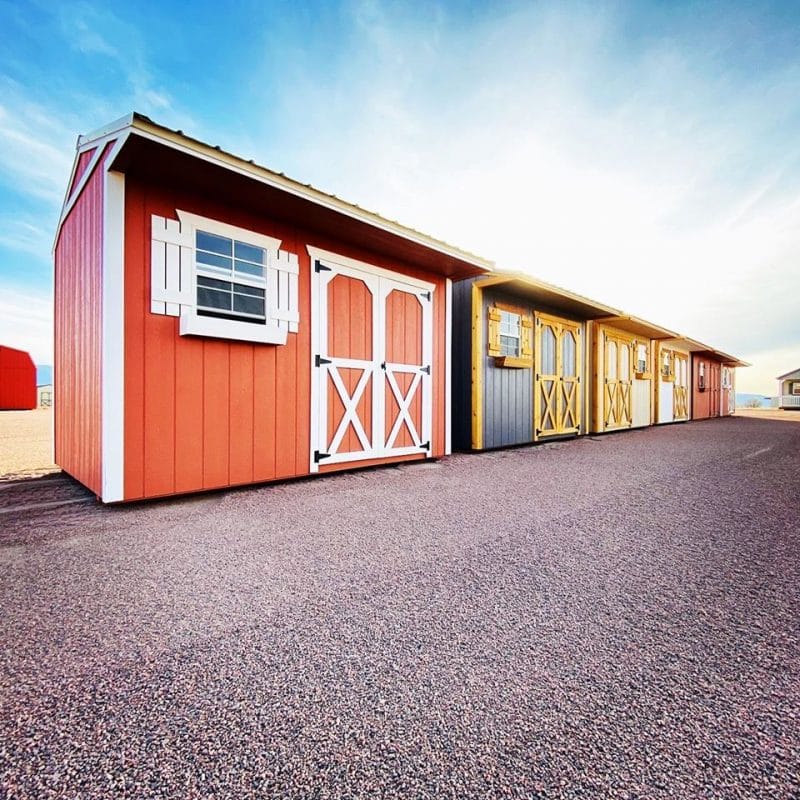 Your Ultimate Guide to a Satisfactory Decision
What is the Best Way to Get Your Storage Shed from Here to Here?
A storage shed is your next big purchase. You are thinking pricing, design, and location. Next item of consideration is delivery. Delivery might seem straightforward (and for the most part is) but depending on your location and the spot on your property designated for a new shed, you will find this blog to be extremely helpful in navigating whether you should have your storage shed delivered or built on-site.
Either Off-site or Onsite: Which one fits your scenario?
You are either in two camps when it comes to your shed's homecoming: Your shed will either be built off-site and delivered by trailer or built onsite (right in your backyard).
Discover whether you should have your storage shed delivered or your shed built onsite. There is a right fit for your a frame shed delivery. Take a moment to weigh in your current situation with the pros of either off-site or onsite delivery.
Off-site Construction and Storage Sheds Delivered Perks
Building off-site will make for a clean and efficient transition from factory to your desired site location.
Your shed is ready to use immediately upon arrival.
The delivery of a shed is a smooth and enjoyable process.
Clean and Fast Transition
It is the most convenient option to have a shed built elsewhere and delivered right to your home ready for immediate use. Also, it is ideal for the construction of a shed to take place in a controlled environment to minimalize any outside interference and eliminates construction in your backyard.
Smooth Delivery Process
Colorado Shed Company is known for taking special care in every delivery of their quality-built sheds. Not only do they take special care during the driving process of delivery, but also the installation of your shed at your desired location.
There are two key factors which makes delivery of your shed by Colorado Shed Company exceptional.
1. The shed delivery mule
What is a shed delivery mule? It is a state-of-the-art piece of heavy-duty equipment designed to carry sheds to their desired locations with minimal impact to your lawn. Not only are delivery mules lawn friendly, but they are capable of getting your shed into some of the tightest spaces. With the availability of shed delivery mules, it is no longer necessary for a semi or large truck to back into your yard and the "impossible", but desired locations for your shed are more accessible.
Hear how our customers have experienced the delivery of their sheds!
January 31, 2020
"Super nice shed. Well-built and looks very classy and the delivery guy could thread a needle with his truck, so if you got a hard spot to reach when your shed is delivered don't worry, he can hit it. I am very HAPPY!!!!!"
Terry Dale
January 20, 2020
"I ordered my shed to specific guidelines. And I was concerned that there wasn't more contact from them. But it was finished ahead of schedule and it was built exactly as ordered! My next concerned. Was that I also wanted it placed in a very specific spot… tucked back in the trees and I live off a County Rd that might make it difficult for delivery. I was concerned that it just wouldn't be possible. Brian delivered right on schedule and placed it EXACTLY where I wanted it! Even maneuvered around a little tree I wanted to keep! I couldn't be happier! Truly professionals with attention to detail and made the whole process effortless!"
Rachelle Monier
2. Colorado Shed Company delivers in all weather!
Rain or shine, snow or sleet, hot or cold, Colorado Shed Company delivers in them all! The team of drivers and installers respect Mother Nature but are also respectably trained and cautious. They are vigilant while driving and thoughtful while installing your shed. So regardless of the weather conditions, Colorado Shed Company is dedicated to safety and quality from the moment they leave headquarters to their return and every second in between.
Scenarios Fitting for Storage Shed Delivery
Your desired shed location is in a relatively accessible space.
You don't mind cutting down a tree or temporarily taking down part of a fence for your shed to fit in its designated spot.
You are looking for a small to large-sized prefab storage shed.
These are the most common scenarios that factor into the choice of a prefab shed delivered by truck or trailer.
Sheds Built Onsite Perks
Regardless of how remote your location or tight the space, your shed can fit anywhere!
Larger sized structures are available with on-site construction
You can enjoy watching your shed's construction from start to finish.
Greatest Flexibility Offered
Sheds built on-site is your most flexible option when it comes to location and size. If you have been feeling uneasy about purchasing a shed due to your unique or secluded location, then having your shed built on-site is the way to go. Also, you are not limited to only the prefab options which come in specific sizes. You might need a storage shed that is larger than the sizes offered.
Colorado Shed Company Onsite Construction Perks
You get a crew directly from Colorado Sheds Company installing on-site.
Their on-site fee has recently been lowered from 20% (of base) to 14% (of total).
The size of your shed or structure can be built up to 40' wide and with unlimited length.
They are licensed contractors in all the counties within their service area.
Below are some of the notable on-site structures built by the Colorado Shed Company.
The Horse Barn
November 15, 2019
"I couldn't be more satisfied with the entire experience! From my first conversation work Julian who helped me patiently with design, to Brian who came by to check access and his ability to deliver the shed to the actual day of delivery of the small shed, to the last two days with Drew and his crew on site building the large shed… absolutely professional at every turn!!! Couldn't be happier!!!"
Heidi Morgan
The Hicks Building Styled after the Barn
Before On-site Construction
After On-site Construction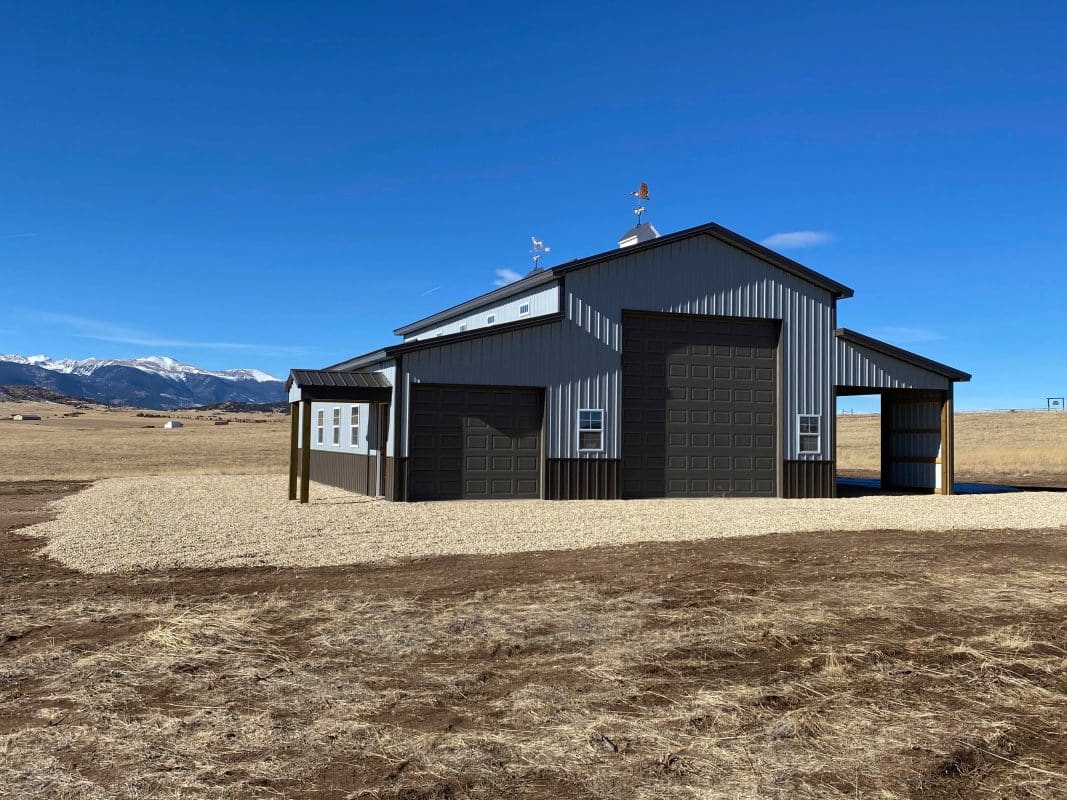 Three Car Garage for Valued Customer Jim Kretzer
Scenarios Fitting for Storage Sheds Built Onsite
Your property isn't accessible by delivery trucks. For example, you live in an urban setting or mountainous region.
You don't want to tear out a tree or fence in the way of delivery.
You are looking for an extra-large structure.
The above scenarios are common reasons for choosing your shed to be built on-site.
In Conclusion
Shed delivery vs. on-site build… and the winner is… Have you decided which is right for you?
Whether you are certain of your choice by now or wish for further clarification or guidance, feel free to contact Colorado Shed Company with any and all questions or concerns. We are honored to partner with you in bringing your desired storage shed or structure home!