Do you find yourself wishing for an easier way to have a home in Colorado? Maybe you own land but are struggling to find a reliable home builder? Or maybe you simply want a beautiful place in the mountains where you can enjoy the peace and comfort of the beautiful Colorado scenery…
No matter your housing needs, we are excited to offer custom prefab homes and cabins through our sister company, Dreamwood Homes! Whether it's a prefab cabin in the mountains or a factory-built home, you are sure to find the structure that will suit your needs.
With 5 different floor plans ranging in livable square footage space from 420 sq ft to 1,350 sq ft, we are sure to have a cabin or home for you.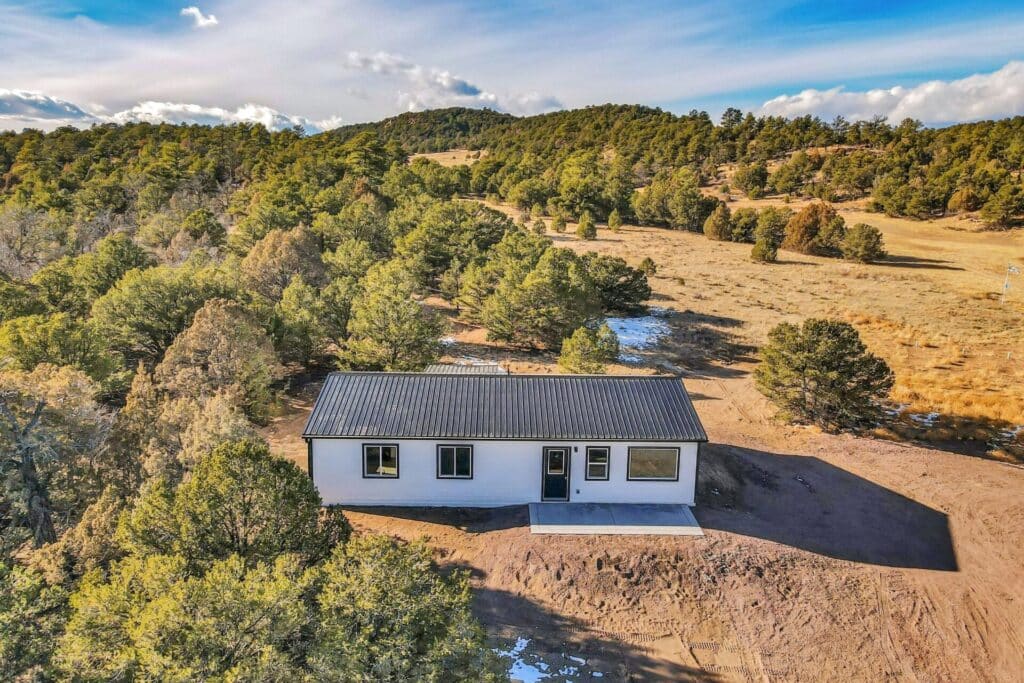 What's the Difference Between a Prefab Cabin and a Modular Home?
Realistically, there isn't much difference!
It really comes down to the overall function and design, but the layout and blueprint probably won't change much.
For example, if you want a structure in the mountains to spend time as a family in rest and relaxation, then you probably are looking for more of a cabin feel. We will help you with custom design and features that provide the cabin feel you want.
Or, if you own land and are looking for a quality home without the time constraints of regular home construction, then we will help you design a prefab home that fits your family's needs.
So whether you are looking for a cabin or a home, we have the floorplan and custom features you need!
Modular or Prefab?
Some people call them "prefab cabins", others call them "modular cabins." You can even refer to them as "factory-built." The specific answer would be modular cabin because a majority of the cabin is built in a manufacturing facility right here in Colorado. Whereas, a prefab cabin would give the implication that only portions of the home are built in a shop while the rest of the home is then built on site. After the modular home is done being built and inspected, it is delivered to your property where it is set on the necessary foundation. This foundation is primarily a block wall foundation. We will take care of prepping the foundation and the necessary utilities before the delivery of your cabin.
We hope you will consider our high-quality modular cabins today.
Cabin & Home Construction
Dreamwood Cabins are designed and built by fellow Coloradans, giving you the confidence that your cabin will withstand the treacherous winds and weather that invade our great state each year.
These modular homes are built in a climate-controlled warehouse. This highly efficient setup allows you to get a high-quality cabin at an affordable price. It also allows for your cabin to be built without the potential of weather to have an effect on the building materials or project itself. This is a big plus, given that some new homes can be pretty much ruined by rain or snow before the home was ever lived in.
These aren't just any run-in-the-mill cabins, either. These prefab cabins are built by highly skilled Colorado craftsmen using some of the best materials. The Dreamwood Cabins are built to the following specifications.
Prefab Cabins & Homes Gallery
Dreamwood Cabins are Built to Building Code – IRC 2018
Our engineered plans are reviewed and stamped by the Colorado Department of Housing.
Snow Load is rated at 71 PSF Roof Load and 50 PSF Ground Snow Load.
Wind Load is rated at 115 MPH.
Construction Specifications
The floor system is 2×6 floor joists 16″ on center. Double 2×6 rim board around the perimeter of the entire home.
The walls are 2×6 studs 16″ on center.
Engineered roof trusses are placed 16″ on center.
Insulation
Designed for maximum efficiency, the floor, walls, and ceiling are insulated in every Dreamwood Cabin.
Floor: Closed Cell Spray Foam with R-31 rating
Walls: Fiberglass Batt Insulation with R-19 rating
Ceiling: Closed Cell Spray Foam with R-38 rating
Heating and Cooling
Base pricing includes electric baseboard heaters.
We offer mini-split systems as an option for heating and cooling in your modular cabin.
Exterior Finishes
Choose from Duratemp Panel Siding, 6″ Reveal Lap Siding, 29 Gauge Metal Siding, or 8″ Log Siding.
The roof is available with 40-year rated Metal Roof or 30-year rated Architectural shingles.
Interior Finishes
The interior can be finished with shiplap or V-board on the walls and ceiling. Choose from a clear coat or painted interior. Accent trim around doors and windows may be stained as well.
The flooring is a highly durable hand-scraped wood plank laminate flooring or a waterproof vinyl plank.
The fact that Dreamwood Cabins is a sister company to Colorado Shed Company can give you the confidence that your cabin will be built with the same high-quality craftsmanship as all of our sheds are built with.
Financing
All Dreamwood Cabins are licensed modular homes, this makes financing your cabin home simple for you. We will gladly assist you in making sure the financing process goes smoothly.
We look forward to helping you purchase a modular cabin home with Dreamwood Cabins.