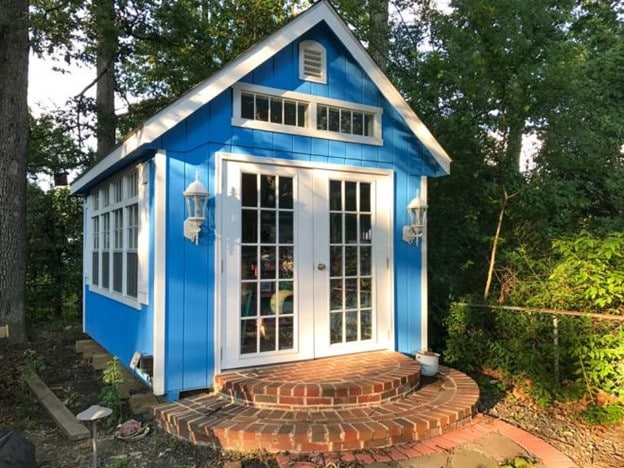 Time to start the search for a new shed! Does the excitement of discovery surge through your veins, cascading through your body with energy for this task? Or does the task of shed hunting leave you feeling uneasy and wearied simply by the need of deciphering the best fit for you? With so much going on in life, we understand this tension, which is why we want to help guide you to a satisfactory and stress-free decision.
Plus, there are lots of popular shed sizes, and it's hard to make a decision!
At this point, a 10x12 shed has piqued your interest, yet perhaps has not sold your wallet.
This blog will help you unpack the benefits, the uses, and the prices of a 10x12 shed. Ultimately, this blog should lead you to a confident decision on whether a 10x12 a-frame gable shed is right for you and if so, which one could be the right one for you.
 5 Fantastic Benefits of A 10x12 Shed
1. Largest Size Permitted without A Permit.
If you are looking for the largest shed size that can be installed in the state of Colorado (and most of the rest of the nation) without a permit, a 10x12 shed is your shed. If you are looking for the least hassle route to your shed, you will enjoy this benefit of a 10x12.
2. Small, but NOT Too Small.
Another benefit of a 10x12 shed is its size. It is not the smallest shed around and neither is it too large. Sometimes smaller is better than purchasing an oversized shed that looks out of place in your yard.   The size of a 10x12 shed provides adequate space for your needs while empowering you to remain minimalistic and organized with your storage.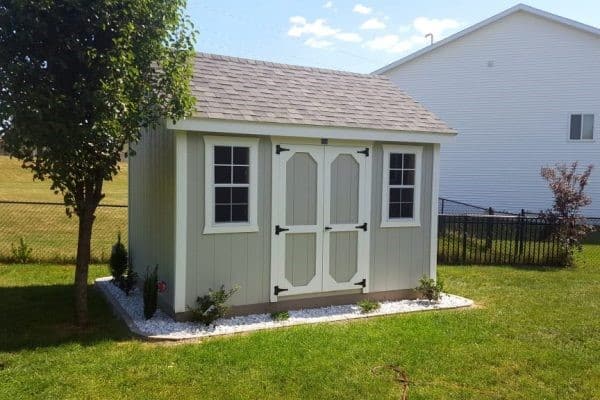 3. Financially Friendly
If your budget wants to be friends with a nice-sized shed, then a 10x12 shed is your best friend. 10x12 sheds are a popular choice for a shed thanks to this fact. A 10x12 base price ranges from $2,900 - $4,600, depending on the style of the shed.
4. Fits Practically & Aesthetically Anywhere
With all the push towards bigger and bigger sheds which end up looking oversized and out of place in certain backyards, a 10x12 shed does just the opposite. Instead, a 10x12 shed assures to fit attractively and harmoniously in any smaller to the medium-sized back yard.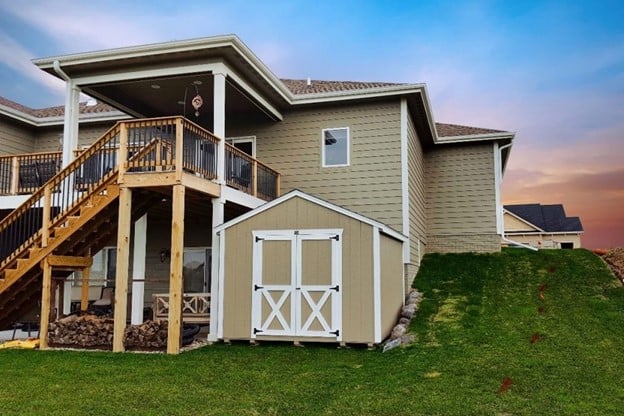 5. Versatile Storage Capacity
Although a 10x12 may sound like limited space, it does in fact allow for versatile storage capabilities. Plus, if you use space-saving ideas like shelves, pegs, and your walls to organize and store tools, gadgets, hobby equipment, etc... you can utilize its space to the fullest.
5 Benefits in A Nutshell
If you are looking for a hassle-free, smaller, economical, flexible, and versatile storage opportunity, a 10x12 shed has your name written on it! Well, almost!
4 Ways to Use a 10x12 Shed
When it comes to the uses available to you with a 10x12 shed, the options are endless! However, let's focus on the 4 most popular ways to use a 10x12 shed.
1. Basic Storage – Keeping It Organized!
When you need a place for your Christmas decorations and Grandma's "heirlooms" or protected space for your hobby equipment such as bicycles, golf clubs, bins of crafts, or keepsake books…basic storage is often a driving force and popular use for a 10x12 shed.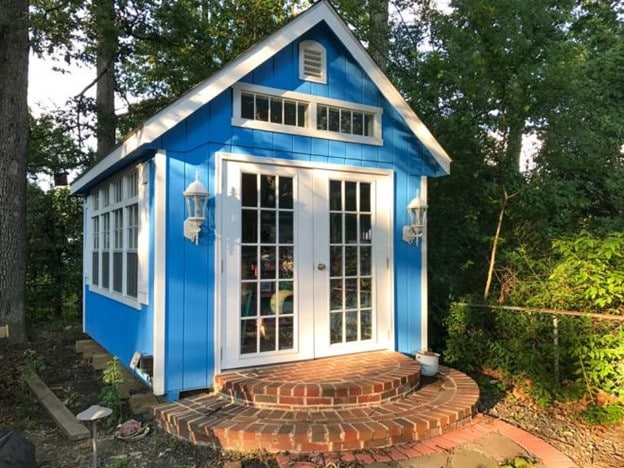 2. Backyard Studio – Work, Hobby, and Life
Another great use for a 10x12 shed is a backyard studio. Its size is perfect for a cozy office space for working from home, or a hobby such as painting, or sewing. Then there is enjoying the space of a 10x12 shed as a means of having a space for life, where you can do your bills in peace, or write letters, or yoga. Discover more on the Fantastic Uses of Studio Sheds!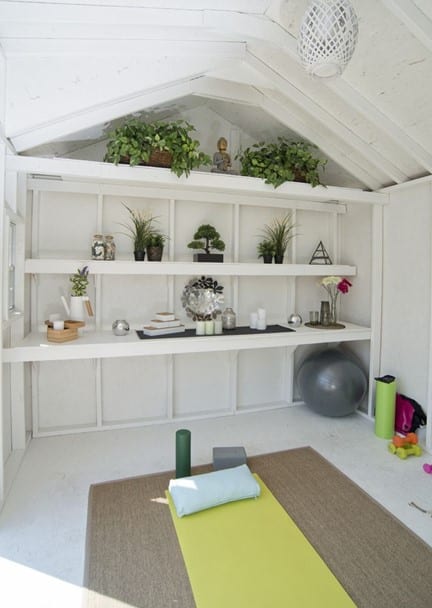 3. She Shed or Mancave – a Space for Rejuvenation
In life more than a mansion, sometimes one just needs a small, set apart space, where they know they can go for a little TLC…a 10x12 shed, offers a perfect space for doing just that! A popular use for a 10x12 shed is remodeling its interior into a lavish and personalized space for rejuvenation! Relish the discovery of some insanely beautiful she sheds for a taste of what your ideal personalized space could be for you!
4. Garden Tools and Lawncare – Keeping Things Beautiful
A 10x12 shed can easily house your essential garden tools and lawncare equipment, such as a lawnmower, rakes, shovels, and more. Plus, if you are a gardener, another popular use along with garden tools is using your 10x12 shed as a potting home base for plants and garden prep.
Of course, the uses do not stop there! Whether you need a loafing shed, you name it! The uses go on!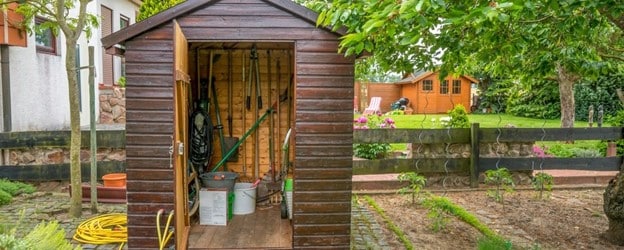 Colorado Shed Company's 10x12 Sheds at Your Service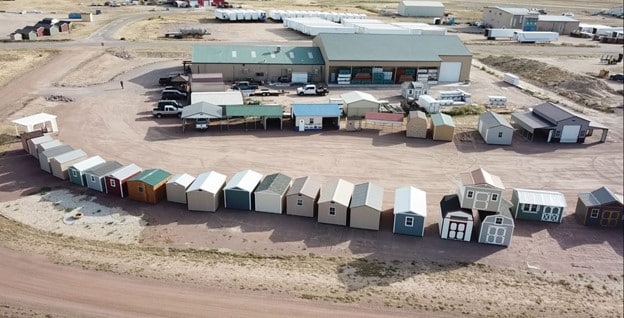 Check out some of the 10x12 sheds available to you from the Colorado Shed Company. As you browse the following pictures along with their descriptions, keep in mind that these examples do not limit you!  At Colorado Shed Company, we offer you a one of a kind customization opportunity.
If a 10x12 doesn't sound quite right for you, read our blogs on the slightly smaller 8x12 storage shed, or the larger 14x36 shed!
More Possibilities Await You for Your 10x12 Shed!
(The studio shed pictured above is not 10x12, however it is used as an illustration of what a 10x12 studio shed could look like, yet smaller.)
Perhaps you did not find the perfect 10x12 shed match! If you were wishing for an ideal shed style for a she-shed or just need one more option, check out our Studio Gable Style Shed. This shed style is a popular choice for she sheds, art studio, workshop, and more!
Try Out Our 3-D Builder!
Plan your own 10x12 shed now! Our 3-D Builder makes this process a breeze, especially when you first stop by our helpful guide on What is an Online 3-D Builder.
Considering Rent-to-Own?
Rent-to-Own is an alternative financial route offering monthly payments instead of requiring the full price upfront. At the end of the agreed-upon months, the shed is all yours! If rent-to-own interests you, check out our blog on Rent-to-Own vs Self Storage and gain helpful information on what to expect.
Discover Your Dream 10x12 Shed Now!
You're almost there! No need to walk away when you can own your very own 10x12 shed today!
As always, Colorado Shed Company is at your service and available to empower you to complete shed satisfaction!
Partner with Colorado Shed Company and let's knock out all hesitations and indecision together!
Say hello to Sweet Satisfaction!