Is your landscaping business taking off faster than you thought it would and you have nowhere to work and keep your stuff?  Are you the person with the most hunting gear and stories that you need a place all your own to showcase your trophies? Maybe you are the person with the most pink bikes and unicorn helmets (sorry, dads we know it's rough out there)? Or maybe you are the person who is trying to figure out where to have your guests stay when they come to visit.  Imagine if you could fit all of these problems that you are having under one roof?!?
Well, for starters, you need a storage shed.
And yes, at Colorado Sheds we can fit it all under one roof--by building a whopping 14 x 36 shed to fix all the problems you are trying to solve!
How big is a 14 foot by 36 foot shed really?
We know this sounds like a funny question but it is one that needs to be addressed. A 14 x 36 shed is large enough that you can comfortably fit in multiple motorcycles and work stations with no issue. You can build it up as a tiny house or office and have the rooms be separate from one another. So as you can see a 14 x 36 shed can fit in quite a lot.
What do people use a 14 by 36 shed for?
Some people use sheds this size for a man cave, a workout area, a she-shed, a home office, or even a guest quarters.
What is a "she shed"?
When you look at the 14 x 36 gable shed you may be wondering what all of this information about she sheds is. We know it can feel overwhelming so let us help you put a better grasp on it.
A she-shed is a place just for your lady and her friends. While we don't want your shed to catch on fire like Cheryl's did, we know you will be able to make your she-shed a place where dreams can come true. One example of what your 14 x 36 shed could be like is in the video below. Imagine having the ability to have a beautiful crafting area to create to your heart's content!?
Why should I buy a 14 x 36 shed as a man cave?
We know there are 3 kinds of people who are looking to get a shed as a man cave.
The man who wants to be left alone with his toys.
The wife who wants to spoil her husband with a place of his own.
The couple who wants to keep their sanity and love each other!
No matter what group you find yourself in, a man cave is a great space for the man in your life. Some of the hobbies that we have seen people do in a shed are
A gamer cave
Imagine if the gamer in your life had a space for every console they own displayed on a different screen?
When you have a 14 foot by 36 foot shed you can do just that! Not only that but make individual rooms for each console so multiple people can join in on your fun all at once.
The outfitter's delight
Imagine you just got back from the hunt of a lifetime. You are excited to tell all the stories and show off your newly prized trophy. The only issue is the last mount you tried to bring in the house was promptly placed in the attic by the "decorating committee". We know that you want a space that allows you to show off all your trophies. We also you that you want to be in a place that is as comfortable as it can be to take in all of your trophies and stories. Finishing off your 14 foot by 36 foot shed will afford you this and make the stories that you embellish just slightly more believable.
Is a 14 x 36 shed big enough for a Man Cave and She Shed combo?
When you think about the ability to have a place for crafting or a place for gaming you may think that a shed of this side is going to be way too big for just one hobby. Well, we firmly believe that by purchasing a 14 x 36 shed it would be big enough for both dreams to come true! If you divide the 14 x 36 shed in half that would give you a 14 foot by 18 foot space to make all yours. This is a square footage of 252 sq ft! That is nearly double the average size spare bedroom that you would have had to try and fit your hobbies into otherwise.
Is a 14 foot by 36 foot shed big enough for an office?
We know the struggles of small business. When you are feeling the tight space of an existing office it can be a really big buzz kill to creativity or workflow. The traditional "large" office cubicle is 8 foot by 8 foot giving you just a measly 64 square foot workspace. Maybe that would be all the size you need for now, but as your company grows you will need more space.
A 14 x 36 shed will give you enough room for not just one office, but multiple. Imagine if you start your business in a shed and just continue to grow your business literally in your backyard. This would allow you to grow at a sustainable pace and allow you to add an additional office whenever you need it!
Is a 14 foot by 36 foot shed going to be large enough for me to house my guests?
When you bought your most recent house It had everything. An amazing master bedroom with ensuite.  Great rooms for the kids and a huge yard. Then people started wanting to come and visit you and your family. You quickly realize what works for your everyday home life, might not work for when your out-of-town guests come and take you up on that visit anytime offer.
Imagine if you had a place for your guests that was totally their own. Away from the chaos of your home and gives them the true relaxation they had been wanting when they decided to come and visit.
As we discussed before, the 14 x 36 shed is going to give you a space that is much larger (more than 3 times the space) of the traditional spare bedroom.
This additional space would allow you to either make multiple bedrooms for your guests or one big bunkhouse! If you really like the people coming over you could even add a full-service bathroom.
The only word of caution we give about this idea is that your guests may never leave! And for that we can not be held liable.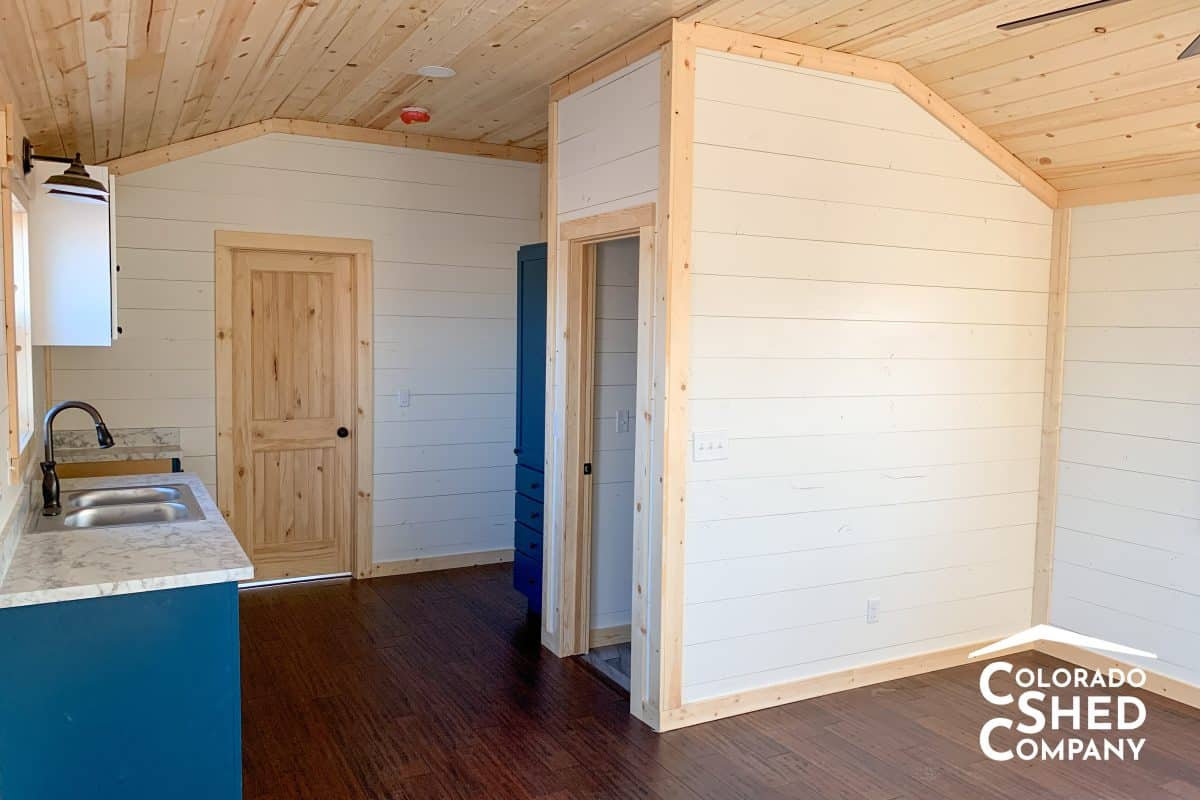 So it sounds like this is for you?
If you have made it this far in this article the truth is that you probably didn't need too much convincing for the idea that a 14 foot by 36 foot gable shed was going to be the right fit for you.
If it isn't, you could read our blog on popular shed sizes, and see if you can find one that sounds like a fit. Maybe an 8x12 storage shed would be a better size for you, or an efficient 10x12 shed.
Maybe what you are having a hard time nailing down however is what style you want and what all features you would like to have added. We are here for you if it feels overwhelming.
Give us a call or try building the shed of your dreams in our 3-D shed builder and receive a free quote!
No matter how large or small the project may be, at Colorado Shed Company, we look forward to serving you!