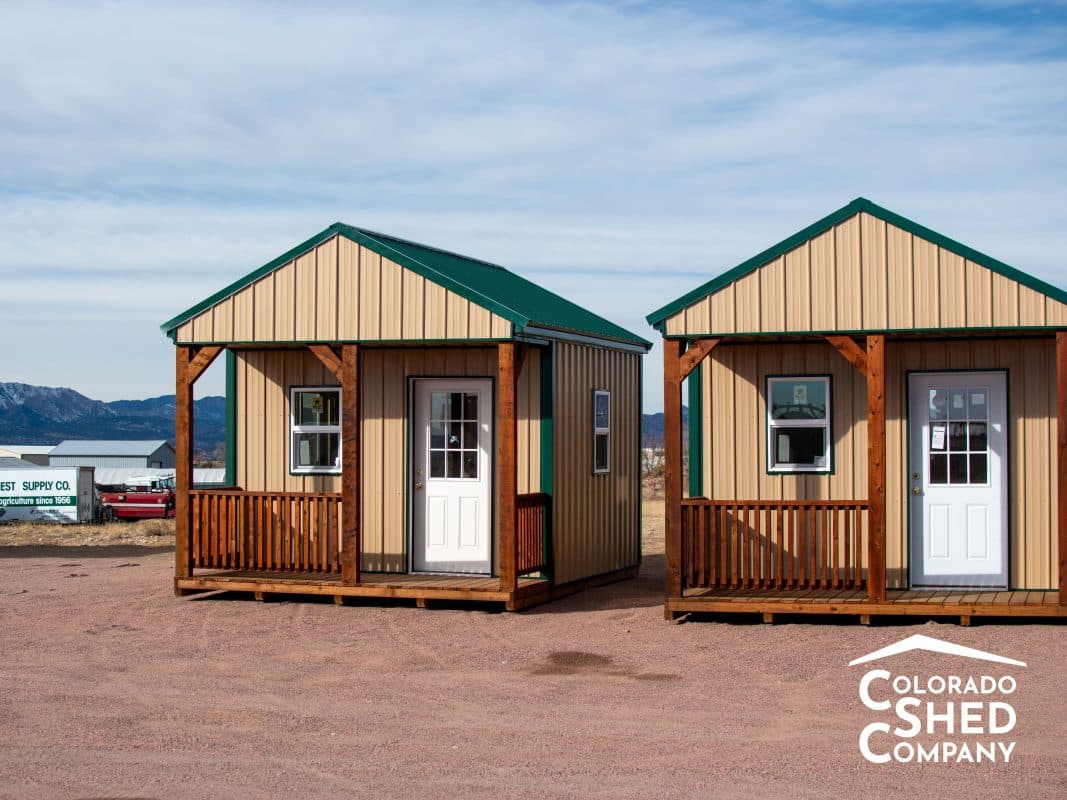 The Question Is…Can I Use my Shed as an Office?
If you have been wondering lately, "Can I use my shed as an office?" You are not alone.
We'll give you a hint: the answer is YES! Thousands of Americans woke up this morning and headed out the door for a minute walk to their backyard shed office! Sheds offer you a quiet, focused, and affordable solution for an efficient workspace. Storage sheds-turned-into-offices provide you the ultimate space for self-actualization.
At Colorado Sheds we understand how important that personal space is. Your shed, your office, your personal creative touches, your sanity, your success!
Before you go to far into planning your new office shed, you need to check with your building department about proper permits and zoning.
Check out these articles backing up the yes of whether you can use your shed as an office!
Backyard Sheds, Work from Home, by CNN and USA Today's, Americans Turn Backyard Sheds into Offices.
Enjoy this quote from a happy office shed owner in the USA Today's article.
""I have this routine at the end of my day where I lower my standing desk, I shut the shades, I turn off my air conditioner. I turn off the lights, I lock my door and I commute home, just a few steps away."
The answer to the question, "Can I use my shed as an office" is a resounding yes. Now let's answer some more questions that tie into this trending question.
How Much Does It Cost to Convert a Shed into an Office?
The next logical question to ask is the question of the $$$, costs. Perhaps you already own a shed or you are considering buying or building a shed and turning it into an office. The price varies according to how much work, materials, and labor is required. Whether you go elaborate, minimalistic, or simple. A general answer to the question of "How much does it cost to convert a storage shed into an office?" is between $2,000 – $35,000. Considering the alternative to converting a shed into an office, building onto your home, sheds turned offices offer you a good deal! The price range for building on to your home is anywhere from 21,000 to 70,000 dollars.
Here is a basic cost breakdown of the prices.
Buying a Shed or DIY (sizes 6x6 to 14x40)

$1,500-$13,500 for the base structure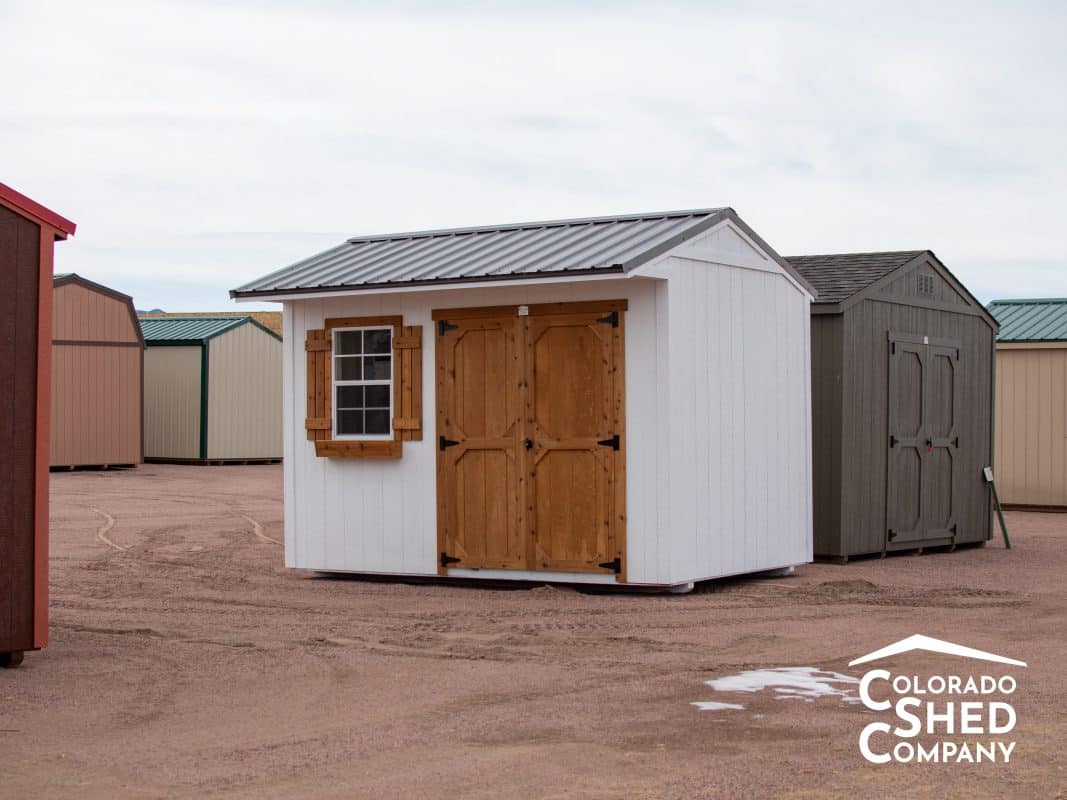 Above: 8x12 Tackroom Style Shed from Colorado Sheds priced at $4,098.6
Is It Worth it Converting a Shed into an Office?
Is the costs worth it for converting a storage shed into an office? All in all, considering your increased work proficiency by having a workspace of your own, and the alternative, building onto your home, the answer is yes. Especially yes, when you partner with a reliable shed company like Colorado Sheds for your new office shed!
Check out the following office shed available to you from Colorado Sheds! Oh, and try not to be blown away by the price!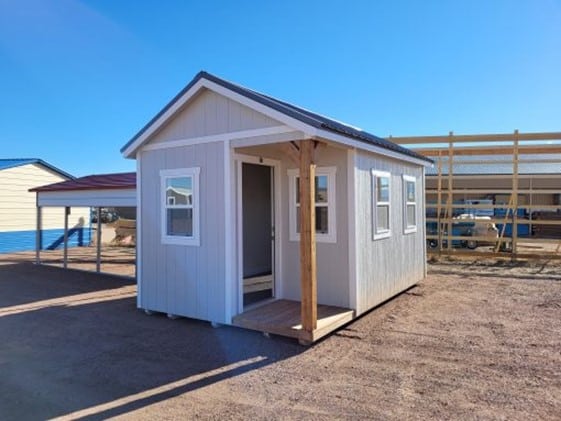 Enjoy a darling little side porch!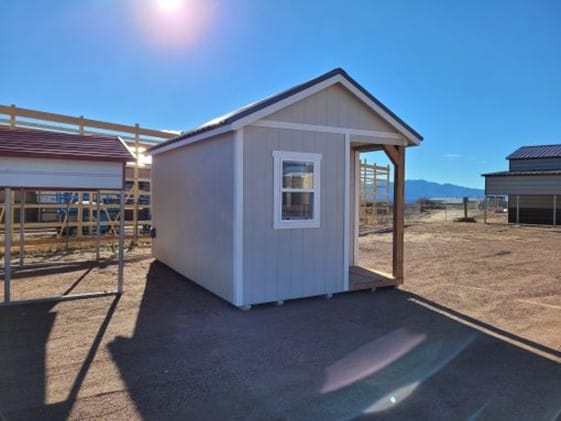 Finished interior walls and charming windows!
Finished flooring!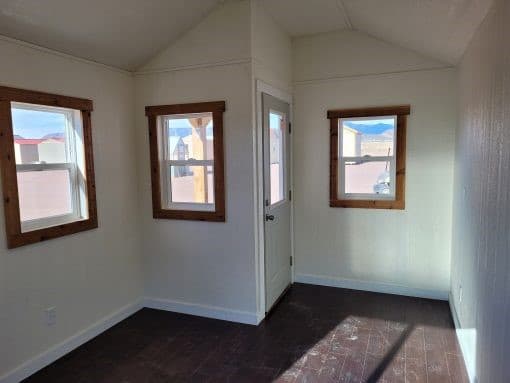 Lots of windows and modern lighting installed into the ceiling. This shed is ready for electrical connection.
Ready for the price of this 10x16 Gable Style Shed w/ Porch?  $10,498.60
As you can see, choosing a shed for an office is a reasonable financial investment! However, always be thoughtful consider your budget, what you want in an office shed, along with your overall expenses before taking the delightful shed-converted-to-office plunge!
Is it Illegal to Live in Your Shed?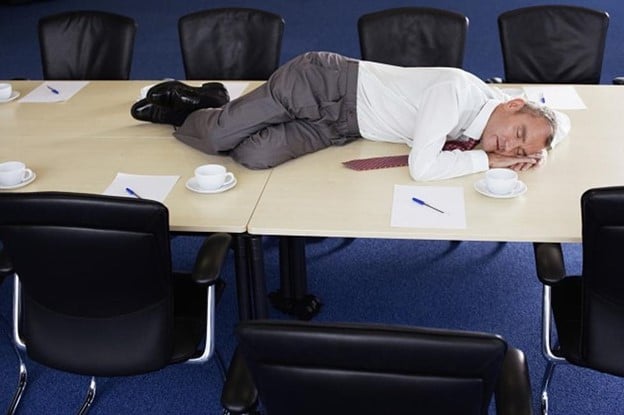 It is not uncommon to hear the saying, "she or he lives at work!" If you turn your shed into a home office, the temptation will certainly not go away. However, to answer the question, is it illegal to live in your shed? In most counties, you can not live in a shed. More and more jurisdictions are cracking down and not allowing people to live in their sheds. The only chance you have of your county being ok with you living in a shed depends on whether your shed holds to your community's health and commercial codes. If your county allows it, you will need to make sure your shed has a working bathroom, meets the local fire rating, and provides proper lighting and power (along with the local health and commercial codes).
Either way, we still don't recommend working 24/7, so maybe it's best if you can't live in your shed!😃
Check out Can I Live in a Shed by Hi Pages and Can I Live in My Backyard Shed Legally? by Plasticine House for more info and discussion on the question of, Is It Illegal to Live in Your Shed?
Living Well in Your Office Shed is Easy When You Partner with Colorado Sheds!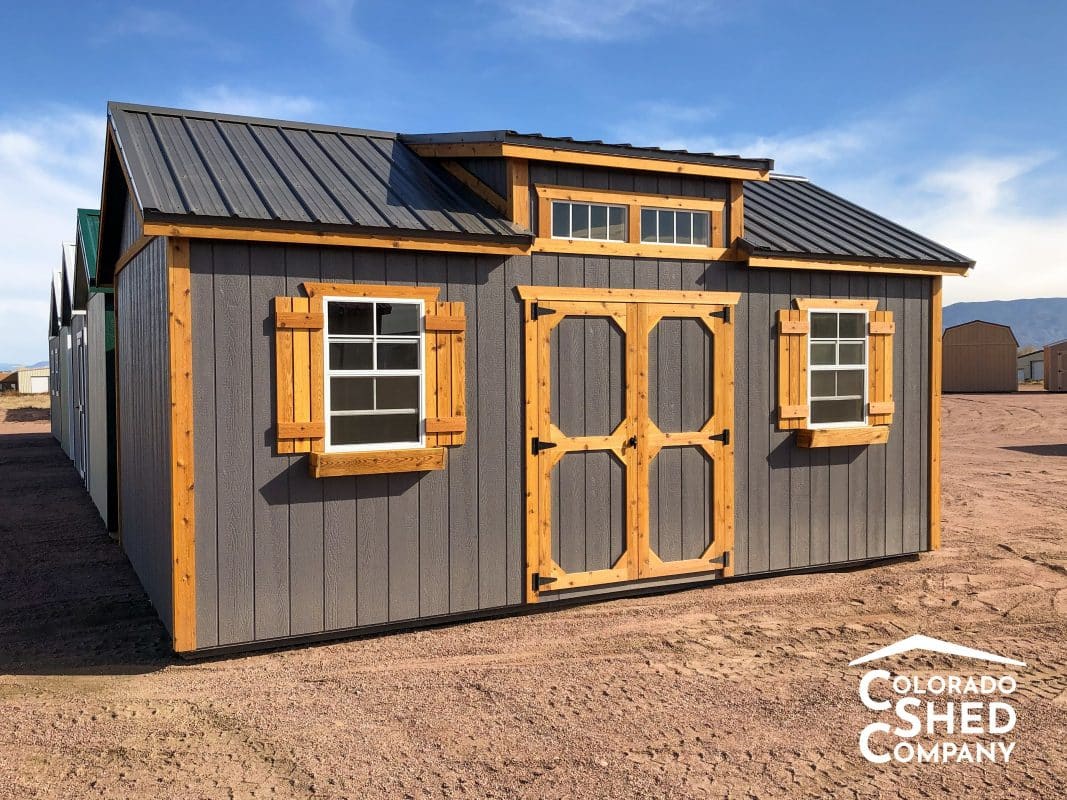 No need to feel stressed from the idea of weeding through all the health and commercial codes for an office shed all by yourself! Colorado Sheds exists to make your shed life seamless!
Our Office Gable Sheds meets some of the following codes expected of an office shed right off the bat or upon request!
Proper ventilation
Windows
Sufficient Ceiling Height
Secure Walls
Electrical Box (upon request)
Securing a Building Permit (upon request)
Proper Anchoring of Your Office Shed (upon request)
We invite you to contact us with any questions about the specifics of providing you an office shed!
Take a deep breath and exhale, securing a quality office gable shed is easier than you think!
Discover Your Ideal Shed for Your New Office Right Now!
Colorado Sheds specialize in quality and artfully designed sheds. Below are some of the most popular shed turned into office designs available to you!
We build 6 different shed styles, and customization is always an option at Colorado Sheds.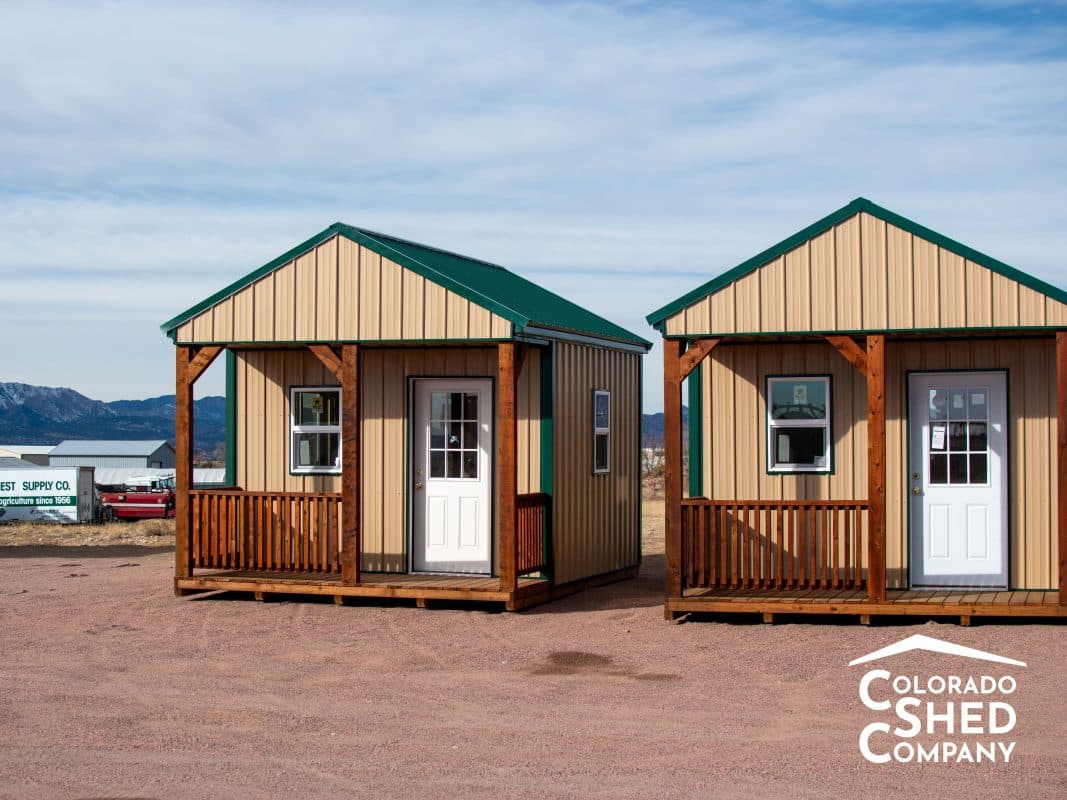 The Gable
With an attractive A-frame roof, our Gable style Shed offices offer you a stylish and economical option for your home office! Plus, if you choose our porch package, you can enjoy sitting out in the sun on all your breaks!
The Studio Gable
Charming with lots of windows and when coupled with a dormer, the result is stunning! Enjoy a spacious home office with lots of natural lighting and breathing room!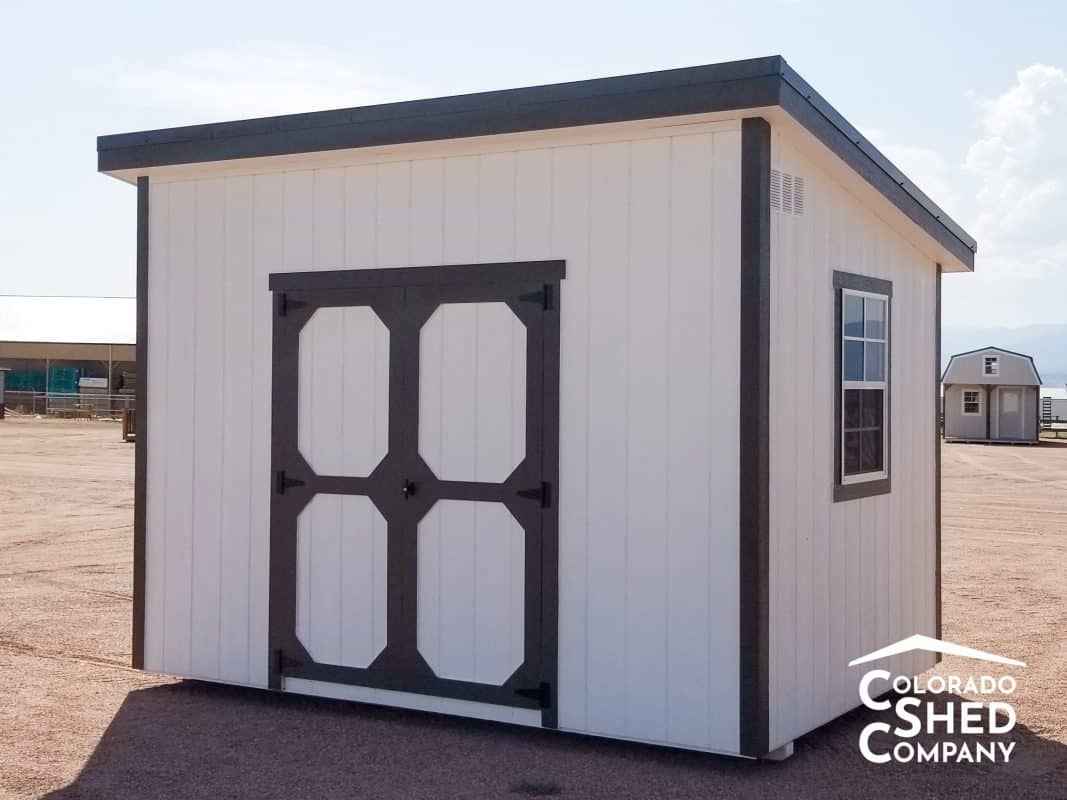 The Urban Shed
If you love all things modern, our Urban Sheds offer you the perfect match! With its unique sloped roof, this shed will certainly make a statement in your backyard! Enjoy working in style inside an Urban Shed office!
The Western Shed
If your heart is gone with the winds of the West 😊, our Western Shed provides you an office space to create a country haven! Darling, western, rugged, charming, this shed allows you to work in a space that truly speaks to your love of all things country.
The High Barn Shed
If you love lots of head space, the Barn style Shed offer you a workspace where you can really stretch out! Enjoy adding your favorite lighting, like a stylish chandelier or fancy hanging lightbulb! With a Barn style shed you have the room!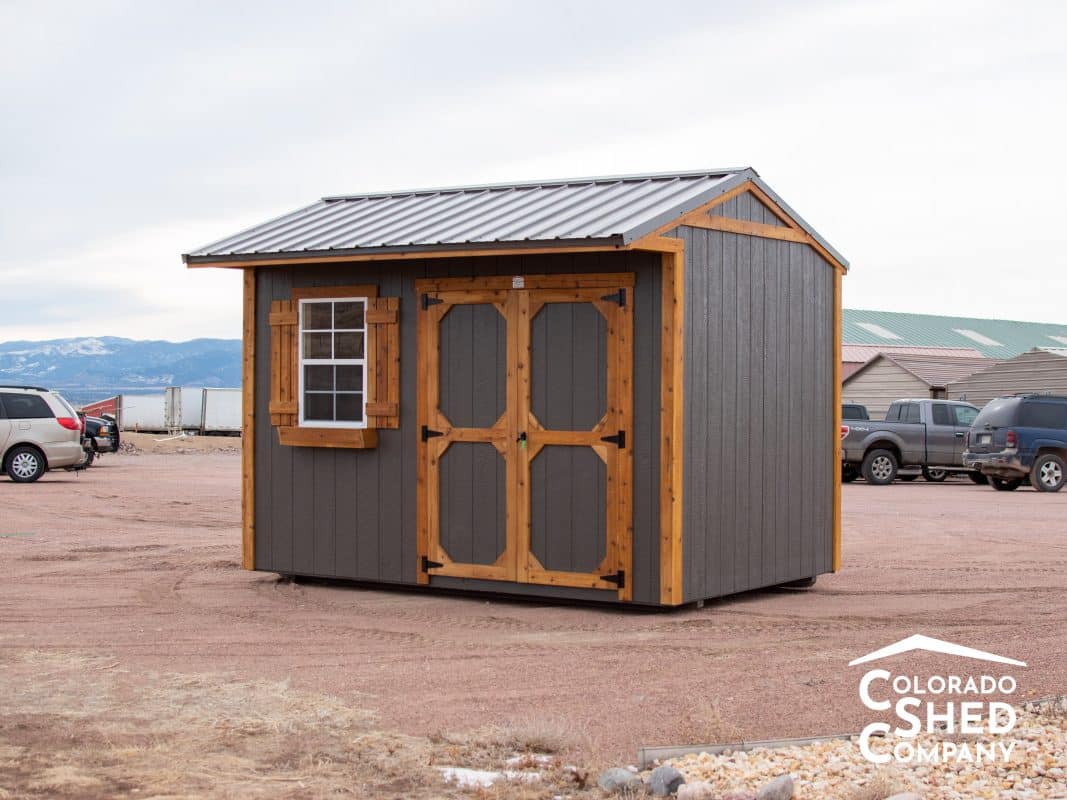 The Tackroom Shed
The Tackroom Shed offers you a cozy space for focused and productive work! With its attractive roof overhang and the option of a darling flower box, you can work plus enjoy a little bit of leisure gardening!
Partner with Colorado Sheds!
Are you ready to join thousands of happy shed office owners?!
Colorado Sheds is equipped and ready to partner with you to bring home your ideal shed, ready to be turned into an office, or basically ready to go from day one!
You can also turn our sheds into other things, such as home gym sheds and modern storage sheds. The options are limitless.
You deserve quality and reliable workspace! Allow us to empower your work efficiency!