Home Gym Sheds: Things To Know
Busy. This is the first word that people often use to describe their lives. Between work and family commitments, there is little margin time in most people's lives. Unfortunately, the first thing we often neglect is our health. Exercise has so many proven benefits, yet we simply don't have the time.
Having a home gym shed in your backyard can remove some of the major barriers to establishing a consistent workout routine and put you on the path to reaching your fitness goals. Keep reading, and learn more about why a home gym shed could be right for you and how you can make it happen.
Home Gym Sheds: 3 Benefit
Convenience
It can be hard to think of exercise as convenient, but if you have a home gym shed it can certainly be more convenient than driving to the gym. Just thinking about the preparation needed to get to the gym can be enough to make you skip a workout. Studies have shown that if you want to create a new habit, it's important to remove barriers keeping you from the activity. By removing the drive time and exercising in your home gym, you're much more likely to workout consistently.
You'll also save time. If your typical drive to the gym is 15 minutes and you workout 3 days a week, you'll save around 6 hours each month. If you calculate that over the course of a year, or 5 years, you'll be saving significant chunks of time.
Your Own Workout Space
Do you love working out, but don't like the environment of a gym? Having your own home gym shed allows you to customize your space how you want. You can set the temperature, play the music you like, and add the motivational posters that get you pumped.
While you may not be able to make this space a reality in your house, a shed could be the perfect space for your home gym.
Value
While building a gym shed and buying your own exercise equipment is a pretty big investment, it could save you money over time. Small savings on gas can add up to big savings over the course of a year, especially when gas prices are high.
You'll also save the money you spend on gym memberships. If your gym costs $40 a month, you might be paying $480 a year. Keep in mind that if other people use your home gym, those savings can go much further. Turning your shed into a home gym can be a big upfront cost, but if you value your time, the recurring costs of going to a gym can end up costing you even more.
Home Gym Sheds: 7 Common Questions
1. What size shed will I need for my home gym?
The size of shed you need is largely determined by the equipment you plan on putting in your gym. Here's a guide from the American Council on Exercise that can give you a rough idea of the space you need for each piece of equipment.
Treadmill—30 square feet
Elliptical trainer—30 square feet
Single-station gym—35 square feet
Free weights—20–50 square feet
Stationary bike—10 square feet
Rowing machine—20 square feet
Stair climber—10–20 square feet
Ski machines—25 square feet
Multi Station gym—50–200 square feet
If you have a 10×14 shed, you'll be able to fit a treadmill, a multi-station gym, and perhaps a few free weights. You should also check the height of your equipment, so you know how high your ceiling needs to be. The size of shed you need will also vary depending on the type of layout you want. Check out the styles and the sizes we offer to see what works for you.
2. Can I put a treadmill in a gym shed?
If your shed has electricity, you can put a treadmill in a gym shed. In colder climates, you'll also want your shed to be heated. The operating temperature range of a treadmill is usually from 50°F to 105°F.
3. Can I put a weight set in a gym shed?
If there is enough space in your shed, then yes, you can. You will want to make sure the floor of your shed is sturdy enough to handle the weight. The standard shed floor is built with 2×4 floor joists, and will give you a sturdy floor, but may want to reinforce it if your equipment is extra heavy.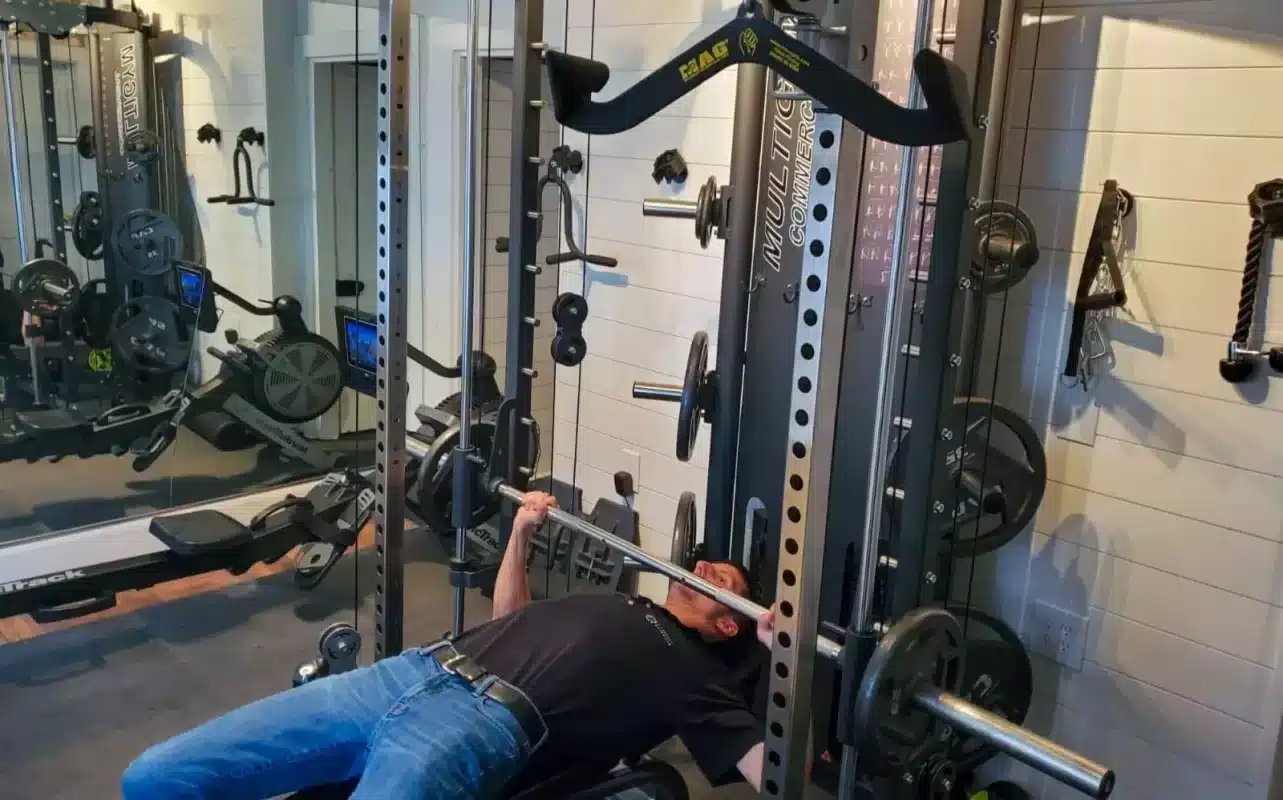 4. What features and upgrades does a shed need to make it a gym shed?
Electricity- You'll want to be able to power lights, your workout equipment, and perhaps a heating and cooling system.
Good lighting- Having well-lit space will make your gym more comfortable, and make you more likely to spend time there.
Insulation- If your shed is well insulated, it will be much easier to regulate the temperature. If you have your shed walls and floor insulated, make sure you also have insulated windows.
Climate control- If you would like to have a comfortable space, you should consider some sort of heating and cooling. You could simply use a portable space heater in the winter and some fans in the summer, or upgrade to a mini-split system. We do not provide climate control for our sheds, so you'll have to check with an HVAC professional if you want a system installed.
5. How much will a home gym cost?
Shed- A quality 10×14 shed can cost $5,000 with the price rising as you add optional extras.
Equipment- What you spend on equipment can vary greatly, but a $2,000 budget is pretty reasonable.
Finishing the shed- The cost of finishing a shed to your liking will vary quite a bit, but $3,000 will cover some finishing touches. Here's a list of a few things we offer when you buy a shed from Colorado Shed Company.
Electrical Package: 4 outlets, LED ceiling lights, an outside box with (2) 15 amp breakers that come plug-in-ready.
Insulation: R13 Batt insulation for walls and ceiling and Prodex R16 floor insulation
Interior Walls: Soffit Board Panels – painted one color.
Flooring: Waterproof Vinyl Plan
Total- A reasonable estimate for your complete home gym shed setup would be around $10,000. At this price estimate, your monthly cost over a 15 year period would be at $55. Compared to a $40 gym membership and fuel costs, a home gym shed could actually save you money in the long run.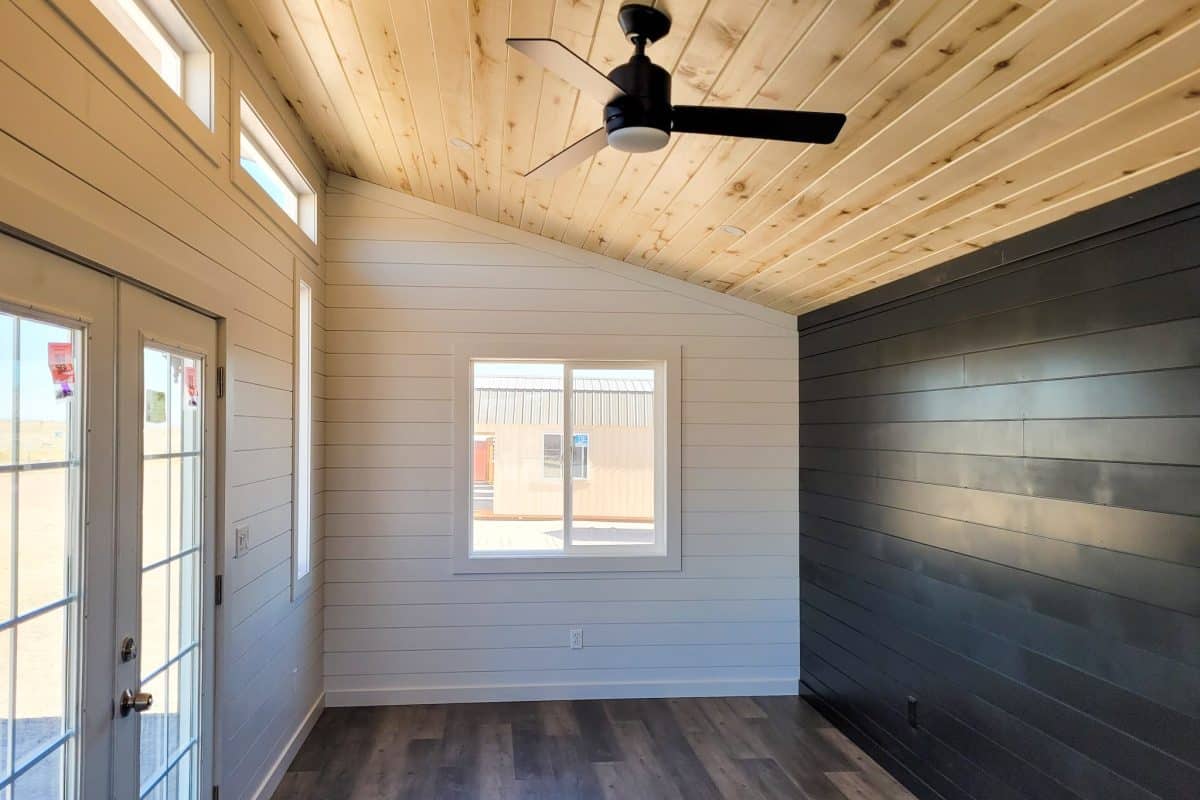 6. How do I plan a home gym layout?
First, you have to decide what kind of equipment you want in your gym. If you already own the equipment, this is a much easier decision. If you're starting from scratch, it's helpful to think about your fitness goals. Remember, home gyms are an investment, so putting some thought into your layout will go a long way. Room Sketcher is a helpful tool for planning your gym layout.
7. Is my shed floor strong enough to hold my gym?
When building a home gym, it's important to make sure your floor is structurally sound enough to support the weight of your equipment. While an average shed floor can only hold 20 lbs per square foot, at Colorado Shed Company, all of our buildings are built to support 40 lbs per square foot. That means that a 10×12 shed could hold up to 4,800 lbs. You may want to consider reinforcing your floor if you plan on investing in a set of weights that will exceed the recommended weight capacity.
Converting A Shed to a Gym Shed
Perhaps you have an existing shed that you would like to convert into a home gym shed. There are a few things you'll need to do to make this a reality.
Assess your shed
The first thing you'll need to do is assess the condition of your shed. Check if the floor is sturdy enough for your weights and reinforce if needed. You should also make sure your roof is high enough for your equipment. You'll need to get the equipment into the shed, so make sure your door is big enough.
Add your upgrades
This could include running electricity to your shed, as well as insulating and heating it. Good lighting can go a long way in adding a comfortable feel to your space.
Finish your setup
This is where it gets fun. There's an endless list of things you can do to personalize your shed from finishing the interior walls, to adding a great sound system to keep you motivated.
If you want a more comprehensive guide to converting your shed to a home gym shed, here's a great article on this topic.
Get Your Home Gym Shed
At Colorado Shed Company, we offer a number of styles that could work well for your next home gym shed. We offer sheds with unfinished interiors, so you have the option to finish the shed how you like, or we offer interior packages, so you can move right in. Check out this article about some of the finished shed options we offer here.
Home Gym Sheds: Conclusion
There are many reasons why a home gym shed could be right for you. If you value convenience and saving time consider investing in one of our sheds.
If you're interested in purchasing a new shed for your home gym, we have something to offer you. Feel free to contact us if you have any questions, or use our shed designer tool to build your perfect shed!