Is An 8x12 Storage Shed Right For You?
If you need to pick out a shed for your property, getting the right size is a top priority, and you may find yourself asking the following questions:
What size shed is adequate? 

How much will I be able to fit into my shed? 

Is it better to plan larger than the space I actually need? 
At Colorado Sheds, one of the popular shed sizes available is the classic 8x12 shed. Today, we'll take a look at basic storage shed sizing and discuss whether an 8x12 shed is the right fit for you in answering these questions. 
Let's get started! 
Before we dive into the specifics of 8x12 sheds, let's talk about some broader shed categories. 
Generally speaking, shed sizing is divided into three general categories: Small, Medium, and Large. Let's define these categories to make sure we are on the same page. 
★ Small sheds are under 90 square feet in area.
Small sheds are great for storing garden tools, lawn supplies, a small grill, and other small tools. 

Examples: 8x10, 6x8 
★ Medium sheds are 90 to 120 square feet in area.
Medium sheds can accommodate larger items such as lawnmowers, snowblowers, an ATV, or golf carts, as well as smaller tools. 

Examples: 8x12, 10x10, 10x12
★ Large sheds are larger than 120 square feet in area.
Large sheds can be used for items such as kayaks, canoes, and utility vehicles.  

Examples: 8x16, 10x16, 12x16, or even 14x36
As you can see, the 8x12 shed falls into the smaller end of the medium shed category. That means it is well suited for smaller garden tools up to medium-sized pieces of equipment such as snowblowers or a small ATV.
But what can you realistically expect to fit into an 8x12 storage shed? And what are some uses that 8x12 sheds are well-suited for? 
We'll look more closely at these questions and more about shed sizing in the next section, so stick around!
What Is The Actual Capacity Of An 8x12 Shed?
There are lots of uses for 8x12 sheds other than just storage. But for now, let's talk about the capacity of an 8x12 shed when it comes to storing things such as tools, and household items. 
96 sq feet or 85 sq feet?
First, a note to keep in mind: When you figure up how much space your shed will have, you need to take the framing into account. Sheds are typically framed with 2x4s. Those 2x4s cut into some of your space, making the total usable area about 85 square feet, not 96 square feet. 
That's not to say that 11 square feet are wasted. You can still hang rakes, shovels, or other tools in the spaces between the studs. But when figuring for vehicles or larger pieces of equipment, you need to remember how the space the frame requires
How can you maximize the space in an 8x12 shed?
The total capacity of your 8x12 shed actually depends on several factors. 
The wall height of your shed. 

The roof slope of your shed. 

How tightly you want to pack it. 
Increasing the wall height of your shed dramatically increases its storage capacity because you can hang more things on the walls, install more shelving, and lean taller items such as rakes in the corners.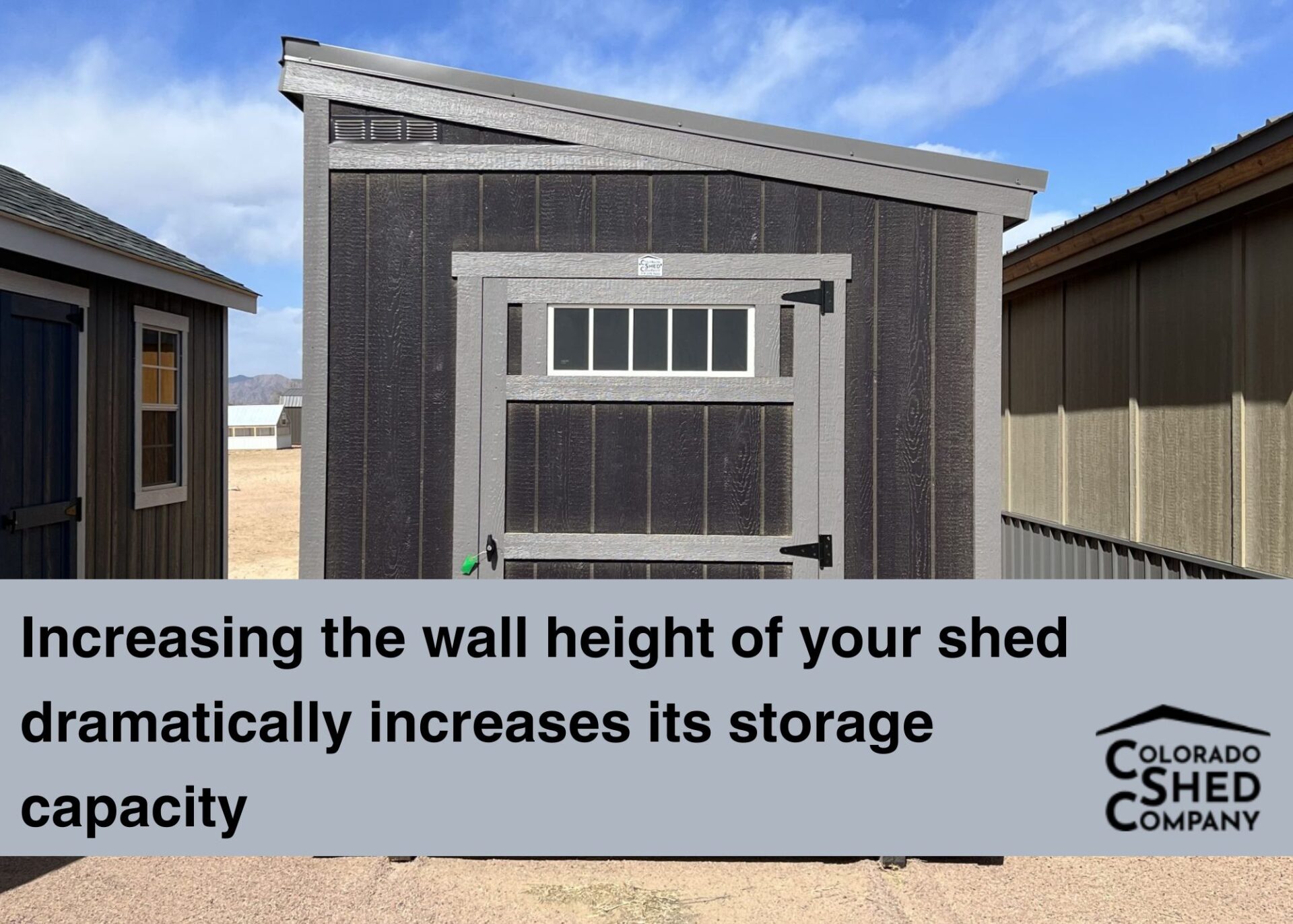 Similarly, the roof slope affects storage capacity because the steeper and higher the roof, the more space you have to hang things from the ceiling or install a loft. So the type of 8x12 shed with the most storage space has high walls and a rounded, barn-like roof (like a gambrel style roof). 
Ideally, you should leave some wiggle room in your shed so you can walk around and find things. If you pack things in tightly, you can fit a surprising amount of stuff into your 8x12 shed. But if you actually want to access the things you store, that's not the best plan. 
How do you know if your things will fit?
The best way to determine if your larger items will fit in an 8x12 shed is to measure them! Your ATV or golf cart should easily fit in an 8x12 shed, provided the door accommodates it. But it's best to check it out and be sure before you purchase your shed. 
Take a look at the spread of items you want to store and eye it up. You could even draw an 8x12 rectangle on the ground to get an idea of how much floor space it is, or find a room in your home of similar dimensions and visualize the items inside. Chances are you can get a fairly good idea of how much space your items will take. 
Of course, you can always maximize the space in your shed with good organizing! 
Some things that will NOT fit in an 8x12 shed are…
You can fit a lot in an 8x12 shed. However, some things simply will NOT fit, such as: 
Kayaks 

Canoes

Long ladders 

Multiple ATVs, riding lawn mowers, or golf carts 

Tractors or other large pieces of machinery 

Anything that won't fit through the door!
If you are looking for more than just basic storage, don't rule out the 8x12 shed, because it is large enough for multiple other applications!
A few examples: 
8x12 ft is absolutely big enough to make a home office.

It's not huge, but it's quite enough space to set up a few monitors, a desk chair, and a filing cabinet. 

An 8x12 ft shed could make a wonderful hobby nook

. With efficient storage solutions and some organizing, it could make a great leatherworking shop, garden shed, painting studio, or sewing room. It could even work for some types of photography. 

8x12 is a great size for a small animal shelter for goats, dogs, cats, chickens, pigs, or other small animals. With an open front, an 8x12 ft shelter could even accommodate a horse or cow, although it would get a little crowded with multiple horses or cows. 

An 8x12 ft shed would make a perfect pool house, where you could store all your pool toys, floaties, and pool cleaning supplies. 

There are lots of businesses you could run out of an 8x12 shed! Marketing, writing, crafts, a piano studio to give lessons or even a pet grooming parlor. It's not expansive, but there's potential there! 

Depending on its height, you can store a lot of wood in an 8x12 ft shed. One cord of wood takes up about 128 cubic feet. If your 8x12 shed is 7 ft tall, it has about 670 cubic feet of capacity. That means it could hold roughly 5 cords of wood, although realistically, it would be a bit less. Depending on your climate and the size of your house, that could be enough for the entire winter. 
You get the idea–an 8x12 ft shed is large enough for multiple purposes, and there's great potential for what you could do with one!