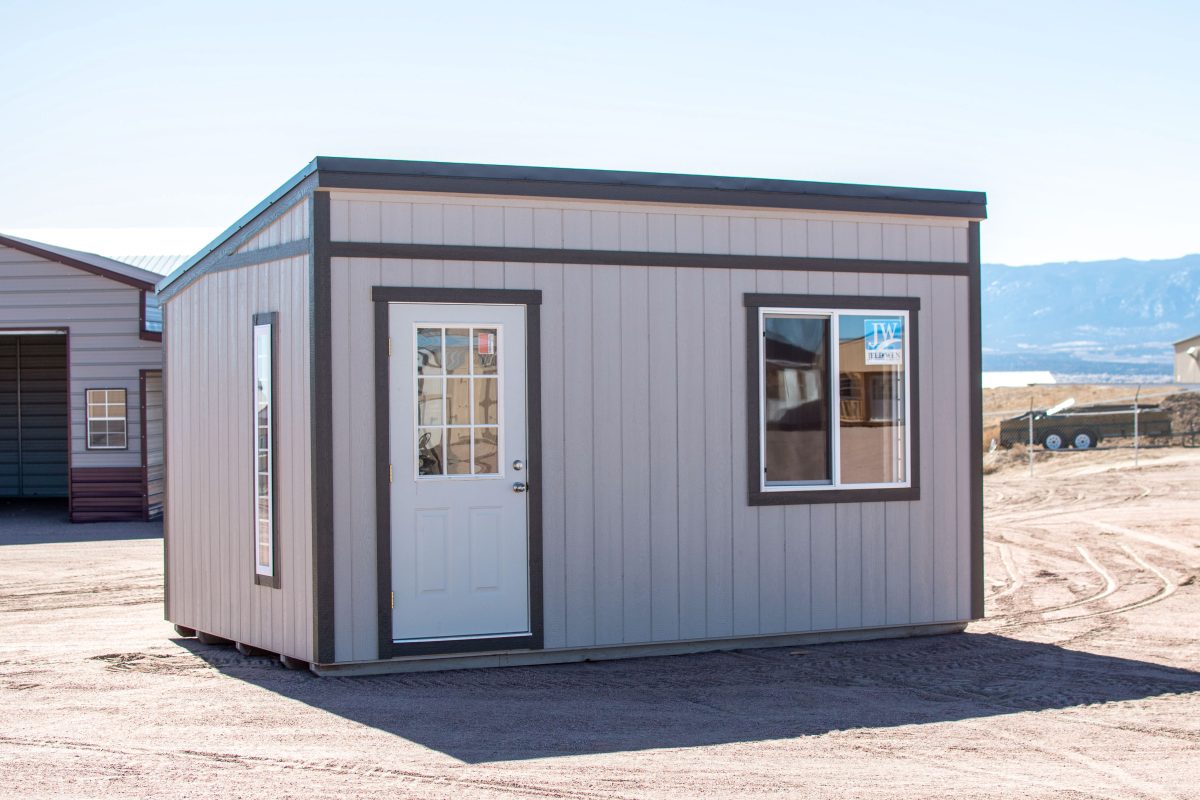 Modern Storage Sheds: What Are They?
In today's world of contemporary styles and sleek designs, the modern storage shed is quickly becoming one of the most popular shed choices. A Modern storage shed is a shed that features clean lines, lots of windows, and often utilizes the single-slope roof design. 
At Colorado Sheds, we know all about modern sheds, and today we'd like to share some of that knowledge with you!
Modern storage sheds offer you the flexibility of the traditional shed, with a trendy, contemporary vibe that is perfect for anything from a contemporary art or writing studio to the more traditional storage shed and everything in between.
Modern Storage Sheds: Styles
While almost any shed could be transformed into a modern storage shed, below you'll find a few of the more common styles. A popular feature of many modern storage sheds is the slant-roof. This is a design element that allows for that soaring front roof line, and if designed and placed properly, can allow lots of natural light into your shed. But as you'll see, this is still a design preference and not a qualification for a modern shed.
(Note that modern storage sheds listed here are created by Colorado Shed Company, many other shed manufacturers also build similar models, but may refer to them using brand-specific model names.)
The Urban Modern Shed
The Urban Modern Shed offers everything you want in a modern storage shed. From the straight lines to the slanted roof, the Urban Shed provides you with a beautiful yet practical storage solution for your backyard. Add some extra windows, upgrade the door, and you've got yourself the start of your personal home office, man cave, or she shed.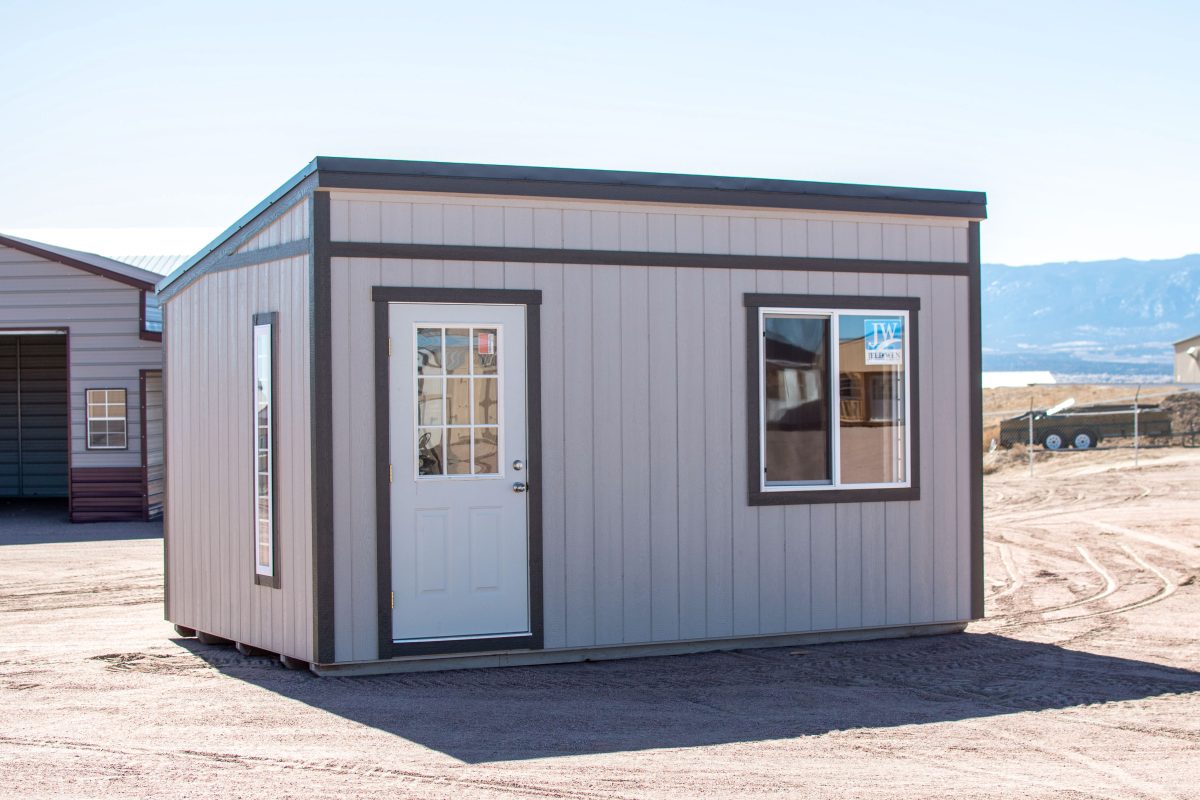 The Royal Gorge Modern Shed
The Royal Gorge Shed is a more futuristic take on our popular Urban Shed. With additional windows and a steep, single slant-roof, this shed is the definition of a modern storage shed. Named after one of Colorado's many natural wonders, this building brings both class and beauty to your landscape. This modern shed is perfect for a classy art studio, home office, or simply a lovely storage area.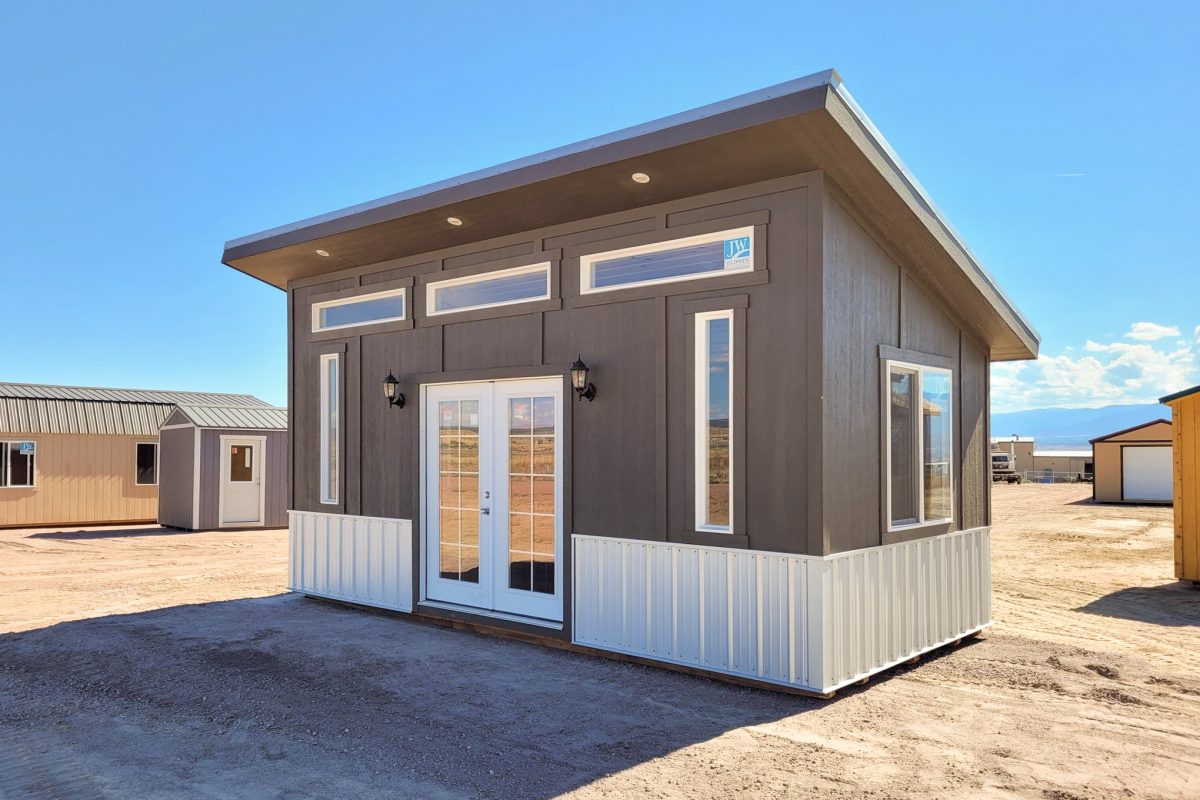 The Studio Gable Storage Shed
The Studio Gable Shed is more of a traditional shed design, with some of the elements of the modern storage shed. The side dormer over the front door allows lots of additional natural light into the shed. This shed makes an ideal garden or potting shed. In addition, you could add more windows and insulate the interior, and you'll have yourself the perfect home studio or guest room.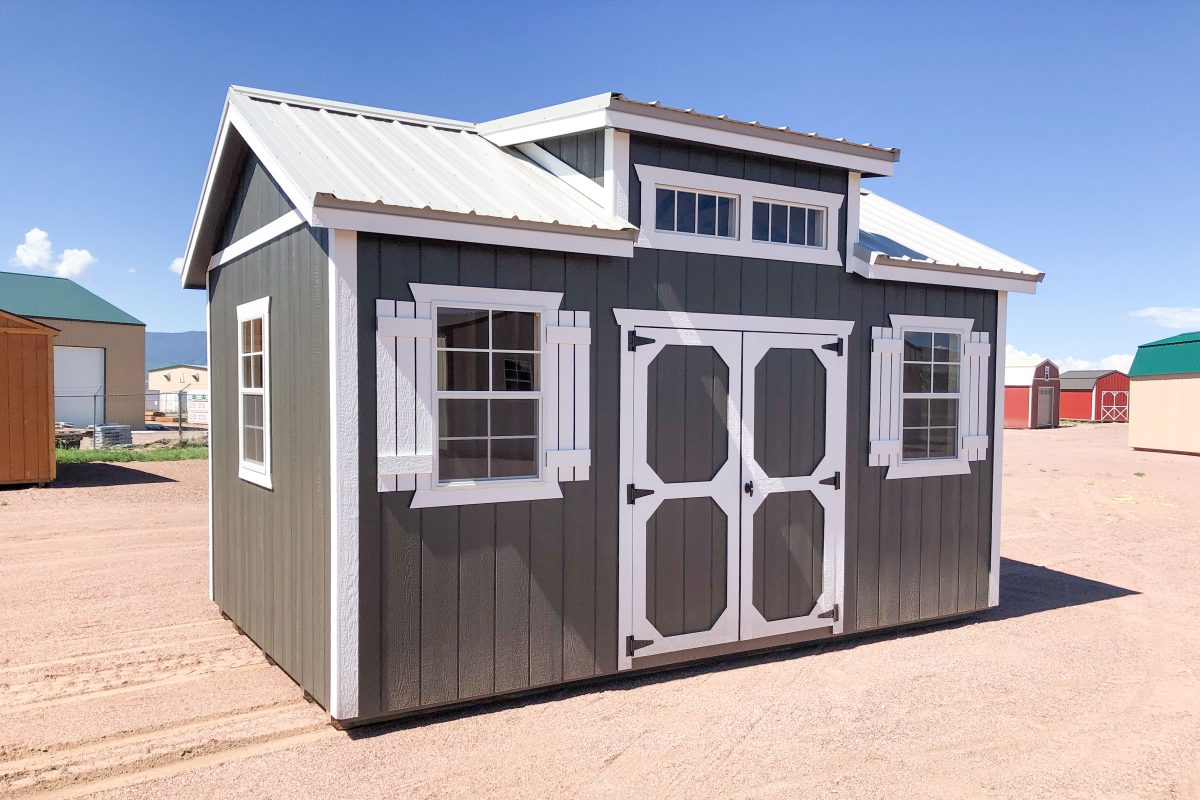 The Gable Storage Shed
While the Gable Shed isn't technically a modern shed, it is a great place to start. The Gable shed is an affordable, high-quality building with tons of potential. With the addition of some strategically placed windows, this shed could be your next potting shed or modern garden shed. And, of course, this shed is great storage shed, with plenty of space to put all those things that would otherwise be cluttering up your garage and house.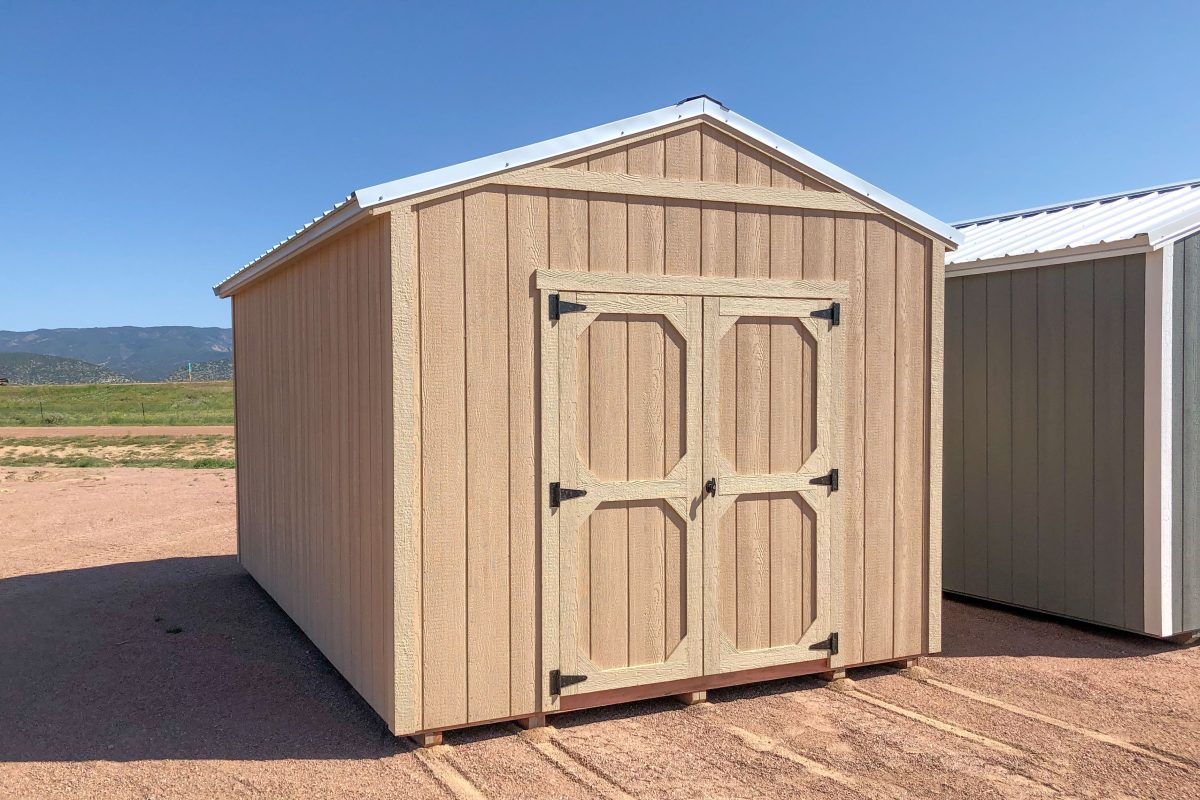 Modern Storage Sheds: Popular Uses
Garden Shed
Potting Shed
Kids Playhouse
Workshop
Pool House
Backyard home office
Writing or Art Studio
Recording Studio
Man Cave
She Shed
Hunting Cabin
Outdoor Kitchen
Guest bedroom
Modern Storage Sheds: Best Sizes
While there seems to never quite be enough space for everything we have, going huge with your shed is not always the answer. Generally speaking, the most popular shed sizes fall into three main categories.
The Small Shed - These sheds include anything from 6x8, 8x8, 8x10, and 10x10, and are great for a basic storage shed to keep your small tools, mower, weed whacker, hoses, and some of those extra Christmas decorations.
The Medium Shed - The medium shed is more in the 8x12 to 10x14 range. These storage buildings provide you with some additional storage and enough space for more tools, your riding mower, and maybe even a workbench or workspace for your hobby.
The Large Shed - The large sheds are pretty much everything else, starting at 10x16, 12x12, 12x14, and even the large 12x24. Large sheds will have plenty of room for storage, tools, bikes, and even small tractors. These modern storage sheds are a great option for the hobbyist shop, like a pottery or garden, shed, or even an art studio or home office.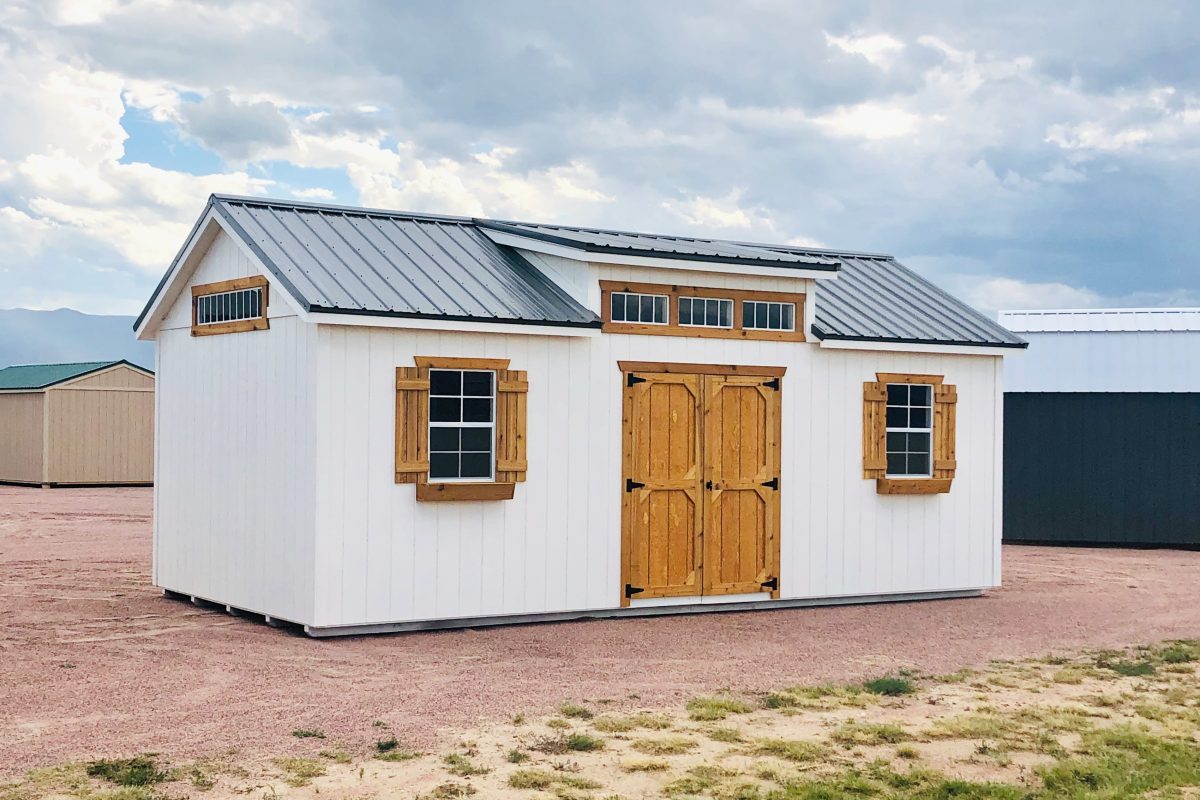 The ideal size of your modern storage shed depends on several factors, including…
The Purpose or Use of Your Shed
When deciding about the size of your modern storage shed, a great place to start is to figure out exactly what you would like your shed to do for you. Will it simply be a storage shed? Are you hoping to combine that with a hobby, and create a garden shed or pottery barn? Or is your modern storage shed going to be your new home office space?
You could even create a home gym shed! 
The Size of Your Available Space
The size of your backyard is an important factor to consider before investing in a modern storage shed. An 8x10 shed is a great size for a small to medium-sized yard, while a large yard can easily fit a shed more like 12x12 or 12x16. One pro-tip is, for a larger building, set it to the back of your yard, so it doesn't compete with your house.
And, as always, check with your local building department and if applicable, your Home Owners Association before selecting your modern storage shed size.
In the end, aside from the local regulations, the modern shed size you choose really comes down to your personal preference and what size shed will best suit your needs.
Modern Storage Sheds: Cost
The average cost of a prefab modern storage shed is between $2,500 for a smaller shed and up to $18,000.00 for our larger models. Our modern storage sheds are built at our manufacturing facility and then delivered to your location, and we offer free delivery for up to 50 miles.
Modern Storage Sheds: In Conclusion
Have you been considering investing in a shed? Do you wish you could take your office out of the house but still work from "home"? Do you want a shed that doesn't take away from the contemporary backyard you have created? If you said yes to any of these, then invest in a Modern Storage Shed, and reap the benefits for years to come.
Contact us here at Colorado Shed Company for more information about the modern sheds we offer and to request your free quote! We are excited to hear from you!