6 Popular Storage Shed Sizes (plus ideas for using them!)
6 Popular Storage Shed Sizes (plus ideas for using them!)

Backyard storage sheds come in all shapes and sizes, and choosing the right shed for your needs and space can feel challenging.
But thankfully, it doesn't need to be!
At Colorado Sheds, one common question we get asked is, "What size shed should I buy?" To answer this question, we'll review six of the most popular shed sizes and their various uses.
Let's begin!
Sheds are divided into general categories of small, medium, and large. Here's how we define the categories: 
Small Sheds 
Under 90 square feet

Examples: 6x8, 8x8, 8x10
Medium Sheds 
90 - 120 square feet 

Examples: 8x12, 10x10, 10x12
Large Sheds
More than 120 square feet

Examples: 8x16, 10x16, 12x16
Finding the right shed for you depends on several factors, including how much storage room you need, your available yard size, any fence or gate restrictions you have, and neighborhood codes. 
Starting with the small sheds, we'll look at two common sizes in each category and discuss how you can utilize them.
At 64 square feet, an 8x8 shed provides the perfect amount of additional storage in a small backyard. This shed size works well for storing tools, garden supplies, bikes, and more. While most commonly used as storage or garden sheds, 8x8 sheds can be used for anything from housing small animals to a child's playhouse. If you own a small business, an 8x8 storage shed could also be the perfect size to store extra inventory.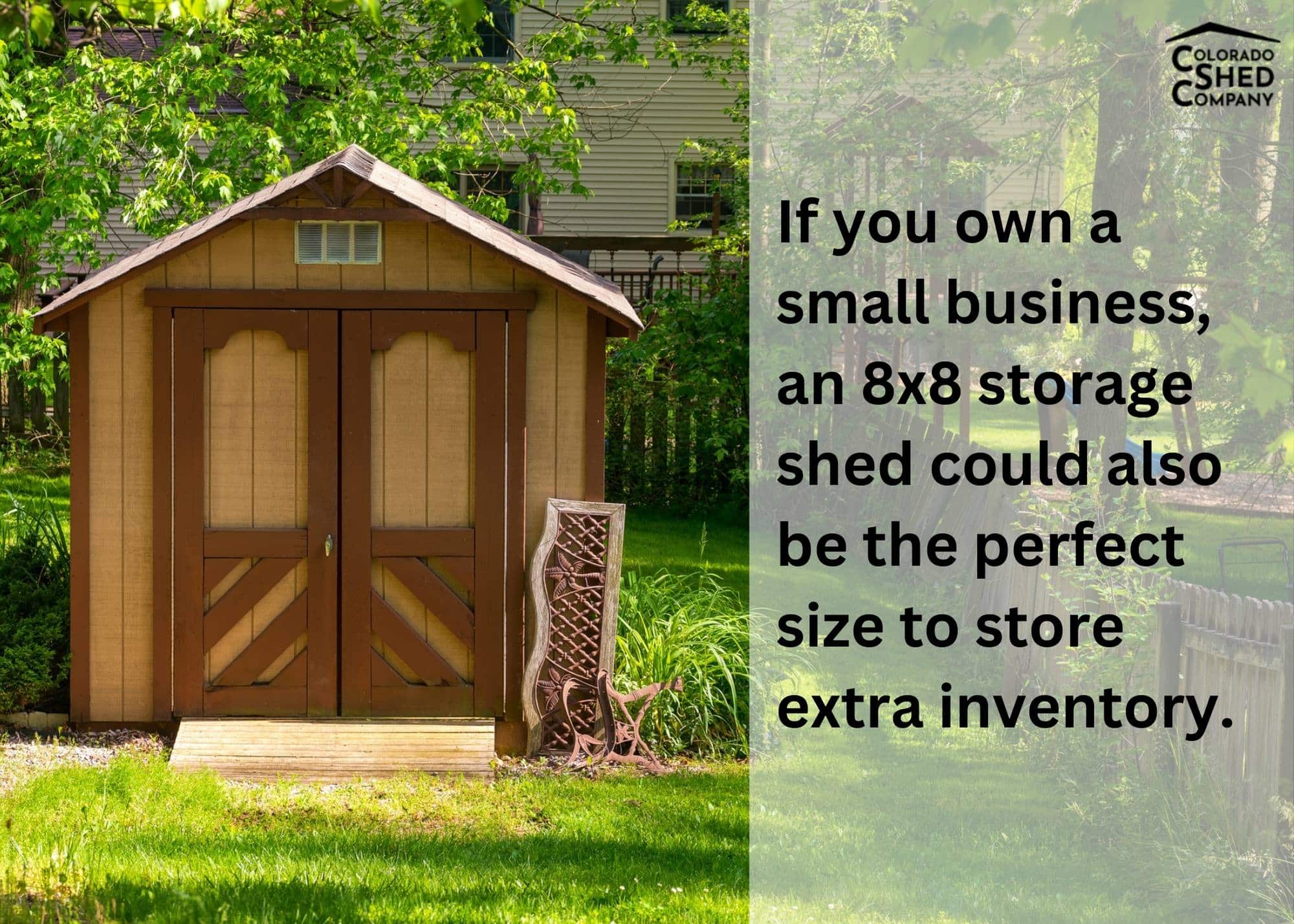 8x8 sheds function best as single-use sheds since they are so small. For example, if you use an 8x8 shed to store your woodworking tools, you probably won't have much space to also do your woodworking. 
8x8 Shed Use Ideas:
Garden Shed 

Storage Shed 

Playhouse 

Dog House
While still a small shed, the 8x10 shed offers 16 more square feet of space than the 8x8 shed. This extra space gives you more options for how to use the shed. 
An 8x10 shed can store bikes, seasonal decor, camping gear, lawn care equipment, and more. It is too small to comfortably fit a riding mower or large recreational gear, so choose a larger size if that's what you need to store. An 8x10 shed also works well as a small animal loafing shed. Learn all about loafing sheds in our blog Loafing Sheds | All You Need to Know! 
8x10 Shed Use Ideas:
Garden Shed 

Chicken Coop

Storage Shed 

Dog House/Welping Shed
An 8x12 shed gives you 96 square feet of space. With this shed size, you can comfortably store a riding lawn mower, ATV, or golf cart. The door size makes a big difference in what vehicles you can store - make sure you get a door big enough to accommodate what you want in the shed! 
An 8x12 shed has a lot of potential uses, especially for a creative individual. Read our blog about 8x12 Storage Sheds for more information. 
8x12 Shed Use Ideas:
Garden Shed 

Home Office

Hobby Nook

Small Home Library

Storage Shed 

Pool House

Loafing Shed

Wood Storage

Tack Room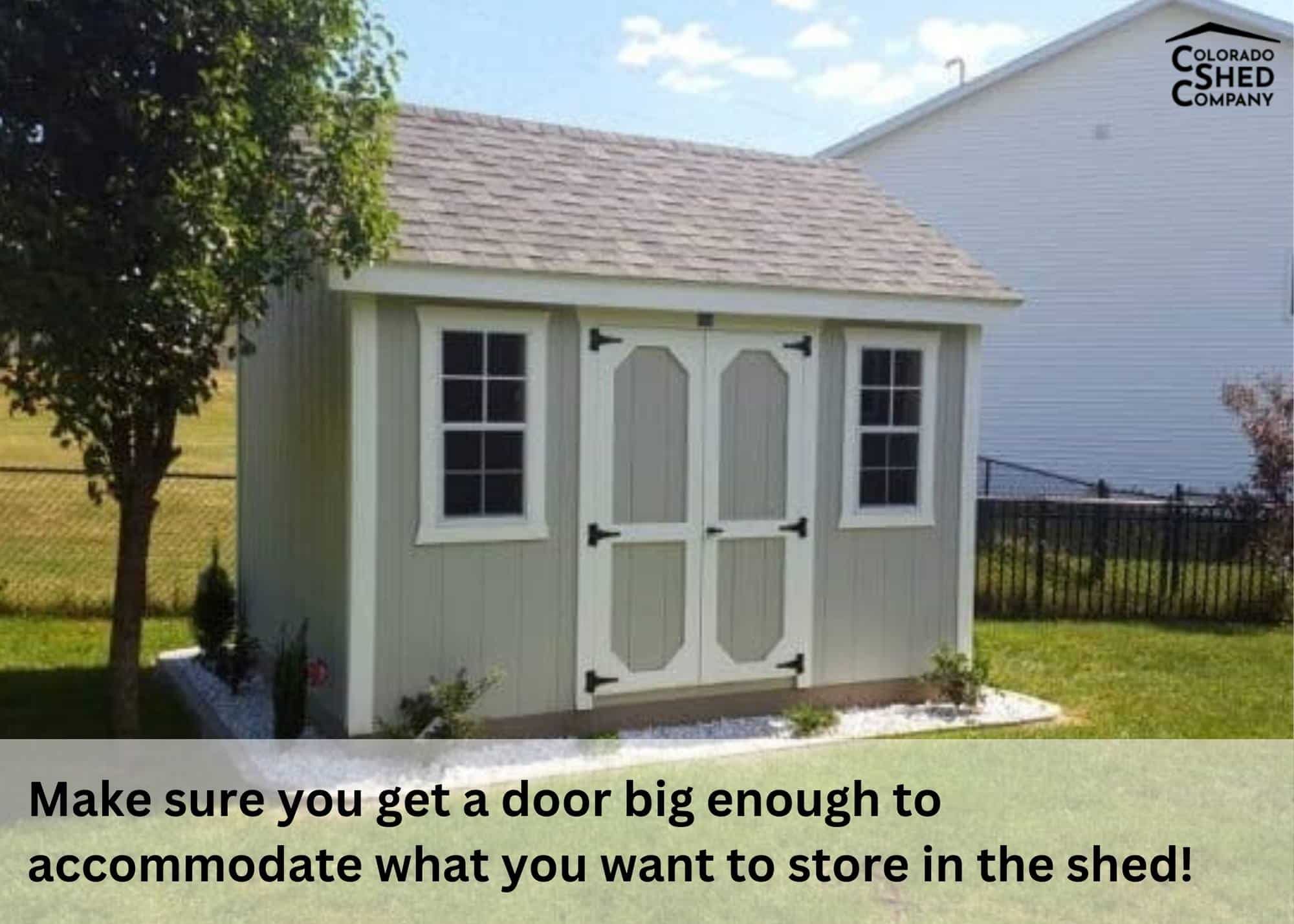 In Colorado, a 10x12 shed is the largest size you can install without a permit. Some suggest that it is one of the most efficient shed sizes because it's footprint is still relatively small, but it can still store a surprising amount. 
You can do a lot with a 10x12 shed, including storing larger recreation items like an average-sized kayak. You could also finish the space for a backyard studio, home office, or hobby nook.
10x12 Shed Use Ideas
Personal Library

She Shed or Man Cave

Garden shed 

Home Office

Backyard Studio

Storage Shed 

Pool House

Small Animal Shelter 

Loafing Shed
The first shed we'll discuss in the Large Shed category is the 12x12 shed. At 144 square feet, this spacious shed works well for storing larger items like a recreational vehicle, motorcycle, or larger outdoor gear. Just remember to choose doors wide enough for your purpose!
This size is also convenient for a larger home office, pool house, or personal gym.
12x12 Shed Use Ideas:
Home Gym

Makers Space

Personal Libray

She Shed or Man Cave

Garden Shed 

Larger Home Office

Backyard Studio

Storage Shed 

Pool House

Small Animal Shelter 

Loafing Shed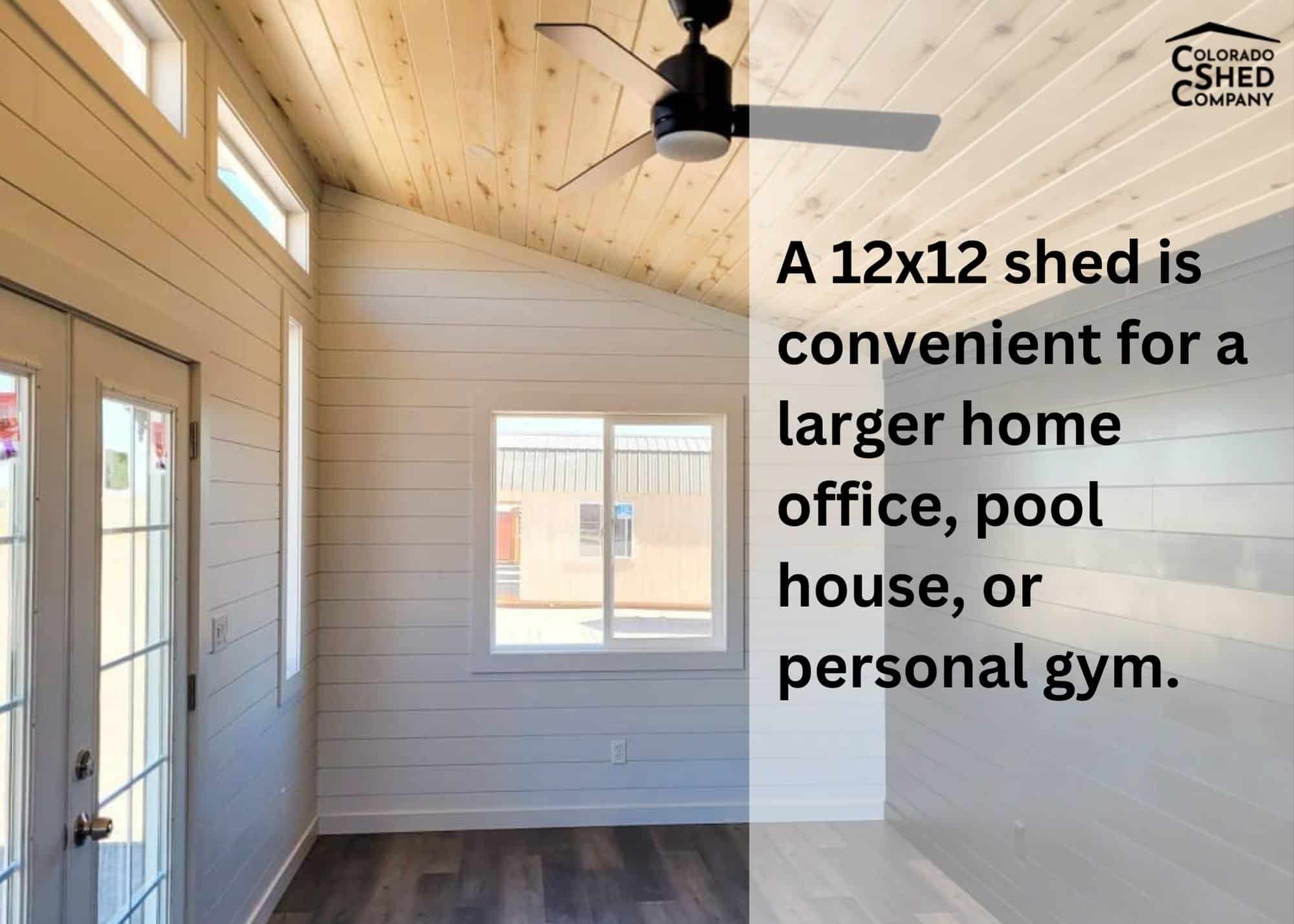 A 12x16 shed gives you a lot of room for storage. A four-wheeler, ATV, riding mower, or similar equipment will fit easily with room to spare. Motorcycles and small vehicles also fit, depending on the design and height of the shed.  
A 12x16 shed also provides plenty of space for animals large and small, including a kennel for dogs or a loafing shed for a horse or cow. 
12x16 Shed Use Ideas:
Home Gym

She Shed or Man Cave

Garden Shed 

Home Office

Backyard Studio

Personal Library

Storage Shed 

Pool House

Animal Shelter 

Loafing Shed
Of course, it doesn't stop here. You could go even bigger and do a 14x36 shed, or other dimensions. With a large shed such as a 14x36 you could make a she-shed, man-cave, or even guest quarters! 
There are several questions you should ask yourself if you're considering investing in a shed. 
1. How will I use this shed? 
Do you want a backyard studio or a woodshed? Do you want an animal shelter or a storage space for garden tools and bikes? 
How you answer will affect both the size and style of your shed. You should also consider if you'll want to use the shed differently in the future. For example, you may only need a shed for storage at the moment, but in the future may want to purchase a pony for your child. 
2. What do I want to store here? 
Make sure to choose a size and style of shed that fits the items you wish to store. It's also a good idea to think ahead. You may only need to store garden tools at the moment, but if you want to purchase a motorcycle in the near future, you will need a place to store that too. 
3. What size will fit in my yard?
We don't recommend a shed that overwhelms your yard. Here's a helpful guide to choosing a shed size from the homecare site Angi: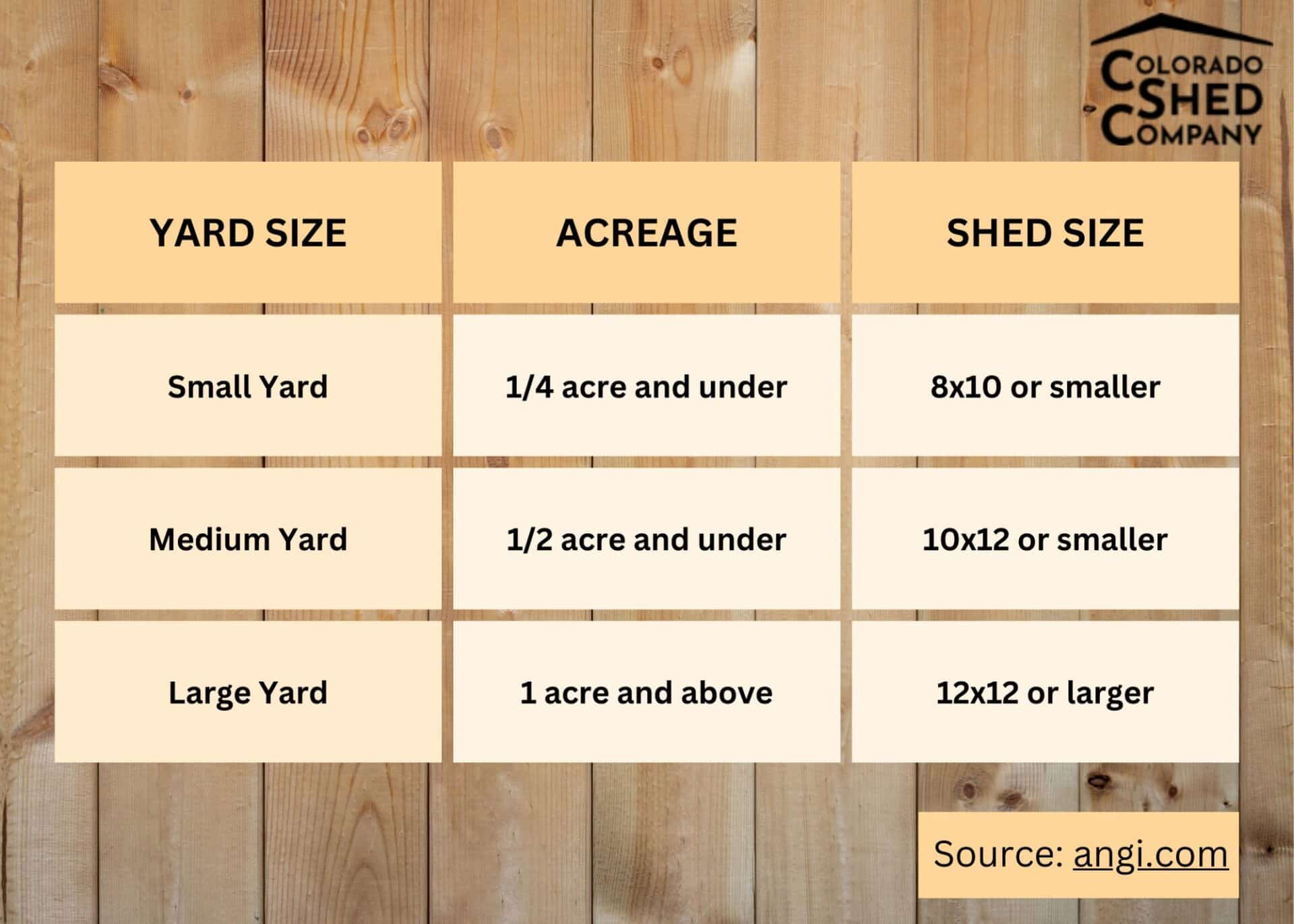 4. What's my budget? 
Budget is an important guiding factor. If you need a shed on a budget, a smaller one will be a better choice. You could also consider purchasing a second-hand shed or (if you have the skills) building it yourself. 
5. What style will fit with my home aesthetic? 
You don't want your shed to clash with your home or stick out like a sore thumb in your garden. For example, if your home has a modern design, a Western-style shed won't complement the aesthetic, while the modern, urban, or Royal Gorge designs will look much better! But if you live on a ranch, the Western or barn-style designs are an excellent choice.
6. Are there any community regulations? 
Some communities have building codes or homeowner's associations restricting the size and/or number of detached buildings on a property. Be sure to check local codes before purchasing or building a shed. 
7. Do I want room to grow? 
Think ahead. Is there anything you'll want to store or dreams you want to pursue that could affect the shed's size? Perhaps you want to purchase a fishing boat or start woodworking or painting. Adjusting for these goals will save you money in the long run. 
How Colorado Shed Company Can Help
We hope you found this article helpful and feel more confident and inspired to choose the right shed.
If you're from Colorado, check out our inventory and custom-build options!  
Are you interested in learning more about sheds and their uses? Here are a few blogs you'll enjoy: 
If you have any additional questions or would like to get a free quote, give us a call today!