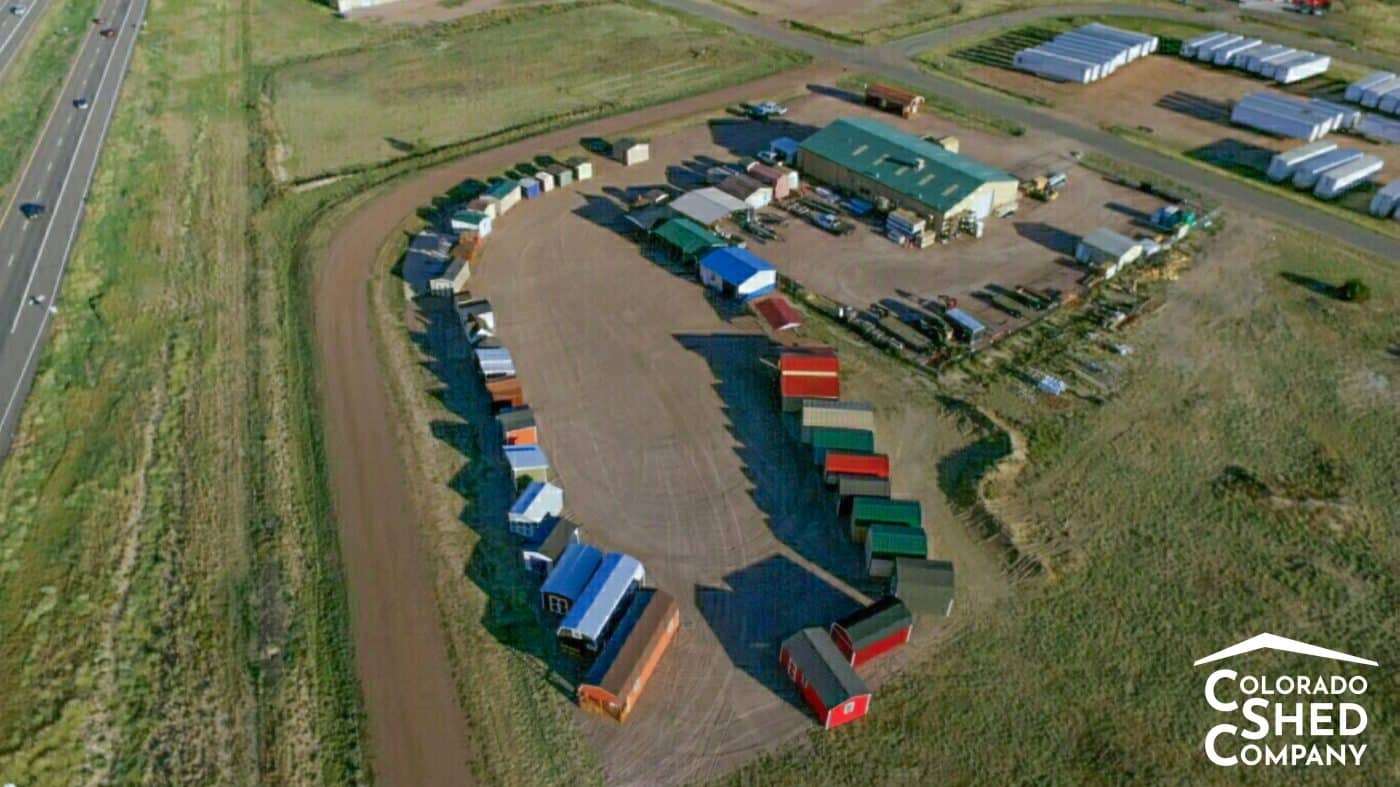 With the availability of sheds around the country, choosing a place to buy your perfect shed isn't an easy task. Of course you want to find the best combination of quality, price and customer service, which isn't as easy as it sounds.
At the largest outdoor shed yard in Colorado you can find this balance all at one place. Whether you are looking for an affordable economy shed, or an elaborate outdoor she shed or home office setup we have buildings on our lot that you can walk through and experience for yourself before you make the decision to purchase it.
I don't know about you, but that sounds like the ideal place to find your next building. And even better, at the Colorado Shed Company, we are committed to building your structure with quality craftsmanship and integrity using the best materials for the job.
Backyard Storage Supercenter
With an inventory of 60+ buildings at our Backyard storage supercenter in Penrose, Colorado. We make finding your storage building a breeze. Come visit our outdoor shed yard in Colorado and walk through as many buildings as you'd like.
A Selection of Inventory at the Largest Shed Yard in Colorado
Here is a small selection of our shed inventory and other outdoor buildings at our Backyard Building Supercenter!
Get an Outdoor Shed Fast
Free Delivery
Are you ready to purchase your building? If the shed you are purchasing is in stock and your site location is prepped and accessible, we will have it delivered to your home within two weeks of completing your order. We also include free delivery for any building delivered within 50 miles of our shed yard. If your delivery location is farther away than that, you can get a free quote on the cost of delivery for your storage shed.
Site Preparation
If your site needs to be leveled or needs a stone or concrete base, we can help! If your location is inaccessible for our normal shed delivery, we also offer the option of building your dream shed on site. Contact us for more information or to get your free quote today.
What To Expect With A Colorado Shed
All of our backyard sheds are constructed using top-quality materials, and built with a commitment to quality.
With six different styles of sheds to choose from, plus garages, cabins, animal shelters and outdoor living structures and plenty of extras to add on, and customization to be made. Colorado Shed Company is the place to go when you need an outdoor shed. And whether it's a simple storage solution or a luxury custom home office, we've got you (and your stuff) covered.
There are lots of options and customizations you can make on your shed, including...
Doors
While our sheds come standard with an entry door, there are many different options you can choose from to meet your various needs. Single or double wooden doors in sizes from 36" up to 60" as well as 36" steel doors with or without a ½ glass window.
Windows
There are a number of different variations of windows you can add to your building. Whether its a 24"x 36" double pane insulated glass, or a simple window with a grid.
Lofts
A loft is a perfect way to add extra storage space without having to purchase a larger shed. Or you can turn it into a small bedroom area, or your kids favorite spot to play on a rainy day.
Work Tables
When its time to get something down, every person needs a quality work table. That is why we offer the option to add them into your shed during the construction process so its ready to go when your shed arrives.
Ramps
Having a place for everything is an important part of staying organized. And a ramp to your storage shed is a great way to keep your bikes, lawn mowers and other equipment organized and out of the elements.
Misc Other
Flower Box
Shutter Set
Paint/Stain:
Metal Siding:
Build On Site:
Come Visit the Largest Shed Yard In Colorado!
So when it comes time to get your new shed, look no further than the Colorado Shed Company. When you need storage, come let CSC meet that need at your Backyard Storage Supercenter. Exceeding your expectations is our slogan and that is our goal every day!
Give us a call or try building the shed of your dreams in our 3-D shed builder and receive a free quote!
No matter the size of your project, at Colorado Shed Company, we look forward to serving you!