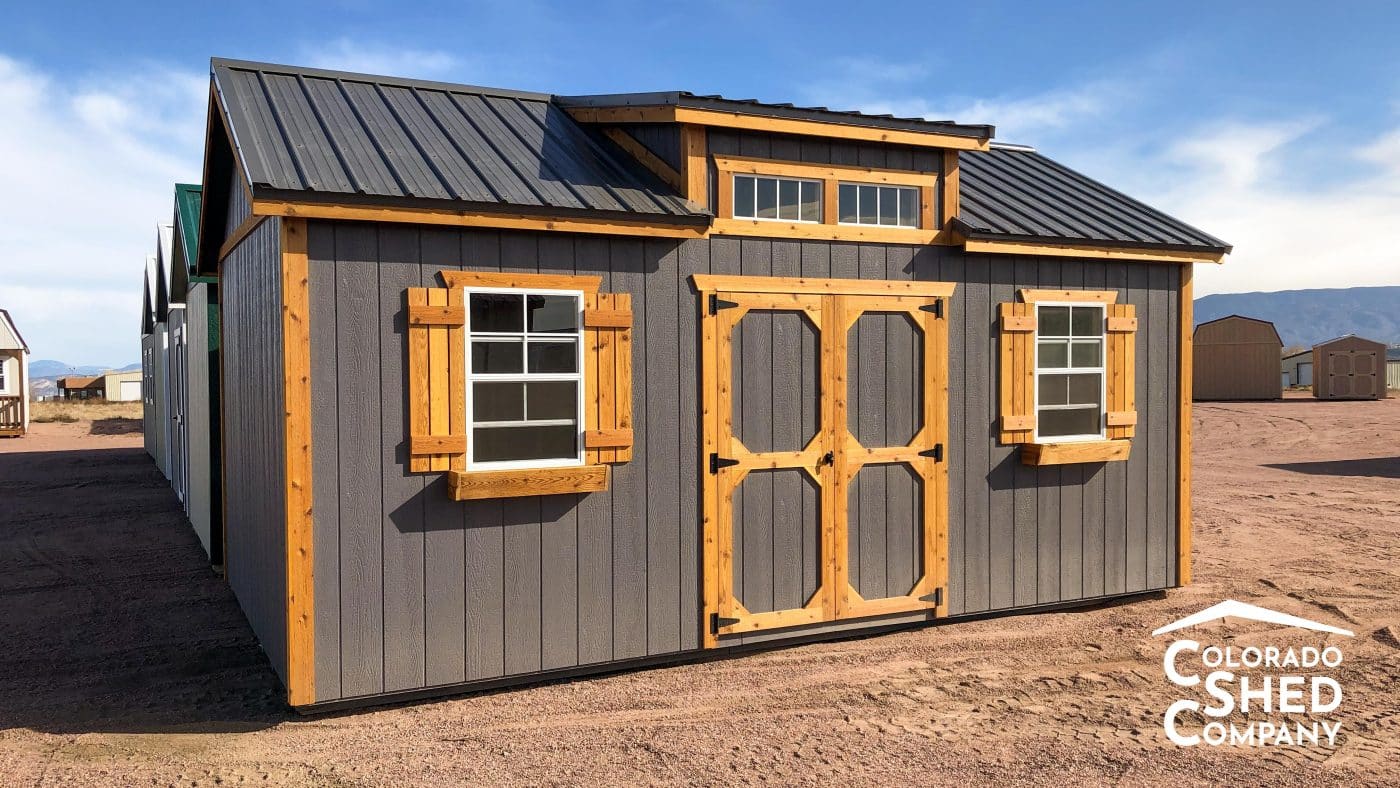 Modern Sheds for Your Backyard Studio
In the old days, sheds were just… well, sheds. There was rarely anything novel or intriguing about a small farm-like structure. We don't live in those days anymore, and if you haven't noticed, sheds are getting more and more extravagant, both in their uses and in their designs. What are the front-runners in today's revamped world of sheds? We'll call them studio sheds.
What's a studio shed?
Technically, a studio is a workspace, so a studio shed would, therefore, be a shed that serves as a workspace. In that sense, any shed could be a studio shed, as well-built sheds make fantastic workspaces in all sorts of scenarios. That said, workspaces these days are getting more and more 'hip', and shed designs are following. That's why we refer to a modern and novel shed design as a 'studio shed'. Modern sheds are absolutely swell as outdoor workspaces, but more importantly, you can bring the look and feel of a modern workplace to your home or business with a studio shed.
What are studio sheds used for?
Speaking of uses, what are people using sheds for these days? To be honest, the uses of sheds are innumerable, but we've collected a few of the most common uses of studio sheds and feel there's a good chance that one of these will be a fit for you.
1. Home Office
We need to begin at the home office with a discussion of studio sheds. Working from home is a dream for many of us, whether or not we consider ourselves entrepreneurs. Whether or not you have space in your home, you should consider the advantages of a dedicated building for an office space. Home should be comfortable, but sometimes the comforts of home leave us with a myriad of distractions when it comes to doing office work.
Using a studio shed for your office can give you a healthy distance from your home environment, while keeping you as close as possible to the comforts of home. A studio shed can also provide a unique and ideal space for interacting with clients while keeping your home life and space separate from your work life and space.
Many big businesses started in small spaces. Is yours next?
2. Art Studio
What is the most fitting and inspiring use for a studio shed? Why an art studio, of course! Whether you're a commercial illustrator or just enjoy creating in your spare time, a shed can be transformed into an ideal workspace for the tools and supplies of your craft.
Digital and tactile artists alike can benefit from the dedicated space that a studio shed can provide. You'll want to customize the exterior and finish off the interior in a beautiful way that will inspire you to create, and fortunately, the options are limitless with today's studio shed.
Artists around the globe are moving to sheds for their studios, and you can too!
3. Outdoor Retreat
Perhaps what you're after isn't so lofty as a business or production studio. Let's be honest, sometimes our ambition can get us into trouble, and what we really need is a space to relax and rejuvenate. That's why both 'man caves' and 'she sheds' are rising in popularity, and you can get in on the fun with your own studio shed, decked out and fitted to your own personal liking.
A studio retreat may be more than personal. Perhaps you need a space to enjoy your outdoors with your family, or even add guest quarters to your otherwise occupied property. This could be a way to add income to your beautiful Colorado home, or just provide a personal solitude retreat for friends and family.
We all need to retreat and recharge from time to time. Bring retreat home with a studio shed.
4. Hobby Space
Perhaps your hobby isn't so chic as painting, but you need a place to call your own and develop your passion. Don't consider yourself excluded from benefiting from your own studio shed! Whether your hobby needs a neat and clean workspace, such as sewing or other crafting, or if you need a place to contain the dust and smoke from wood or metal fabricating, a studio shed can provide the space and environment you need.
Most shed hobby studios start with the base structure and then outfit the inside to make it suitable for a specific type of workspace. There are all kinds of customization options available for a studio shed, so you can rest assured that you can get a studio that you can be as passionate about as your hobby.
Life is flying by. You aren't getting any younger. Hone a hobby that will add fulfillment to your life with a studio shed.
5. Pool House
When it's hot there's nothing more refreshing than cool water. Unless of course, it's your kids that like to splash in the water and you prefer to sit and watch while you read a book in the shade. A pool house can be useful for more than just housing supplies—if it's a modern trendy building it can both add improve the looks of your pool area and even provide an extension of your home for pool parties.
Your pool doesn't necessarily need a retreat center by it, but even if you just need storage for all the pool toys and water paraphernalia, a square modern shed may be the perfect complement to your pool area. For a durable and economical solution to this, choose a studio shed.
Your pool is beautiful, but it could be better. Get a studio shed pool house to top it off.
6. Yoga/Gym Workout Area
What about the fitness lovers? They need a special place to workout or do their yoga routine. A studio shed provides that perfect private place where you can do your fitness exercises. It helps keep all your weights and workout gear in one place. It is hard to stay focused and motivated in a dark, stuffy basement or a dirty garage. Give yourself the best fresh air and peace of mind with your own private studio shed workout space.
Your fitness workouts and yoga routines will be much more enjoyable and satisfying in the private space of your own studio shed.
7. Trendy Utility
Let's be clear here, you don't need some fancy high ambition to own and love a studio shed. Perhaps what you're looking for is a nice modern-looking shed. If so, a studio shed is here for you and we promise you won't be disappointed.
Add extra storage to your home, declutter your yard, garage, basement, or attic, extend the life of your equipment, safeguard your supplies, and more. There's plenty of reason to own a utility shed, and a studio shed provides a fantastic solution with a modern appeal.
Don't settle for clutter or claustrophobia. Improve your home with a studio shed.
Studio Shed Designs
Hear at the Colorado Shed Company, we feel that our sheds should be as strong and timeless as the state we call home, so we always start with an exceptionally strong structure when we're building our sheds. But just like the Rockies, there's no reason that strong and timeless should imply boring or blasé. That's why we've crafted hip and iconic designs that truly fit the description of a studio shed.
The Studio Gable Shed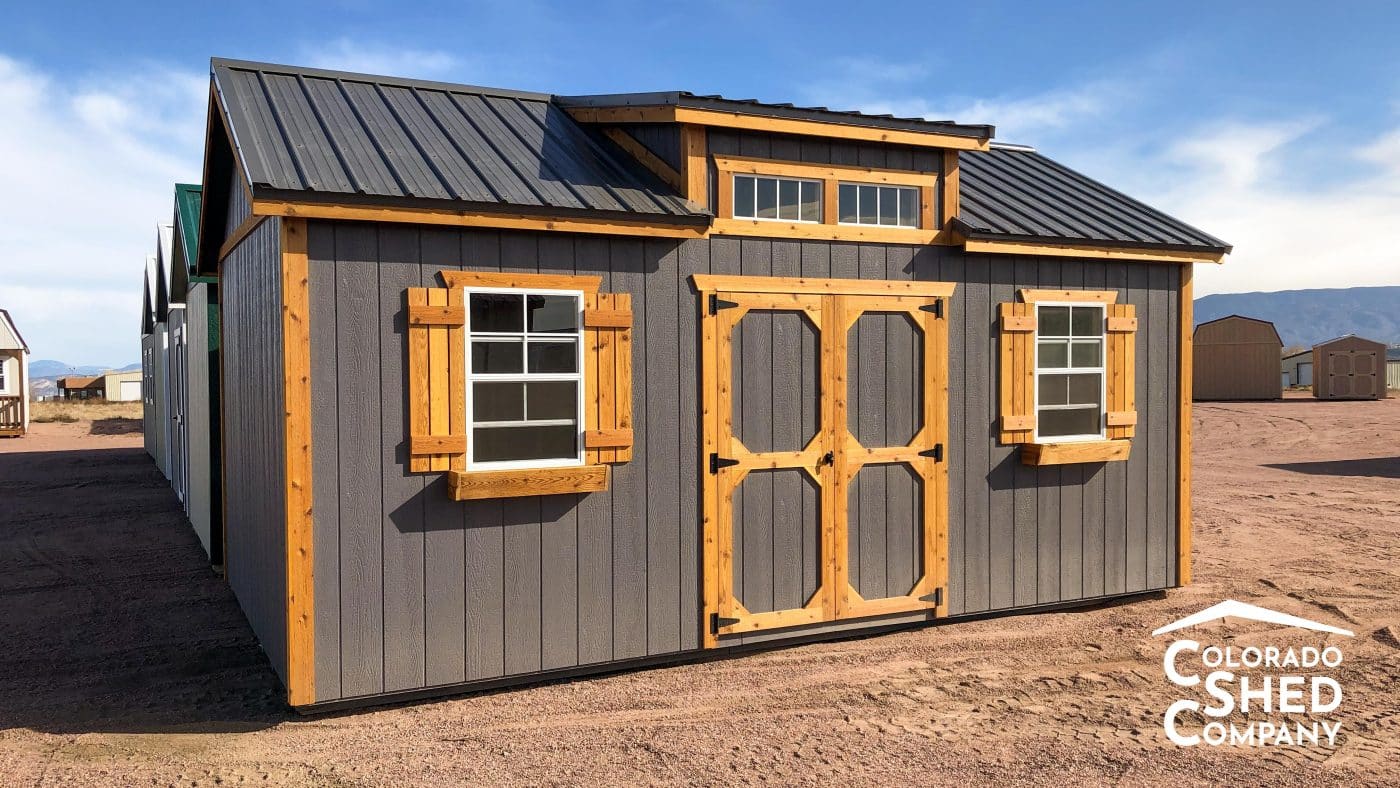 The studio gable is designed with a side dormer and extra windows to provide that bright, airy feel. This shed will look great in any backyard or outdoor space. Specifically designed with an aesthetic feel, the studio gable shed will be a light, spacious, and comfy work space regardless of what you use it for!
The studio gable shed provides more interior room, but still adds depth to your backyard. With this shed, you will not have to worry about having an eye sore because this shed gives off a very spectacular appearance – regardless where it is!
The Urban Studio Shed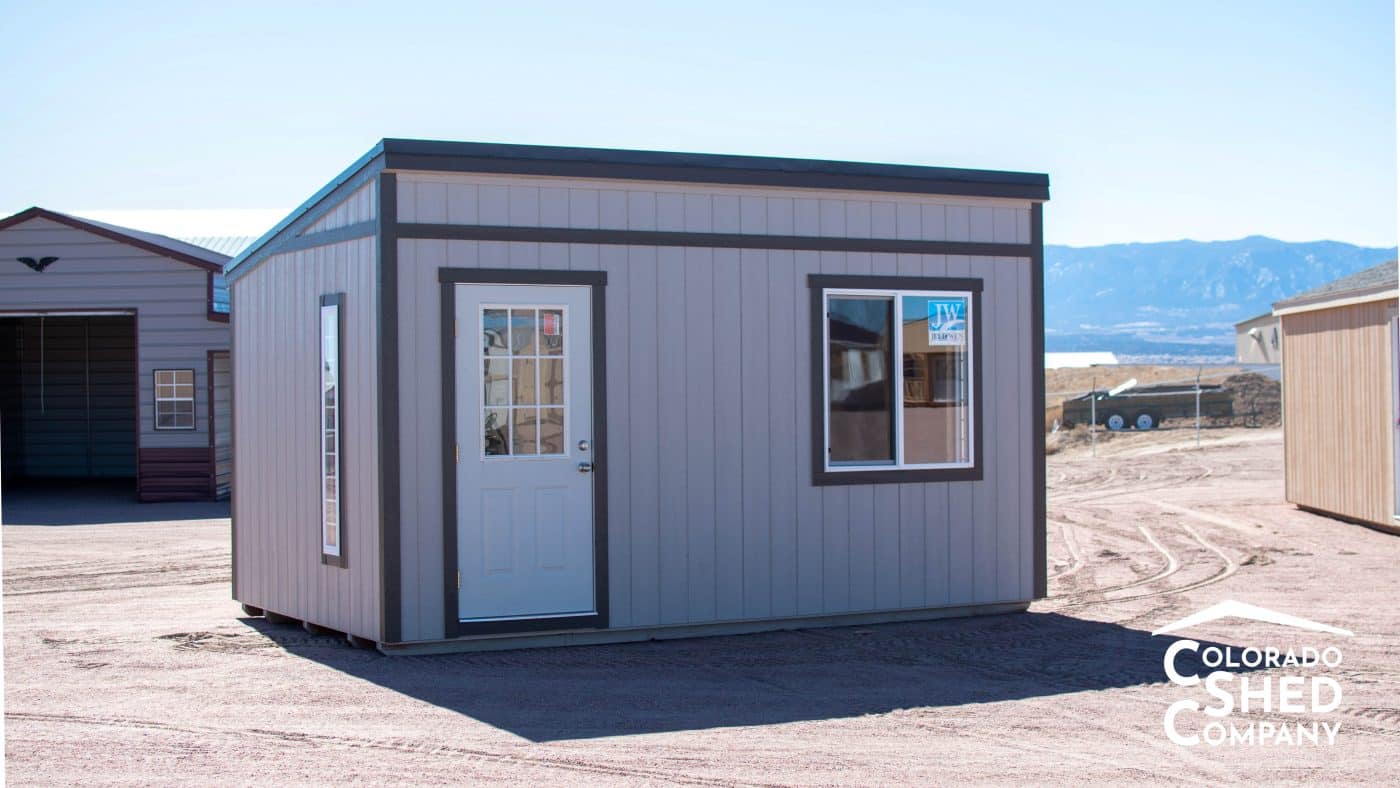 As we've said, studio implies modern, and we've got a modern gig going with the Urban Shed. Although this shed is fabricated with street smarts built-in, there's no reason to think that it couldn't look good almost anywhere. This contemporary design features the hard lines and angles you'd expect from a Studio Gable Shed, including the boxy shape that's topped by a straight-slope metal roof. An additional creative flair can be added through the optional of metal siding on the bottom 3rd of the building.
Outfit the urban with a finished interior (which we're pleased to provide), and you'll have a truly chic modern workspace. The Urban is no less rugged or hip than the state of Colorado, so we consider it worthy of the name.
The Western Studio Shed
Perhaps even more suitable to the gorgeous peaks that surround us, the Western Shed is the quintessential mountain structure. This wide and sharply peaked beauty is topped off with a turkey tail overhang to give it that iconic western feel.
The sharp peak on this shed isn't just useful for ogling though. The headroom in this design give is an expansive feel and creates an ideal area for hanging a ceiling fan or extra lighting in your work area. The Western comes standard with two windows and one 4' entry door, but we offer all sorts of customizations that folks have used when making this shed into the perfect studio.
Custom Studio Shed Options
One of the advantages of a studio shed is the way that you can order a custom building that built to fit your exact purpose while being far more affordable than an addition to an existing structure, and certainly cheaper than building a new structure on-site. Plus, you can avoid the mess and hassle of construction when you allow a shed builder to assemble your structure in their shop and deliver it to your property in one neat and tidy package. Furthermore, no permits are needed in most parts of the country to install a prefab building up to 10×20 feet in diameter.
There is a huge array of ways that you can customize even a very small building. Aside from the large range of sizes available, you can choose how each part of the building will look and function, with options for siding, roofing, doors, windows, ventilation, and more. You don't need to settle for a studio that doesn't fit your unique use case scenario.
Whether you need a shed that's a certain size, has a trendy look, is finished on the inside, has electrical outlets and lights, plenty of natural lighting, insulation and ventilation, or more, we can help you achieve the perfect studio shed. Get a quote from a shed builder who can build a studio shed that's uniquely you!