Just a few minutes from Colorado Shed Company's Backyard Storage Supercenter, the beautiful, historic town of Florence sits waiting to be discovered. It boasts a variety of antique shops, art galleries, and eateries, and the Pour House Coffee Shop is at the top of the list for you to visit.
Kenny Paul, owner of the Pour House, has done an excellent job perfecting his craft. His pour-over coffees, French press brews, and Americanos testify to the quality of his coffee which he roasts himself. The roaster sits in a prominent place inside the front door where customers can observe the roasting process at the beginning of each week. Re-branded several years ago, it is worth taking a bag labeled.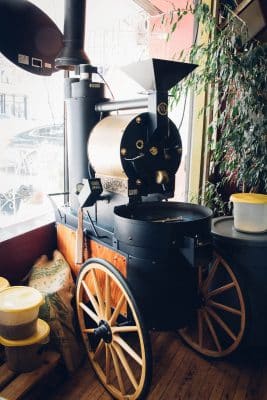 The Pour House Coffee Shop is located at 202 W. Main St. in Florence, Colorado. A bell above the door jingles in welcome as you enter the shop. Hardwood floors creak as you make your way to the counter and begin surveying the chalk-drawn menu displayed on the wall.
The room is tastefully decorated with work from local artists, appealing to today's generation with an atmosphere perfect for a conversation between friends or for a student who needs coffee and Wi-Fi to complete his next assignment. The murmur of voices fills the room from conversations of people clustered at tables or tucked away in the booths with retro bench cushions. Scattered throughout the room are potted plants, newspapers, magazines, books, and a vase of fresh flowers on each table, and the wall at the far end of the shop holds a giant blackboard where customers, including those from out of state and visitors from other countries, have added their names in chalk.
Kenny has found excellent ways to connect with and serve the surrounding community. This past 4th of July weekend, he hosted several musicians who spent the evening playing original music as well as familiar songs for folks to sing along with. The shop was full that night, a crowd drawn by the tantalizing combination of live music and coffee. Be sure to like his Facebook page to stay up to date on exciting events hosted at The Pour House.
The baristas are well trained in latte art, creating beautiful drinks worthy of an Instagram post. You will not be disappointed if you try their delicious chicken salad for lunch, splurge on a pastry made in-house, and enjoy a steaming, beautifully made caramel macchiato.
You will definitely want to plan some extra time to stop by The Pour House on your visit to the Backyard Storage Supercenter, located at Colorado Shed Company.
With over 50 backyard sheds on display, we have a large variety of sheds for you to walk through and find your perfect backyard storage solution. Plan your visit today - we are located at 155 Shoop Dr, Penrose, Colorado or you can reach us by phone at 719-372-7433.
While you are in the area, be sure you check out some other local attractions such as:
We wish you the best!