So what is a prefab garage? A prefab or modular garage is a garage that has been built off-site at a manufacturing facility and is then delivered to your location as a unit or in a few sections for an easy set or installation on-site.
A prefab garage gives you the flexibility of a portable building and all the benefits of a garage. And while the term "prefab", which is short for "prefabricated", has a bad reputation in the construction industry, today's prefab buildings are not a compromise in quality or value. Rather, they are an affordable and practical alternative to the expensive and time-consuming process of building an on-site garage.
So what is a prefab garage? In today's world of fast food, on-demand streaming services, and same-day delivery, a prefab garage is a great alternative to an on-site constructed garage, both in time and cash.
NOTE: In areas where building code is enforced, these prefab garage sheds don't meet the regulation for vehicle storage, but are rather ideal to be used as a storage building with large doors for easy access to your lawn equipment, ATV, or golfcart, etc.
Are Prefab Garages Worth it?
A well-built, prefab garage is a great investment to add to your property. And while a prefabricated garage might sound like a lesser-value building, when you purchase from a reliable prefab shed and garage builder, this is simply not the case. One of the misnomers that are usually cited in a conversation about prefab garages is the fact that they are built using lower-quality materials.
While that may be true in some cases, when you go with a local, reliable, prefab garage builder, like Colorado Shed Company, you will not only get top-quality material, and top-notch workmanship, but also great customer service with a personalized touch.
What is the difference between Prefab, Modular, and Portable Garages?
As you have been looking into what kind of garage you want to build, and what is a prefab garage, I'm sure you've come across different terms, like prefab, modular, and portable. The terms prefab and modular are pretty much synonymous. And while each has its own definition, ultimately, they all mean pretty much the same thing. Which is a building that has been built in a manufacturing facility and then is moved to your location after its complete or built-in sections and then delivered and assembled on-site, instead of being built from the ground up at your location.
PREFAB:

Prefab is short for "prefabricated," which means "made beforehand," and not "before fabulous." Prefab things are made in sections that can be easily shipped and put together to form a finished product.
MODULAR:

Use the adjective modular to describe something that is made up of pieces or parts, like a new house that is delivered in sections and then assembled.
PORTABLE:

If something's portable, you can easily take it with you. You may carry your portable computer with you from class to class because it's small, light, and fits easily in your backpack.
Quotes from Vocabulary.com
As for the term "portable". While you're Prefab garage might not be "portable" in that you can take it to class with you in your backpack, it is able to be moved or relocated in the event that you choose to move to a new location!
Customer Testimonials
Pros and Cons of Prefab Garages
Pros of a Prefab Garage
High-Quality:
While not necessarily known as a high-quality solution to your garage needs. When done right, and built with attention to detail and quality, a prefab garage finds that balance of affordability and quality.
Save Time & Money:
Investing in a prefab garage not only saves you the extra money and hassle required if you go with the traditional on-site construction route. A prefab garage only requires a stone or concrete pad, instead of a full foundation. This also allows you to get your garage installed quickly, without having to wait on construction time, weather, and all the other factors that go into a construction project.
Portable:
Of course, when we say "portable garage," we're not talking about picking it up and moving it on a whim, but we are talking about the ability to relocate your garage in the event that you would move, or just need your garage in a new location. This is one of the advantages of detached garages vs. attached garages.
Cons of a Prefab Garage
Limited by Size:
If you are looking for a larger, multi-car garage, then a prefab garage might not be the best route for you, due to the nature of a prefab building. Don't forget to check with your local prefab garage builder to find out what size garages they offer before dismissing the idea of a prefab garage for yourself and to help you answer the question of what is a prefab garage.
Fewer Customizations Available:
While it is true that a prefabricated building will generally not have as many customizations as an onsite garage would, especially with unique designs and layouts, most prefab garage builders will have plenty of add-ons and customizations available. So whether it's a couple of extra windows, a loft, or getting your garage insulated, personalizing your garage is still possible.
Prefab Garage Sizes
Prefab garages come in lots of sizes, starting as small as 12x16 all the way up to as large as 16x44. A garage of this size is easily big enough for all your outdoor storage needs, whether its a for your golfcart, ATV, or lawn equipment. We understand that finding the right-sized garage for your specific needs can be a challenge, so if you have any questions, feel free to contact us.
Prefab Garages from Colorado Shed Company
Gable Garage Shed
If you are looking for a simple garage solution, then our gable garage shed is a great option. With sizes starting as small as 12x16 and going all the way up to 16x44, with plenty of options in between. This garage shed is ideal for keeping your equipment out of the Colorado elements and in tip-top shape or simply giving your lawn mower, snowblower, and other garden equipment a home.
Carport Garages
Another underrated vehicle protection product is a simple carport garage. While a metal carport doesn't have the visual appeal of a prefab garage, they are still a valid option if you are in need of a very affordable garage type of structure, but don't want to go as far as a portable garage.
Colorado Shed Company is an authorized Eagle Carports dealer and can help you out with any questions about sizing and pricing you might have.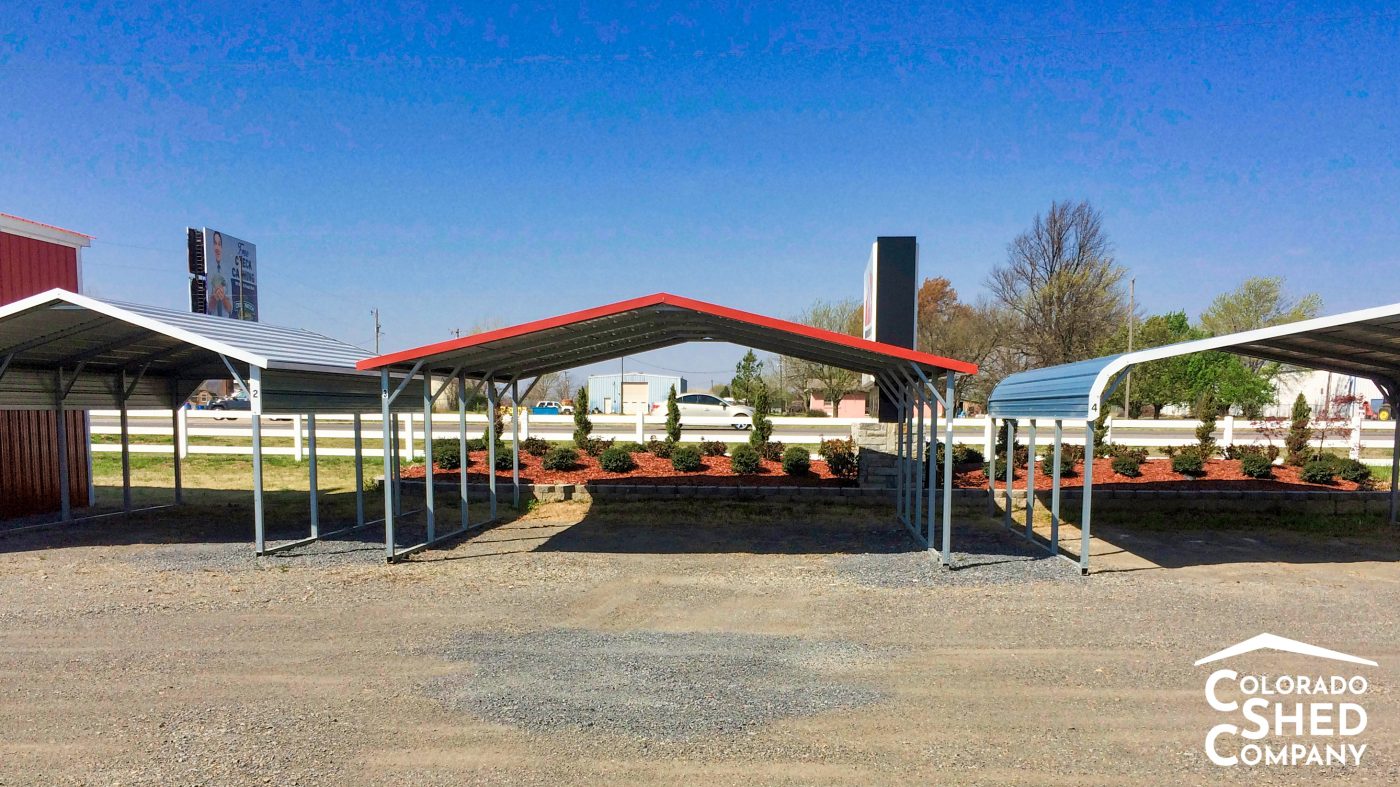 What Is A Prefab Garage FAQ?
Are Prefab Garages Any Good?
Prefab garages are not only good, but they are also a great option when you are looking for an affordable and flexible option for your garage needs. In general, you will be able to get your finished garage in place and in use significantly faster than going through the whole design and construction process necessary for an on-site build. And with a well-built prefab garage on your property, you'll not only improve the aesthetics of your landscaping but also increases your home value.
How Are Prefab Garages Made?
A prefab or portable garage is built off-site at a manufacturing facility and is then delivered to your location as a unit or in a few sections for an easy set or installation on-site. Building the prefab garage off-site allows the builder to streamline the building process which saves on time, and thus the final price.
Are Prefab Garages Cheaper?
Yes, prefab garages are less expensive than a constructed garage because you don't have the added expenses of installing a foundation, and prefab garages are built at a manufacturing facility, allowing the builders to be more efficient, saving you both time and money! For instance, a small 12x20 prefab garage will cost around $7,000 to $8,000 depending on what options you include, while a constructed garage of similar size will cost more in the $15,000 to $16,000 dollar range, which is based on the national average of $70 per square foot for a detached garage.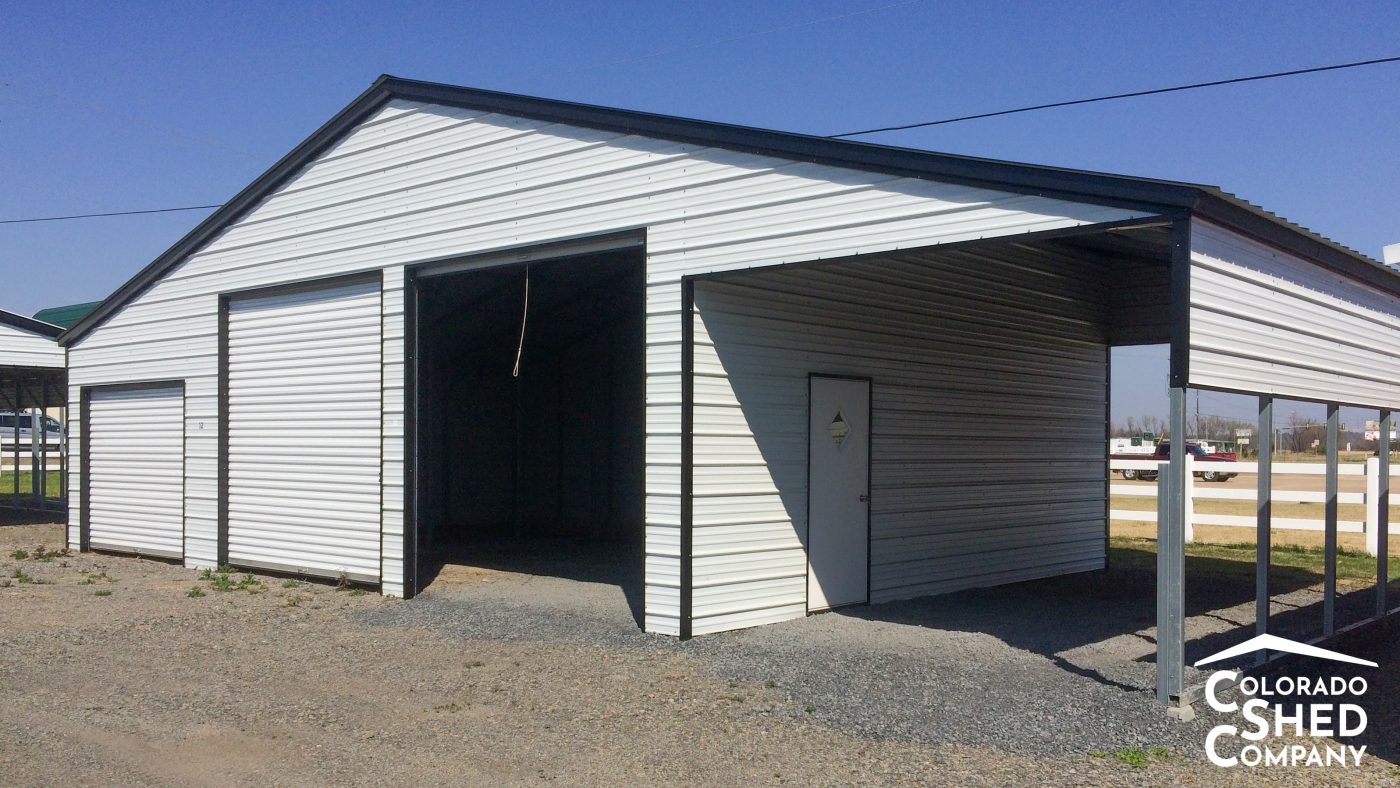 Wrapping It Up...What Is a Prefab Garage?
In summary, what is a prefab garage? A prefab garage is not only a great way to get your own garage, but it improves your property value and helps you stay organized.
So what are you waiting for? Start experiencing the joys of a prefab garage all your own! Contact us to request a free quote, or check out our extensive inventory of garages.
If a prefab garage isn't for you, check out our post on garage types to learn more about other options!