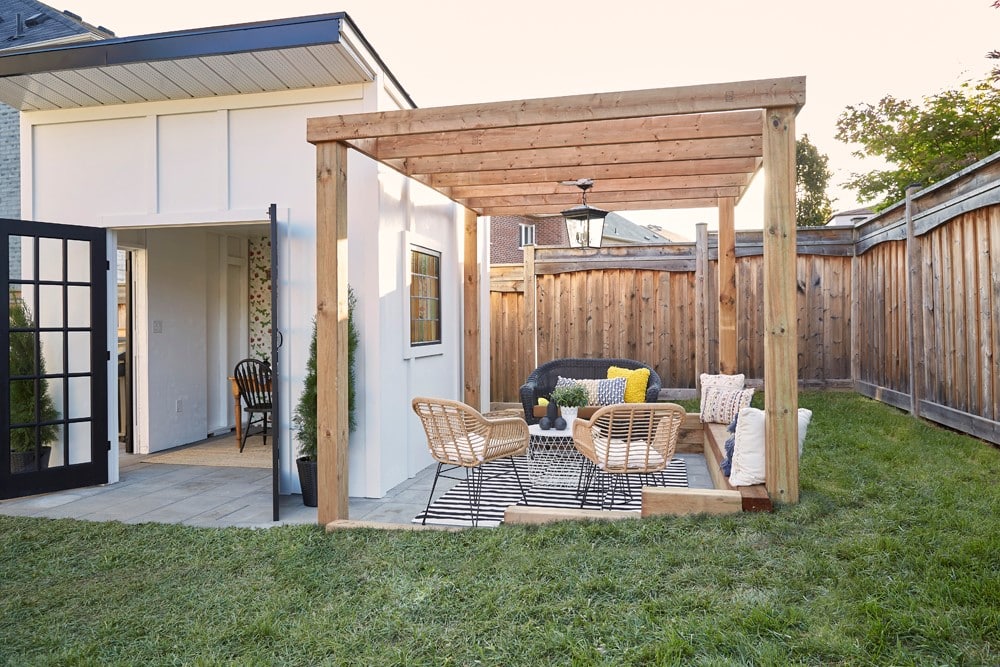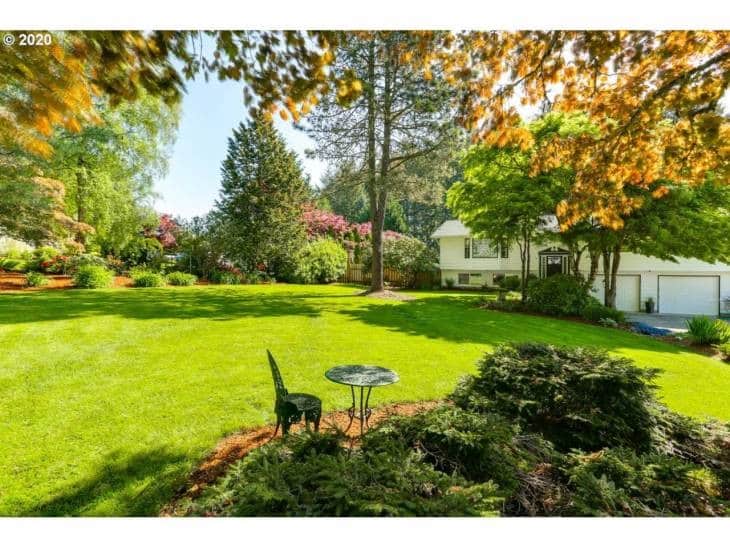 Does your backyard beckon your creative, artistic touch to its open green space? As you sat inside this very long winter, perhaps you have been dreaming of a warm-weathered outdoor experience created by the perfect outdoor structure.
At Colorado Sheds, we understand this dream, and we encourage you to allow your desired experience to guide you as you explore the various styles of outdoor structures!
Your Summer Never Looked So GOOD!
Investing in your "nest" is an exciting quest! Discover which outdoor structures fit the bill of your personal taste and best suit your outdoor landscape.
Whether you desire to host parties, enjoy a personal haven, or beautify your backyard, your desired experience can be satisfied with the addition of one of the following gorgeous outdoor structures.
Ways to Create Your Dream Backyard Haven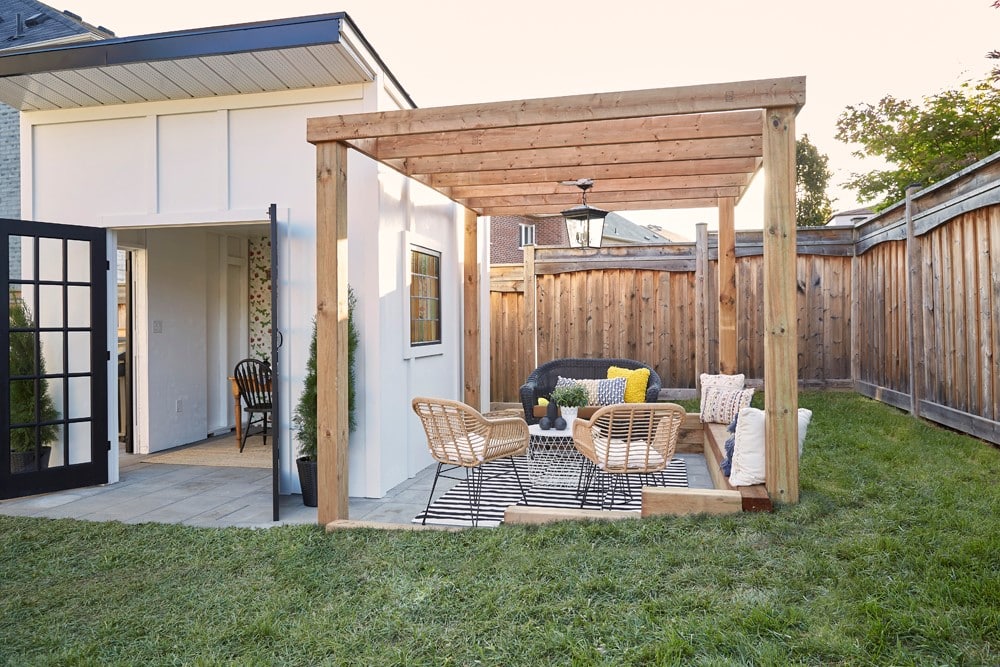 Let's satiate your desire for the perfect outdoor experience by checking out the following ways to create your dream backyard haven.
Whether it is through a pavilion, a pergola, or a shed, enjoy discovering which one of these outdoor structures bring you the most happiness!
Modern Pavilions – the Ideal Party Location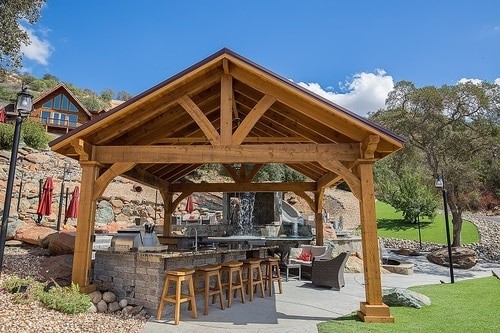 Pavilions are perfect for hosting large groups of friends and family with its open and inviting square design. If you anticipate gathering around family and friends this summer by your pool or spacious backyard patio, consider a pavilion for your outdoor structure. Allow the following highlights of a stylish wooden pavilion determine whether this structure fits your desired outdoor experience.
Provides the Perfect Party/Hosting/Family Location
Full Shade Coverage
Open and inviting design
Creates an outdoor extension of your indoor living area
Adds modern and stylish beauty
Ideal next to a swimming pool, BBQ area, backyard patio or yard
Wooden Pergolas – the Italian Beauties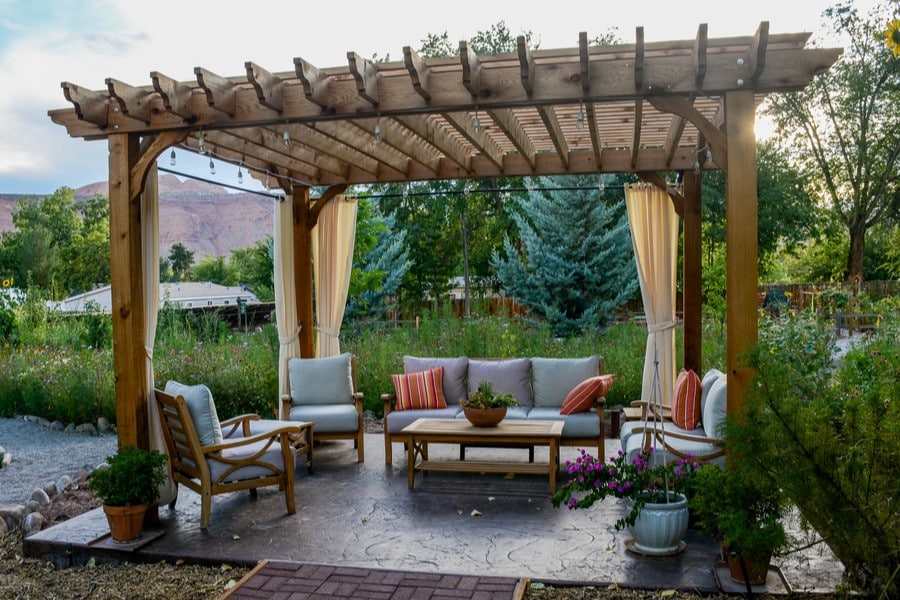 Pergolas exude a distinct beauty and design with its latticed roof and intricate posts. If you are craving stylish, accenting beauty as your #1 requirement for your outdoor structure, think pergola. These Italian beauties offer add an open and inviting design, stunning amidst a backyard flower garden, deck, or patio. Enjoy a pergola for your outdoor structure if you connect with the following highlights.
Provides the most aesthetically enhancing outdoor haven
Perfect for adding creative touches to and through its latticed roof, such as, vines, lights, and plants
Semi-shade or shade on demand
Open and inviting design
Great for hosting family and friends
Ideal set amid a flower garden or on a backyard deck or patio
Desire a More "Indoor Experience" with Your Outdoor Structures?
Has one of the previous outdoor structures caught your attention and your desired outdoor experience? Perhaps you wish to take your new outdoor structure a little bit more "indoors". If so, check out the indoor possibilities of a stunning backyard shed.
Hobby & Work Haven Alert!
Take your hobby and work "outdoors in the fresh air" (well sort of) by choosing a stunning backyard shed! Creating your own backyard hobby barn, home gym, or work haven with a studio shed will create a magnetic and attractive backyard experience cradling the best of you and your personal interests.
Backyard Sheds Create Ideal Outdoor Havens
Sheds are perfect economical shells for personal customization, remodeling, and interior design. They offer a focused amount of space destined to be filled with your creative touches and favorite things. Get a taste of the possibilities afforded by the interior of the following stunning backyard sheds.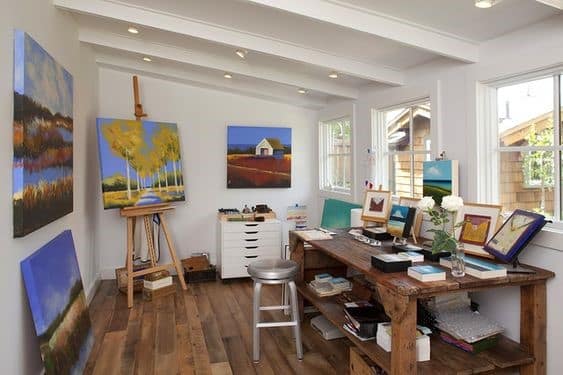 An Artist's Crafty Studio
Focused. Rejuvenating. Masterful. This shed's interior begs for colors to fill the canvas' and creative imaginations to run wild with bright new ideas. Art falls into many different categories, so whether you are a painter, a clay sculptor, a seamstress, a photographer, or if you design paper crafts, homemade jewelry, or stained glass…you name it. Imagine your hobby in the above room. How would your personal touches add new color and life?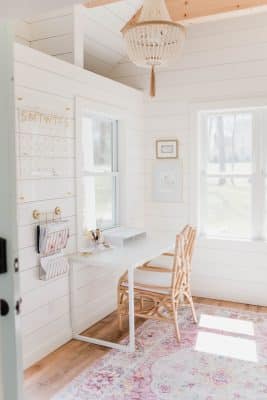 The Chic & Trendy Home Office
It would be hard to come by any corporate work office that looks this bright, cheerful, and chic!
If you have a work-from-home job, imagine a space that cultivates in you a drive for success and fuels your personal motivation "to get the job done". Clean. Organized. Minimalistic. Those 3 words inspire great mental achievements. What colors would cover the walls of your home office? What design and atmosphere ignites purpose within you to conqueror, accomplish, and achieve?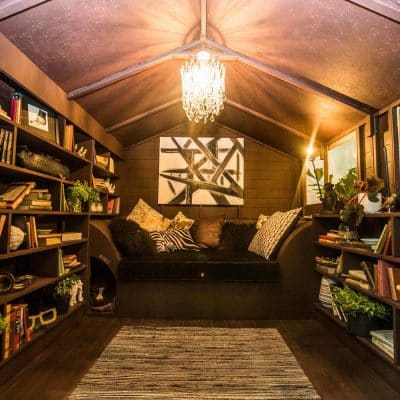 A Reader's Lavish Lounge
Cozy. Lazy. Lavish. 3 great atmospheric ingredients for a reading marathon! Reading is an immensely popular and enjoyable hobby, but it is also "work" because… as they say, "readers are leaders".
What kind of reading atmosphere creates a cozy space for you?  Would placid pastels or moody muted colors cultivate your ideal reading atmosphere? Dream. Create. Read. And. Read. And. Read.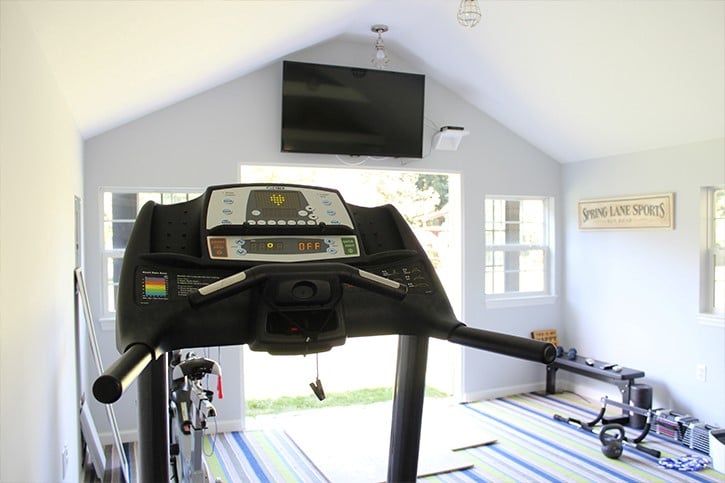 Refreshing Yoga & Workout "Gym"
Get out of the house and get a workout in your very own backyard shed turned gym! Possibly you envision a bench press, weights, or a pec deck instead of treadmills and yoga mats. Keep on building those muscles whatever ways jive with your style.
Create your own personal gym with your own motivating and "chest pumping" equipment, décor, lighting, and music. Who knows…Your friends might just move their gym membership to your backyard gym.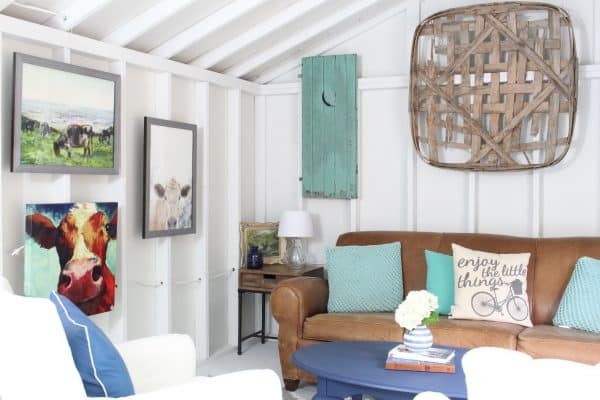 The Personalized Classy She Shed
Busy, industrious ladies, imagine a space where you can retreat to rest, refresh, and fill with the items that bring your soul the most peace. A personalized she shed provides you will a space of your own to create a haven to drink some coffee alone, with your hubby, or surrounded by best friends! Some women are into cows and country, others into candles and class…what is it for you?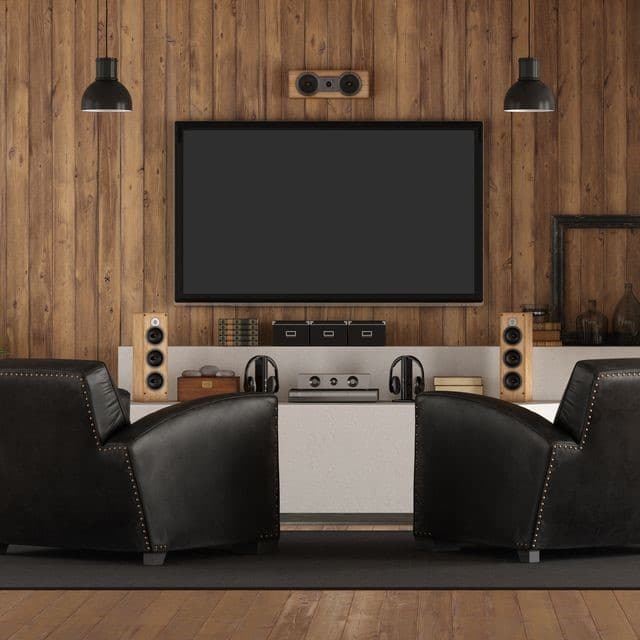 The Masculine Mancave
Men were born to be heroic protectors, providers, and lovers. Even Superman stops and takes a rest now and then…but obviously it is hard to keep the admirers at bay, which is why a mancave is perfect! Enjoy a restful, fun evening with your lady, children, or best friends in a "cave" that speaks to your masculine style. By the way…what is your ideal man cave setup?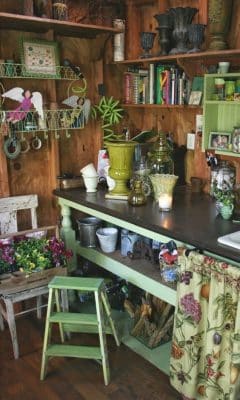 A Potter's Dream "Green Thumb" Shed
A green thumb + a garden shed = a little piece of paradise. Fill a shed with decorative pots, flowers, and plants and breathe in the therapeutic experience of potting and gardening. All gardening lovers, your hobby deserves a special, focused space for your "green" creations. What plants or flowers would fill your potting shed?
Wrap Up Your "Indoor…Outdoor" Structures with this CSC Approved Definition

The perfect outdoor structure that cradles your most enjoyable indoor experiences…that my friend is the definition of a stunning backyard shed.
Investing in Your Nest – the Extension of Your Indoor Design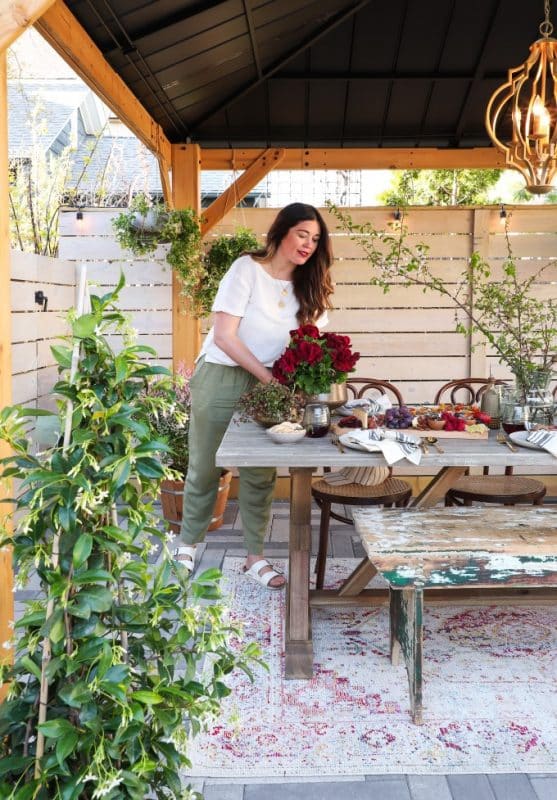 The most ideal benefit of choosing an outdoor structure is the opportunity to make it a comfortable and enjoyable extension of your own creative indoor design. Plus investing in your nest is meant to increase your outdoor happiness while raising the value of your home. Any of these outdoor structures, whether you go with one or a combination, will do just that for you.
The Grand Finale Conclusion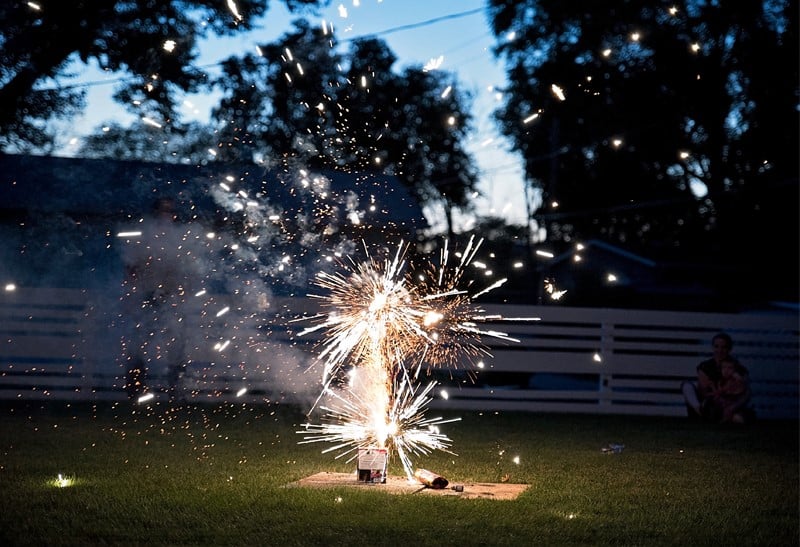 So, will it be a gazebo, a pavilion, a pergola, or a shed?
Have you discovered which outdoor structure achieves your dream backyard haven? Remember, if your desired outdoor experience is leading the way, you cannot go wrong!
Check out our gorgeous outdoor structures and stunning sheds and choose the right one for you and your backyard today!
Your backyard haven awaits!