Are you concerned about your horses or other animals not having proper shelter from snow, direct sunlight, or other weather conditions?
Do you want peace of mind that your animals have the shelter they need in your pasture or on your farm in Cañon City?
We provide quality, custom loafing sheds for horses and cattle that help protect them against different types of weather!
Standard Features Of The Loafing Shed
Hurricane ties ensure your shed is solid and safe during very high winds.
Your portable building will come with real plywood 3/4" tongue and groove flooring.
You choose between a metal roof or a shingle roof. All for no extra charge!
Pressure-treated Floor Joists
Floor Joists are spaced at 16" center on sheds and 12" on Garages and are Pressure Treated.
Customize Your Cañon
City Loafing Shed!
We offer various siding types to match your taste or your home. Choose one for your shed (Prices vary according to siding type).
Great choice if you want a wood look or you wish to stain your building.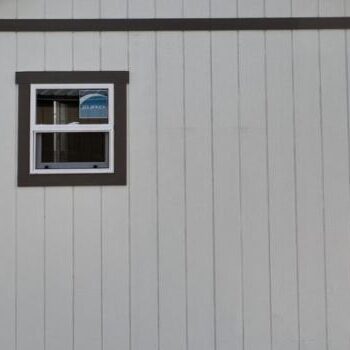 With a full 50 year warranty, DuraTemp will give your a-shed a long life.
A great choice for cabins or sheds that need to fit into a rustic space.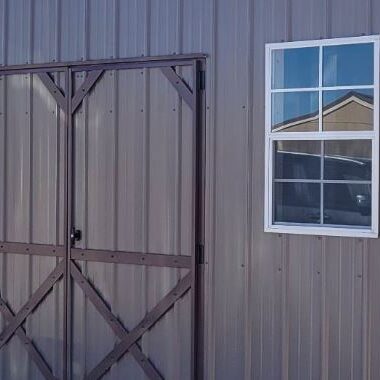 Choose this if you care about a maintenance free shed.
Make your shed truly your own with optional features. Want more light? Consider adding windows. Choose the shed with loft to keep your ground floor available for items that you will use on a day-to-day basis. Need a workspace that is insulated? We can help with that. There are many ways to make your shed fit your needs.
We make a new Loafing Shed simple for Cañon City!
Choose

Pick from our inventory or build your own.

Purchase

We offer 3 purchase options: pay in full, financing, or rent-to-own.

Delivery

We offer free delivery for the first 50 miles.

Enjoy

Love your extra space and shelter!
Horse Loafing Sheds in Cañon City
We help you take care of your horses, cows, goats, sheet, and other cattle and animals that you have on your farm, ranch, or homestead.
With a quality loafing shed, you can have peace of mind that your animals have the shelter they need during any season!
Does your life feel cluttered and chaotic because you don't have adequate storage space or shelter for your assets and hobbies? 
That's frustrating! At Colorado Sheds we know how annoying and guilt-inducing a disorganized garage or attic can be. 
That is why we build quality storage sheds, tackrooms, garages, and more for those living in Cañon City. We believe everyone ought to have the space they need for the things that matter most to them, and we would love to help make your life a little less cluttered and a little more organized. 
Contact us today to learn more!
Located in Fremont County, Colorado, Cañon City has a population of approximately 16,000 people. It covers an area of 12.2 square miles of land, about 115 miles south of Denver. 
There are plenty of attraction to experience in Cañon City! Some of the most popular attractions in Cañon City include: 
Royal Gorge Bridge and Park

Museum of Colorado Prisons

Arkansas Riverwalk

Winery at Holy Cross Abbey

Tunnel Drive

Royal Gorge Route Railroad

Skyline Drive

Four Mile Ranch Golf Club

Royal Gorge Dinosaur Experience

Temple Canyon Park

Fremont County Historical Society

Red Canyon Park

White Water Bar & Grill

America's only Mountain Top Zoo

Buckskin Joe Frontier Town and Railway
And plenty more if you go looking! There is also the stunning natural beauty of the state of Colorado to enjoy. Cañon City is known for its abundance of outdoor recreation opportunities, including hiking, fishing, white water rafting, and more. 
Cañon City, CO has a charming, small town feel to it. In the words of Cañoncity.org: 
Cañon City is one of only a few cities along the Front Range that has predominantly maintained its small town feel. Residents of this third oldest city in the State of Colorado are proud of their history, proud of their setting among beautiful natural features, and proud of their community. When asked what makes Cañon City a great place, more often than not, the response is "the people."

The City is located in a mountain bowl along the Arkansas River valley as it flows east from the Rocky Mountains and the mouth of the Royal Gorge. A combination of unique geography and an elevation of 5,300 feet above sea level protect the city from harsh weather conditions, making Cañon City "the Climate Capital of Colorado," with temperatures generally 10 degrees warmer in Winter than other nearby Colorado communities.
If you live in Cañon City you are likely already familiar with the feel of the place and the people!
If you are a Cañon City resident with a lot of things to store and you want to build a shed or garage for some more space, give us a call here at Colorado Sheds! We specialize in building storage solutions and other types of sheds such as animal shelters, and we would love to help you out! 
We serve all zip codes in Cañon City, 81212, and 81215, as well as all neighborhoods in Cañon City including Four Mile Point, Williamsburg, Lincoln Park, and Cañon City. 
Contact us today for more information. We look forward to hearing from you!
We deliver our structures to most of Colorado State. If you aren't sure if we service your area, then please call us at 719-372-7433 or contact us!
Our service areas include...
Castle Pines, CO
Cotopaxi, CO
Falcon, CO
Florence, CO
Fountain, CO
Fowler, CO
Lamar, CO
La Junta, CO
Limon, CO
Parker, CO
Penrose, CO
Rocky Ford, CO
Salida, CO
Trinidad, CO
Walsenburg, CO
Security-Widefield, CO
Read some of our reviews:
John: "They do a great job and quality work! Their goal is for the customer to have an exceptional experience. They deliver that!"
Esther: "Excellent service. Free delivery in 50-mile radius. Got shed ahead of schedule!!!!!"
Tressa: "We bought our office shed. Fully insulated and ready to work in! Love being able to work from home in a quite space!"