Are you concerned about your horses or other animals not having proper shelter from snow, direct sunlight, or other weather conditions?
Do you want peace of mind that your animals have the shelter they need in your pasture or on your farm in Pueblo West?
We provide quality, custom loafing sheds for horses and cattle that help protect them against different types of weather!
Standard Features Of The Loafing Shed
Hurricane ties ensure your shed is solid and safe during very high winds.
Your portable building will come with real plywood 3/4" tongue and groove flooring.
You choose between a metal roof or a shingle roof. All for no extra charge!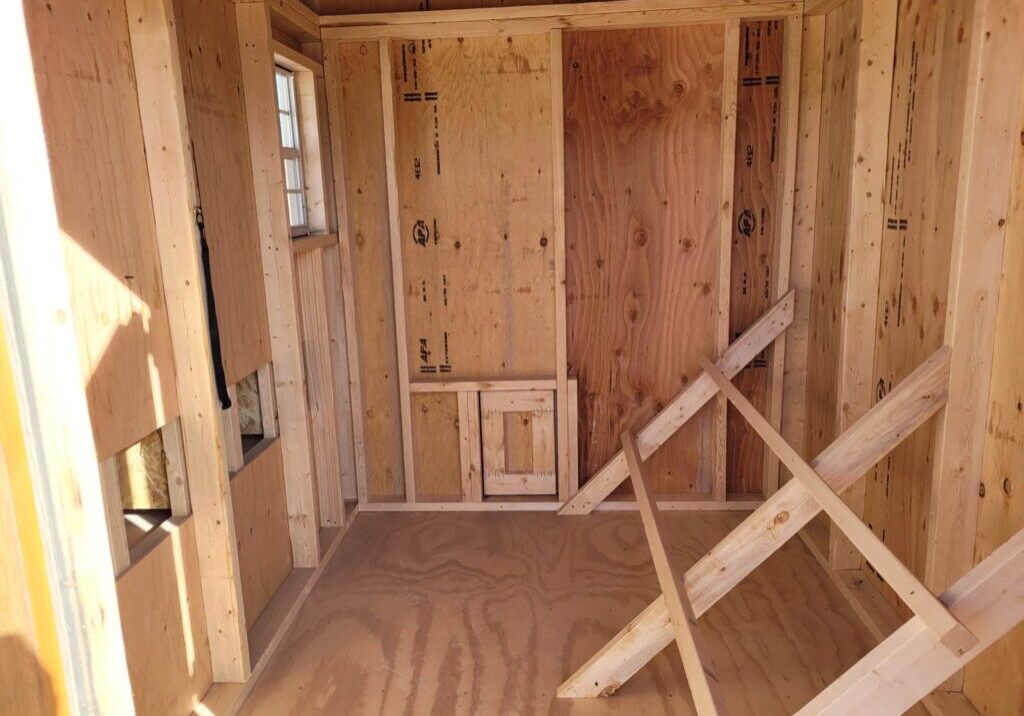 Pressure-treated Floor Joists
Floor Joists are spaced at 16" center on sheds and 12" on Garages and are Pressure Treated.
Customize Your Pueblo
West Loafing Shed!
We offer various siding types to match your taste or your home. Choose one for your shed (Prices vary according to siding type).
Great choice if you want a wood look or you wish to stain your building.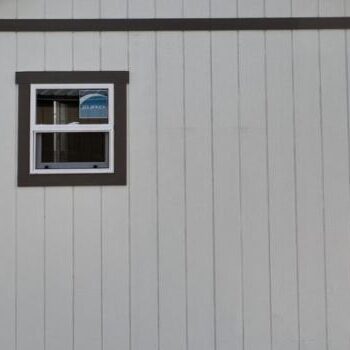 With a full 50 year warranty, DuraTemp will give your a-shed a long life.
A great choice for cabins or sheds that need to fit into a rustic space.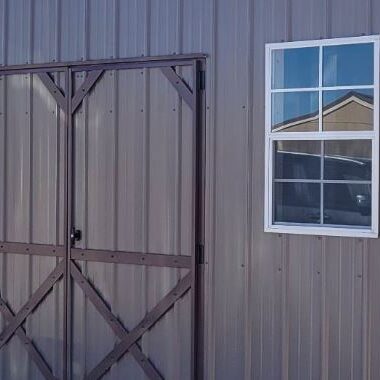 Choose this if you care about a maintenance free shed.
Make your shed truly your own with optional features. Want more light? Consider adding windows. Choose the shed with loft to keep your ground floor available for items that you will use on a day-to-day basis. Need a workspace that is insulated? We can help with that. There are many ways to make your shed fit your needs.
We make a new Loafing Shed simple for Pueblo West!
Choose

Pick from our inventory or build your own.

Purchase

We offer 3 purchase options: pay in full, financing, or rent-to-own.

Delivery

We offer free delivery for the first 50 miles.

Enjoy

Love your extra space and shelter!
Horse Loafing Sheds in Pueblo West
We help you take care of your horses, cows, goats, sheet, and other cattle and animals that you have on your farm, ranch, or homestead.
With a quality loafing shed, you can have peace of mind that your animals have the shelter they need during any season!
If you're tired of feeling like your home is bursting at the seams, it may be time to consider a storage solution from Colorado Sheds. 
Our team specializes in building quality sheds, garages, and other structures that can help you free up space and eliminate clutter. We understand that every homeowner has different needs, which is why we offer a range of customization options to ensure that your shed or garage is tailored to your specific requirements. 
From extra windows and skylights to custom shelving and workbenches, we'll work with you to create the perfect storage solution. Plus, with our commitment to using only the highest-quality materials and construction techniques, you can be sure that your shed or garage will stand the test of time. 
Contact us today to learn more about how we can help you create a more organized and functional home in Pueblo West, CO! 
Pueblo West is an unincorporated community located in Pueblo County, CO. It has a population of approximately 33,753 people and covers about 34.5 square miles, about 5 miles west of the city of Pueblo. Pueblo West is known for its rural atmosphere, scenic views of the Front Range, and numerous parks and wide open spaces. 
The history of Pueblo West, Colorado, dates back to the 1960s, when a group of investors bought land in the area and began developing it into a residential community. The community grew over the years and in 1979 Pueblo West was officially recognized as an unincorporated community of the state of Colorado. Pueblo West has continued to grow since then, with new residential and commercial developments regularly occurring. 
If you live in Pueblo West you'll know all about the stunning natural beauty, outdoor opportunities, and tourist attractions that surround the area! Lake Pueblo State Park offers opportunities for fishing, boating, camping, and hiking. Visitors can explore the Pueblo Zoo, the Rosemount Museum, or the Historic Arkansas Riverwalk of Pueblo. There is plenty to do and discover! 
A list of the top attractions in and around Pueblo West might include: 
Lake Pueblo State Park

Pueblo Zoo

Historic Arkansas Riverwalk of Pueblo

Rosemount Museum

Pueblo Weisbrod Aircraft Museum

Pueblo Heritage Museum

Nature and Raptor Center of Pueblo

Steelworks Center of the West

Buell Children's Museum

Pueblo Motorsports Park

The Pueblo River Trail

The Nature Trail at Pueblo Mountain Park

Pueblo West Wetlands Park

Wet Mountains

Pueblo West Park
And plenty more! If you are a resident you have probably experienced some of them, and if you are visitor you'll have to go discover them for yourself! 
If you live in Pueblo West and you feel like you need more space for storing assets, hobby equipment, or other things, contact us here at Colorado Sheds! We specialize in creating high quality storage sheds, animal shelters, garages, and more. We would love to help you de-clutter your home! 
We serve both Pueblo West zip codes, 81007 and 81003, as well as all surrounding areas. Contact us today! We look forward to hearing from you.
We deliver our structures to most of Colorado State. If you aren't sure if we service your area, then please call us at 719-372-7433 or contact us!
Our service areas include...
Castle Pines, CO
Cotopaxi, CO
Falcon, CO
Florence, CO
Fountain, CO
Fowler, CO
Lamar, CO
La Junta, CO
Limon, CO
Parker, CO
Penrose, CO
Rocky Ford, CO
Salida, CO
Trinidad, CO
Walsenburg, CO
Security-Widefield, CO
Read some of our reviews:
Lisa: "Not only does innovative structures deliver quality buildings, they carry exceptional outdoor furniture and their customer service is remarkable! I would never go anywhere else outdoor furniture or sheds!! Julian is not only professional but friendly and honest! I'll go nowhere else!"
Kevin: "Brian completed the delivery and set up quickly and professionally. I appreciated his service."
Tim: "The transaction was a pleasure from the sales person to the delivery person. Great job!"