Are you concerned about your horses or other animals not having proper shelter from snow, direct sunlight, or other weather conditions?
Do you want peace of mind that your animals have the shelter they need in your pasture or on your farm in Teller County?
We provide quality, custom loafing sheds for horses and cattle that help protect them against different types of weather!
Standard Features Of The Loafing Shed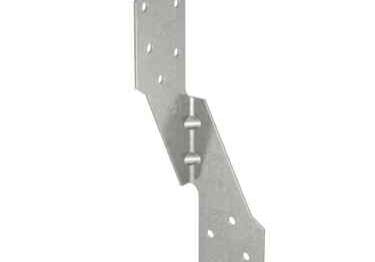 Hurricane ties ensure your shed is solid and safe during very high winds.
Your portable building will come with real plywood 3/4" tongue and groove flooring.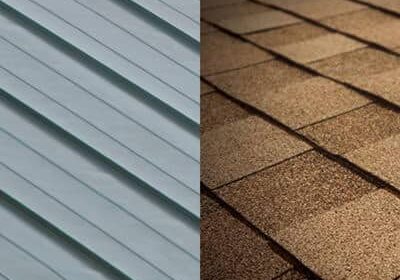 You choose between a metal roof or a shingle roof. All for no extra charge!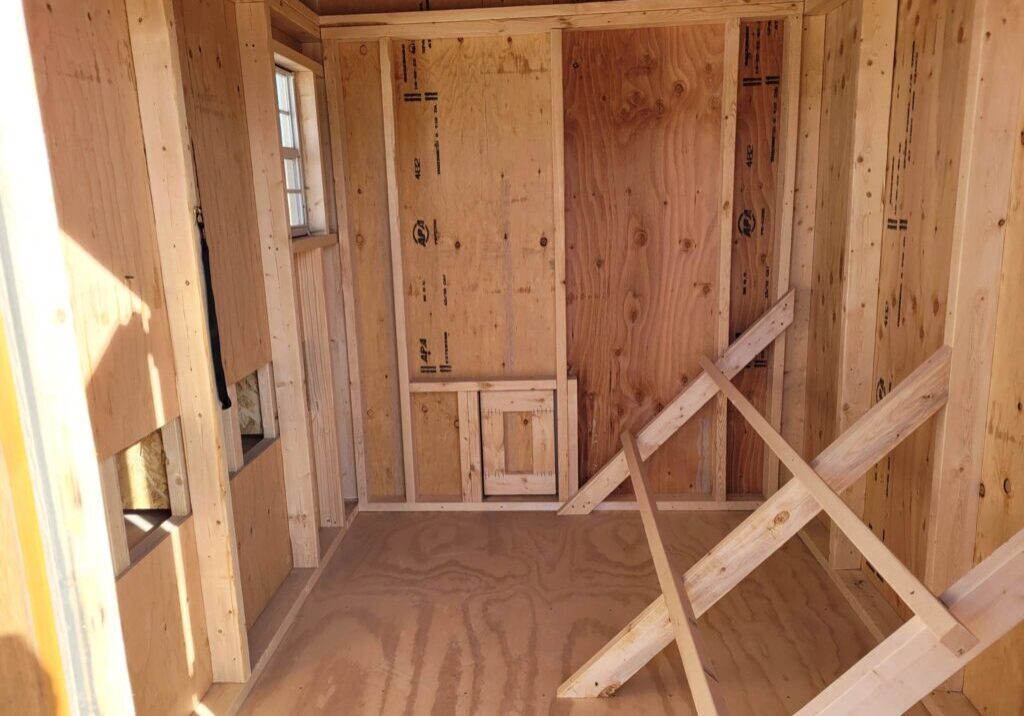 Pressure-treated Floor Joists
Floor Joists are spaced at 16" center on sheds and 12" on Garages and are Pressure Treated.
Customize Your Teller
County Loafing Shed!
We offer various siding types to match your taste or your home. Choose one for your shed (Prices vary according to siding type).
Great choice if you want a wood look or you wish to stain your building.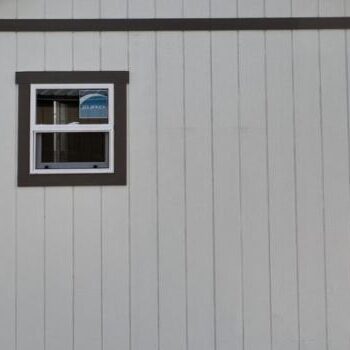 With a full 50 year warranty, DuraTemp will give your a-shed a long life.
A great choice for cabins or sheds that need to fit into a rustic space.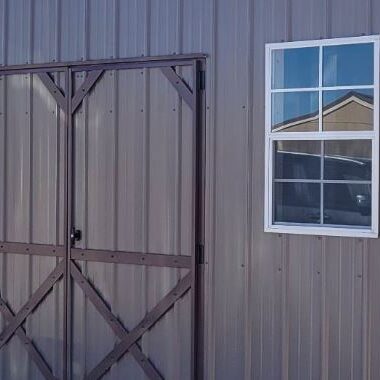 Choose this if you care about a maintenance free shed.
Make your shed truly your own with optional features. Want more light? Consider adding windows. Choose the shed with loft to keep your ground floor available for items that you will use on a day-to-day basis. Need a workspace that is insulated? We can help with that. There are many ways to make your shed fit your needs.
We make a new Loafing Shed simple for Teller County!
Choose

Pick from our inventory or build your own.

Purchase

We offer 3 purchase options: pay in full, financing, or rent-to-own.

Delivery

We offer free delivery for the first 50 miles.

Enjoy

Love your extra space and shelter!
Horse Loafing Sheds in Teller County
We help you take care of your horses, cows, goats, sheet, and other cattle and animals that you have on your farm, ranch, or homestead.
With a quality loafing shed, you can have peace of mind that your animals have the shelter they need during any season!
Do you feel like you're drowning in clutter? Does your garage or attic feel like a never-ending sea of disorganization? 
You're not alone. 
At Colorado Sheds, we know how frustrating it can be to live in a cluttered and chaotic home. That's why we specialize in building custom storage sheds, garages, and more for those living in Teller County. Our sheds are designed to provide the extra space you need to store your belongings and pursue your hobbies, without sacrificing style or quality. 
We offer a range of customization options to ensure that your shed or garage meets your specific needs, and we use only the highest-quality materials and construction techniques. Let us help you create a more organized and enjoyable home. 
Contact us today to learn more.
Located in the US state of Colorado, Teller County has a populationof 24,710 people. The county seat is Cripple Creek and the most populous city is Woodland Park. Teller County is included in the Colorado Springs Metropolitan Statistical Area. 
Created in 1899, Teller County was carved from the western slop of Pikes Peak, the highest summit of the southern Front Range of the Rocky Mountains. It was named after US senator Henry M. Teller. Within five years of its birth, Teller County became the scene of a dramatic labor struggle called the Colorado Labor Wars. 
Despite past struggles, Teller County is still in existence today, and is home to numerous tourist attractions, not the least of which is Pikes Peak. Within the 559 square miles that make up the county you'll find plenty of the stunning natural beauty Colorado is known for and more opportunities for outdoor adventure than you could do in years! 
In this lovel county you'll find opportunities for biking, hiking, camping, fishing, boating, mountain climbing, scenic driving and more! A few of Teller County's most popular tourist attractions include: 
Rocky Mountain Dinosaur Resource Center

Pikes Peak

Mollie Kathleen Gold Mine

Colorado Wolf and Wildlife Center

Florissant Fossil Beds National Monument

Garden of the Gods Visitor and Nature Center

Cripple Creek and Victor Narrow Gauge Railroad

Great Outdoors Adventures

Outlaws and Law Men Jail Museum 

Mueller State Park

Cripple Creek Heritage and Information Center

The Butte Theater 
And plenty more! If you are a resident you are probably already familiar with most of the stunning natural beauty and exciting attractions you'll find here. 
If you are a Teller County, CO resident and you want to add more usable storage space to your property, give us a call here at Colorado Sheds! 
Whether you need a storage shed, animal shelter, garage, tackroom, or other type of storage shed, we've got you covered. We would love to help make your property more organized and clutter free. 
We serve all zip codes in Teller County, including: 
80813, 80814, 80816, 80860, 80863,  80866
As well as all towns and cities in Teller County, including: 
Beacon Hill, Cripple Creek, Crystola, Divide, Elkton, Fairview, Florissant, Goldfield, Green Mountain Falls, Hollywood, Marigold, Midland, Midway, Rosemont, Stratton, Victor, Woodland Park
And surrounding areas as well. Give us a call today! We look forward to hearing from you.
We deliver our structures to most of Colorado State. If you aren't sure if we service your area, then please call us at 719-372-7433 or contact us!
Our service areas include...
Castle Pines, CO
Cotopaxi, CO
Falcon, CO
Florence, CO
Fountain, CO
Fowler, CO
Lamar, CO
La Junta, CO
Limon, CO
Parker, CO
Penrose, CO
Rocky Ford, CO
Salida, CO
Trinidad, CO
Walsenburg, CO
Security-Widefield, CO
Read some of our reviews:
Evelyn: "We had a large garage (26x30) built by these guys— very impressed with the customer service from all levels of the organization. Everyone was responsive, professional and took pride in the work. I'm so thankful we got to work with such a great group of people!!"
Shannon: "These guys offered wonderful communication, customer service and so much more! This was an awesome experience from start to finish!"
Ruth: "Everything was done exactly like I needed. Delivery was done when needed. I'm very happy with both of my sheds. Thank you!"