Storage Sheds for Sale in Florence, Colorado
Gain
Protect
Reduce
Are you feeling stressed or irresponsible because you don't have enough storage in your home or proper shelter for your assets?
We believe everyone should have the space and shelter they need for what matters most to them, and we want to help you find the structure that's right for your situation!
Replace This
Not being able to use your garage or
basement because of clutter
Assets being exposed to weather
Animals not having proper shelter
Not having enough room for hobbies
With This
Regaining space in your home and garage
Properly protecting assets & animals
Having room to pursue your passions
Sheds Designed To Last A Lifetime in Florence
Every structure is built with only premium lumber and best construction practices.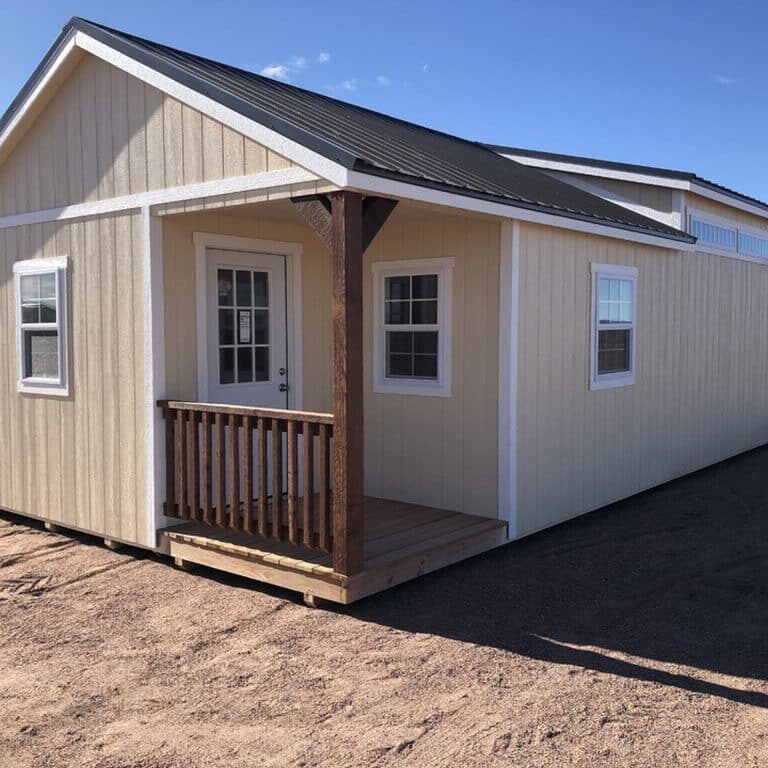 Have peace of mind knowing your shed is built from a licensed engineer blueprint.
We make it easy to work with 1 company in the whole process: sales, delivery, and even permitting.
Sometimes life throws us curveballs. That's why we offer a 30-day money-back guarantee and a limited lifetime warranty.
Why Work With Colorado Shed Company?
Since our start in 2004, our focus has been serving every customer in Florence and beyond with our local and family-owned values.
That's why we approach every sale and
structure with…
Doing what we say we will do
Focusing on competency and letting you know if
we can't build something you want
Building a positive customer experience & long-term relationships
Using the best materials and construction practices
Helping with permitting & code regulations (additional cost may apply)
We make a new storage shed in Florence simple!
Choose

Pick from our inventory or build your own.

Purchase

We offer 3 purchase options: pay in full, financing, or rent-to-own.

Delivery

We offer free delivery for the first 50 miles.

Enjoy

Love your extra space and shelter!
Your local Florence Shed Builder
Many people feel irresponsible or stressed when they don't have enough storage space or aren't properly protecting their assets and animals.
At Colorado Shed Company, we build and deliver quality sheds and outdoor structures throughout Florence, Colorado, that solve your storage & shelter needs and gives you room to pursue your passions!
Are you looking for a way to work from home? Need a small Backyard Shed for a photography studio? Want a workout den for your backyard? All of this is possible because we love to build storage sheds so that your dreams can be realized!
Feeling overwhelmed by clutter? Is your garage or attic a chaotic mess? 
You're not alone. 
At Colorado Sheds, we understand the frustrations of living in a cluttered home. That's why we specialize in crafting custom storage sheds, garages, and more for Florence, CO residents. Our sheds are designed to provide extra space for your belongings and hobbies, without compromising on style or quality. 
With a range of customization options, we ensure your shed or garage meets your specific needs. Using only top-quality materials and construction techniques, we'll help you create an organized and enjoyable home. 
Contact us today to discover how we can transform your space.
Nestled in the heart of Fremont County, Colorado, lies the charming town of Florence. Known for its rich history, flourishing economy, diverse demographics, and an array of attractions, Florence is a hidden gem that offers something for everyone.
At the core of Florence's historical significance lies the fact that it served as a major hub during Colorado's mining boom in the late 19th century. The town's strategic location near gold and silver mines led to a rapid influx of settlers and entrepreneurs, transforming it into a bustling center of economic activity. This pivotal period in Florence's history shaped the town's character and left a lasting imprint on its architecture, preserving a sense of the past that continues to captivate visitors today.
Speaking of economic vitality, Florence has experienced steady growth over the years. The town boasts a diverse and robust economy with a strong emphasis on industries such as tourism, retail, healthcare, and corrections. Florence is home to several correctional facilities, including the Colorado Territorial Correctional Facility and the Federal Correctional Complex, which have contributed significantly to the local economy. With a focus on rehabilitation and reintegration, these institutions provide employment opportunities and contribute to the town's overall stability.
In terms of demographics, Florence is a melting pot of cultures and backgrounds, fostering a vibrant and inclusive community. As of the latest available data, the town has a population of approximately 3,900 residents. The racial makeup of Florence is diverse, with a mix of Caucasian, Hispanic, Native American, and African American residents. This diverse population contributes to the town's cultural fabric, enriching the community with a range of traditions, festivals, and culinary delights.
When it comes to things to do in Florence, there is no shortage of attractions to explore. History enthusiasts can delve into the town's past by visiting the Florence Pioneer Museum, which showcases artifacts and exhibits highlighting the area's mining heritage. For nature lovers, a trip to nearby Florence Mountain Park offers breathtaking views of the surrounding landscape and an opportunity to enjoy hiking trails and picnic areas.
Art aficionados can stroll through the town's Historic Downtown District, where they will discover an eclectic mix of art galleries, antique shops, and boutiques. Additionally, Florence is renowned for its vibrant street art scene, with numerous murals adorning the sides of buildings, telling stories of the town's past and present.
Food lovers will relish the dining options available in Florence. From classic American diners to cozy cafes, there is something to satisfy every palate. Local eateries serve up mouthwatering dishes using fresh, locally sourced ingredients, providing a farm-to-table experience that showcases the region's culinary delights.
Whether you are drawn to its fascinating past, seeking employment opportunities, embracing cultural diversity, or simply looking for a memorable getaway, Florence has it all. With its warm and welcoming community, this small town offers big experiences that leave a lasting impression on visitors and residents alike.
Looking to increase your property's storage space? Contact Colorado Sheds if you reside in Florence, CO! 
From storage sheds to animal shelters, garages to tack rooms, we have the perfect solution for you. Our aim is to assist you in achieving an organized and clutter-free property. Reach out to us today and let us help transform your space into a well-organized haven.
We serve all zip codes in Florence, including: 
81226, 81290
As well as all the areas around Florence, including: 
Cañon City, Penrose, Coal Creek, Rockvale, Williamsburg, Lincoln Park
Give us a call today! We look forward to hearing from you. 
Read some of our reviews:
Evelyn Johnson: "We had a large garage (26x30) built by these guys— very impressed with the customer service from all levels of the organization. Everyone was responsive, professional and took pride in the work. I'm so thankful we got to work with such a great group of people!!"
Johnny Davis: "Designed my custom shed with my own specifications. Took my time and went to the Colorado Shed yard and viewed several completed buildings. Was very impressed with the construction and workmanship. The shed was completed earlier then expected, and a delivery date was arranged. Brian did an amazing job placing the shed at my prepared site. It was remarkable watching him maneuver the trailer and placing it perfectly as I requested. I highly recommend Colorado Shed Company and will be purchasing a custom Greenhouse in the future."