Storage Sheds for Sale in Pueblo County, Colorado
Gain
Protect
Reduce
Are you feeling stressed or irresponsible because you don't have enough storage in your home or proper shelter for your assets?
We believe everyone should have the space and shelter they need for what matters most to them, and we want to help you find the structure that's right for your situation!
Replace This
Not being able to use your garage or
basement because of clutter
Assets being exposed to weather
Animals not having proper shelter
Not having enough room for hobbies
With This
Regaining space in your home and garage
Properly protecting assets & animals
Having room to pursue your passions
Sheds Designed To Last A Lifetime in Pueblo County
Every structure is built with only premium lumber and best construction practices.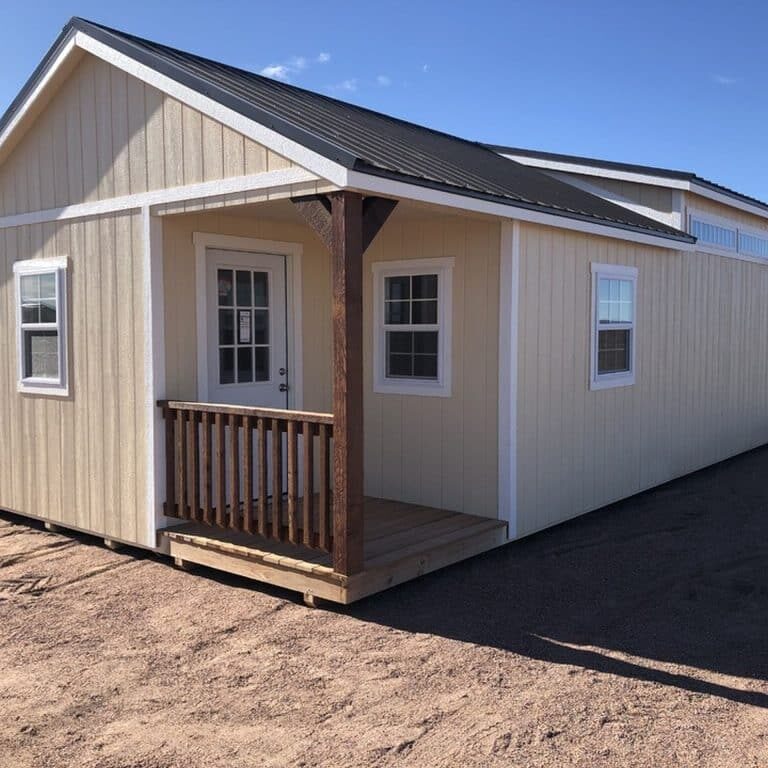 Have peace of mind knowing your shed is built from a licensed engineer blueprint.
We make it easy to work with 1 company in the whole process: sales, delivery, and even permitting.
Sometimes life throws us curveballs. That's why we offer a 30-day money-back guarantee and a limited lifetime warranty.
Why Work With Colorado Shed Company?
Since our start in 2004, our focus has been serving every customer in Pueblo County and beyond with our local and family-owned values.
That's why we approach every sale and
structure with…
Doing what we say we will do
Focusing on competency and letting you know if
we can't build something you want
Building a positive customer experience & long-term relationships
Using the best materials and construction practices
Helping with permitting & code regulations (additional cost may apply)
We make a new storage shed in Pueblo County simple!
Choose

Pick from our inventory or build your own.

Purchase

We offer 3 purchase options: pay in full, financing, or rent-to-own.

Delivery

We offer free delivery for the first 50 miles.

Enjoy

Love your extra space and shelter!
Your local Pueblo County Shed Builder
Many people feel irresponsible or stressed when they don't have enough storage space or aren't properly protecting their assets and animals.
At Colorado Shed Company, we build and deliver quality sheds and outdoor structures throughout Pueblo County, Colorado, that solve your storage & shelter needs and gives you room to pursue your passions!
Are you looking for a way to work from home? Need a small Backyard Shed for a photography studio? Want a workout den for your backyard? All of this is possible because we love to build storage sheds so that your dreams can be realized!
Are you tired of feeling suffocated by clutter in your home? Is finding storage space a constant struggle? Say goodbye to chaos and welcome a more inviting atmosphere with the assistance of Colorado Sheds. 
Our expertise lies in crafting tailor-made storage sheds, garages, and other structures that will revolutionize the functionality of your living space. Collaborating closely with you, our team will conceive a shed or garage that precisely fulfills your requirements and seamlessly integrates with your property. We spare no effort in utilizing premium materials and construction techniques, guaranteeing the longevity of your new storage solution. 
Rest assured, our unwavering dedication to exceptional customer service means we'll be with you at every stage of the process. Take the first step towards transforming your home today by contacting us for further details.
Nestled in the heart of the state of Colorado, Pueblo County is a captivating destination rich in history, natural beauty, and a vibrant community. From its fascinating historical sites to its breathtaking landscapes, this county offers a diverse range of experiences for visitors of all ages. Let's dive into what makes Pueblo County such a remarkable place to explore.
Pueblo County was established in 1861 and played a significant role in Colorado's mining and steel industries. The county's historical significance can be experienced through various attractions. The Historic Arkansas Riverwalk of Pueblo, a restored channel of the Arkansas River, showcases the city's past and is a hub of entertainment and recreation. The Pueblo Weisbrod Aircraft Museum displays a remarkable collection of military aircraft, preserving the area's aviation heritage.
You can also immerse yourself in history at the El Pueblo History Museum, discovering the stories of Native American tribes and early settlers through engaging exhibits. For wildlife enthusiasts, the Pueblo Zoo is a must-visit, home to over 400 animals from around the world and offering interactive experiences for visitors of all ages. Indulge in the thriving arts scene by visiting the Sangre de Cristo Arts Center, where you can admire visual arts, catch a performance, or take part in a creative workshop.
Nature lovers can embark on outdoor adventures at Lake Pueblo State Park, offering boating, fishing, hiking, and camping opportunities against a stunning backdrop of the Rocky Mountains. And for those seeking a lively experience, attending the Colorado State Fair is a must. This annual event celebrates agriculture, entertainment, and culture, featuring rodeos, concerts, carnival rides, and delectable fair food.
Pueblo County is home to a diverse population of approximately 170,000 residents. The county has a rich cultural fabric, with Hispanic and Latino communities making up a significant portion of the population. The region boasts a welcoming and friendly atmosphere, with residents proud of their heritage and eager to share their traditions with visitors.
Whether you're seeking an enriching historical journey, thrilling outdoor activities, or a taste of vibrant local culture, Pueblo County, Colorado has it all. 
If you reside in Pueblo County and desire additional storage capacity on your premises, reach out to us at Colorado Sheds! Whether it's storage sheds, animal shelters, or garages, we possess the expertise to construct a top-notch structure that aids in organizing your belongings effectively. 
Take the initiative today by contacting us to embark on the path toward a clutter-free home!
We service all zip codes in Pueblo County, including:
81001, 81003, 81004, 81005, 81006, 81007, 81008, 81009, 81010, 81011, 81012, 81022, 81023, 81025, 81019, 81007, 81008, 81009, 81010
As well as all cities and towns in Pueblo County, including:
Pueblo, Pueblo West, Colorado City, Avondale, and Boone.
Contact us today! We look forward to hearing from you.
Read some of our reviews:
Tim Hamilton: "Christian was an absolute pleasure to work with! Constantly giving me information, even though I asked a million questions about a million different sheds! 10/10 will be recommending these guys to anyone that may need a shed!"
Amanda Bowman: "Thank you so much for the incredible customer service, communication, professionalism, and most of all- quality product. We will be back!"
Shannon Hale: "These guys offered wonderful communication, customer service and so much more! This was an awesome experience from start to finish!"