Storage Sheds for Sale in Security-Widefield, Colorado
Gain
Protect
Reduce
Are you feeling stressed or irresponsible because you don't have enough storage in your home or proper shelter for your assets?
We believe everyone should have the space and shelter they need for what matters most to them, and we want to help you find the structure that's right for your situation!
Replace This
Not being able to use your garage or
basement because of clutter
Assets being exposed to weather
Animals not having proper shelter
Not having enough room for hobbies
With This
Regaining space in your home and garage
Properly protecting assets & animals
Having room to pursue your passions
Sheds Designed To Last A Lifetime in Security-Widefield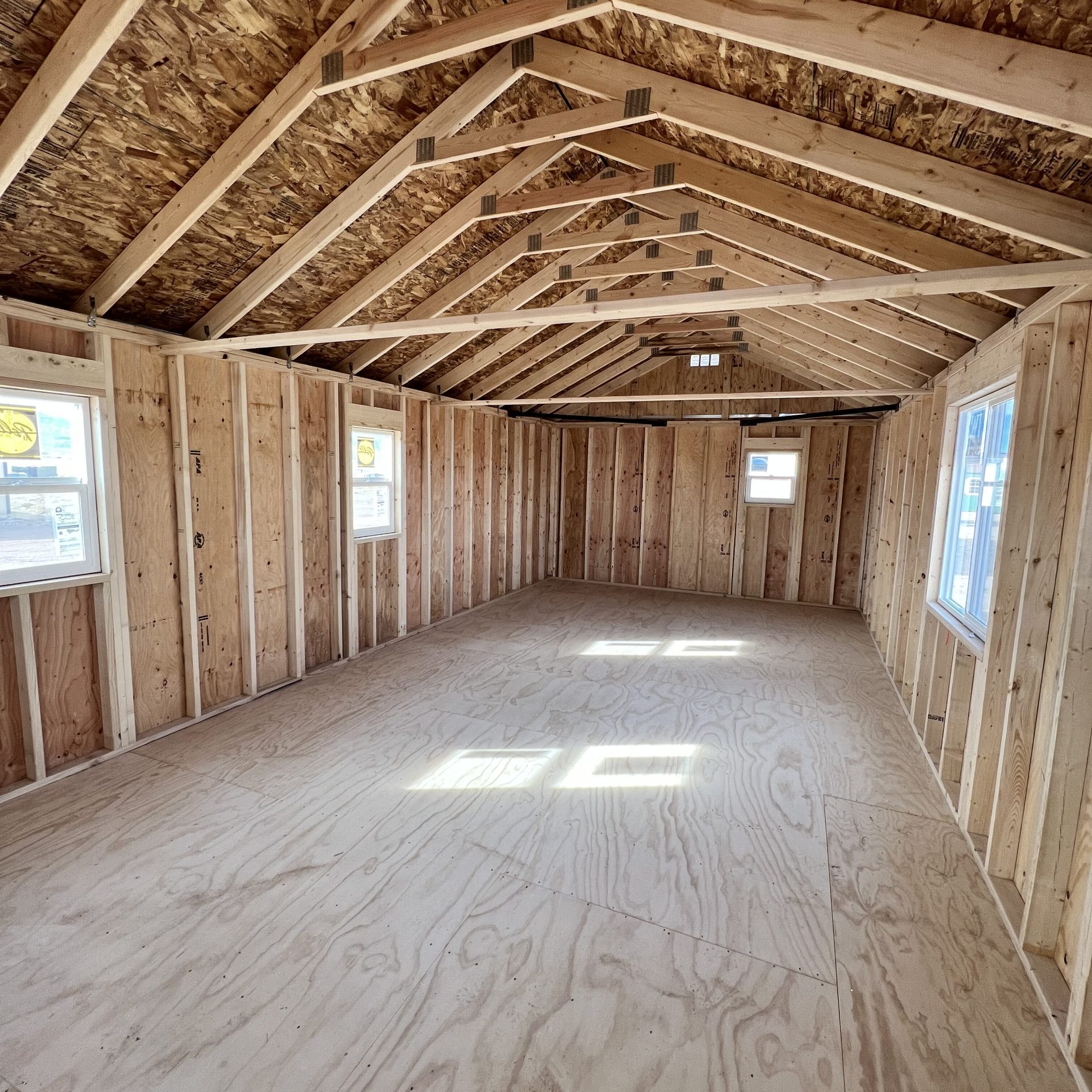 Every structure is built with only premium lumber and best construction practices.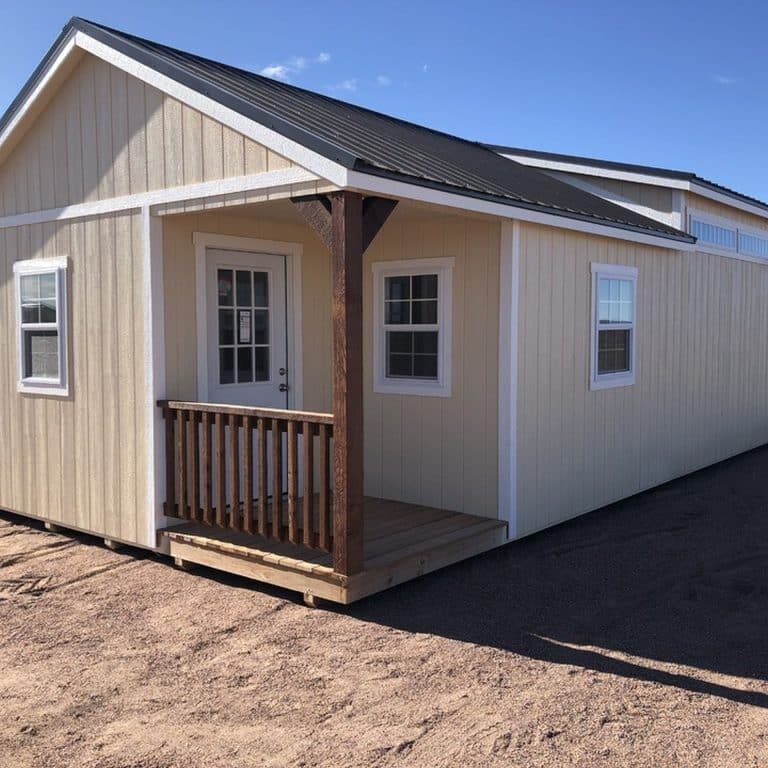 Have peace of mind knowing your shed is built from a licensed engineer blueprint.
We make it easy to work with 1 company in the whole process: sales, delivery, and even permitting.
Sometimes life throws us curveballs. That's why we offer a 30-day money-back guarantee and a limited lifetime warranty.
Why Work With Colorado Shed Company?
Since our start in 2004, our focus has been serving every customer in Security-Widefield and beyond with our local and family-owned values.
That's why we approach every sale and
structure with…
Doing what we say we will do
Focusing on competency and letting you know if
we can't build something you want
Building a positive customer experience & long-term relationships
Using the best materials and construction practices
Helping with permitting & code regulations (additional cost may apply)
We make a new storage shed in Security-Widefield simple!
Choose

Pick from our inventory or build your own.

Purchase

We offer 3 purchase options: pay in full, financing, or rent-to-own.

Delivery

We offer free delivery for the first 50 miles.

Enjoy

Love your extra space and shelter!
Your local Security-Widefield Shed Builder
Many people feel irresponsible or stressed when they don't have enough storage space or aren't properly protecting their assets and animals.
At Colorado Shed Company, we build and deliver quality sheds and outdoor structures throughout Security-Widefield, Colorado, that solve your storage & shelter needs and gives you room to pursue your passions!
Are you looking for a way to work from home? Need a small Backyard Shed for a photography studio? Want a workout den for your backyard? All of this is possible because we love to build storage sheds so that your dreams can be realized!
Are you overwhelmed by the never-ending chaos of clutter? Is your garage or attic drowning in disorganization? 
You're not alone in this struggle. 
Here at Colorado Sheds, we understand the frustration that comes with living in a cluttered home. That's why we specialize in crafting unique storage sheds, garages, and more for the residents of Security-Widefield, CO. Our mission is to provide you with the perfect solution for storing your belongings and pursuing your passions, all while maintaining a stylish and high-quality design. 
With our array of customization options, we ensure that your shed or garage is tailored to meet your specific needs. We employ only the finest materials and construction techniques, guaranteeing a durable and reliable structure. Let us assist you in creating a home that is organized and enjoyable. 
Don't hesitate to get in touch with us today to discover more about our services.
Security-Widefield, located in El Paso County, Colorado, is a vibrant community with a rich history, diverse demographics, and a thriving economy. Situated just south of Colorado Springs, Security-Widefield offers residents and visitors a wide range of recreational opportunities, cultural attractions, and a high quality of life.
The history of Security-Widefield dates back to the late 19th century when settlers first arrived in the area. The community initially developed around coal mining and agriculture. However, it experienced significant growth in the 1950s with the establishment of the U.S. Air Force Academy and the influx of military personnel and their families. Over the years, Security-Widefield has evolved into a suburban community, providing a peaceful residential environment with convenient access to nearby cities.
Demographically, Security-Widefield is a diverse community with a mix of residents from various backgrounds. The population consists of a blend of different ethnicities, including Caucasian, Hispanic, African American, and Asian residents. This diversity contributes to the area's rich cultural fabric, fostering a welcoming and inclusive atmosphere.
In terms of the economic state, Security-Widefield benefits from its proximity to larger urban centers like Colorado Springs, which provides employment opportunities in various sectors. The area has a mix of industries, including healthcare, education, military-related businesses, and retail. Many residents also commute to Colorado Springs or nearby areas for work. The presence of Fort Carson, a major military installation, plays a significant role in the local economy as well.
Now, let's explore the seven best things to do in Security-Widefield and the surrounding area:
Outdoor Recreation: The area offers numerous opportunities for outdoor enthusiasts. You can explore the scenic trails and beautiful landscapes of nearby parks such as

Cheyenne Mountain State Park

and Fountain Creek Regional Park. Hiking, biking, camping, and wildlife spotting are popular activities.

Pikes Peak: Take a short drive to the iconic Pikes Peak, one of Colorado's most famous peaks. Whether you choose to drive up the scenic Pikes Peak Highway or embark on a challenging hike, the breathtaking views from the summit are worth the effort.

Air Force Academy: Visit the United States Air Force Academy, located nearby. Explore the impressive campus, visit the Cadet Chapel, and catch a glimpse of the cadets' training activities. The Visitor Center provides insights into the academy's history and mission.

Cultural Attractions

: Immerse yourself in the local culture by visiting the Colorado Springs Fine Arts Center or attending performances at the Pikes Peak Center. These venues offer a wide range of artistic and cultural experiences, including art exhibitions, theater productions, and live music concerts.

Garden of the Gods

: Just a short drive away, Garden of the Gods is a must-visit natural wonder. This iconic park features stunning red rock formations, excellent hiking trails, and a visitor center where you can learn about the geology and history of the area.

Cheyenne Mountain Zoo: Enjoy a day at the Cheyenne Mountain Zoo, known for its scenic location and impressive collection of animals. Explore the exhibits, feed giraffes, and take a ride on the Mountaineer Sky Ride for a panoramic view of the surrounding area.

Manitou Springs: Adjacent to Security-Widefield, Manitou Springs offers a charming and eclectic atmosphere. Explore the unique shops, art galleries, and enjoy the healing waters of the Manitou Springs Mineral Springs.
In summary, Security-Widefield, Colorado, offers a compelling blend of history, diverse demographics, a flourishing economy, and a wide range of activities to engage in.
If you reside in Security-Widefield, CO and desire to enhance the storage capacity of your property, look no further than Colorado Sheds! 
Whether you're in need of a storage shed, animal shelter, garage, tack room, or any other type of storage solution, we have you fully covered. Our team is enthusiastic about assisting you in transforming your property into a well-organized and clutter-free haven.
We serve all zip codes in Security-Widefield, including: 
80911, 80925, 80817, 80931
As well as all neighborhoods in Security-Widefield, including:
Fountain Valley, Lorson Ranch, Fountain, Cross Creek, Sunrise Ridge
And surrounding areas as well. Give us a call today! We look forward to hearing from you.
Read some of our reviews:
Emily Zmak: "Working with the Colorado Shed Company to purchase, build, and deliver a shed was an easy and efficient process. Their prices are competitive and fair. Delivery was easy to schedule and our driver made the process look simple. The shed looks exactly as we designed it. Would recommend without any hesitation!"
Kevin R Carr Real Estate LLC: "Brian completed the delivery and set up quickly and professionally. I appreciated his service."
K Ga: "Great all the way through the process. From picking design with Christian, to having land prep done by Nelson and the delivery by Kevin. All 1st class. If I ever need a 2nd shed, I'll be calling them."